Kickboxing is more than present in modern MMA and it has been like that since the early days of the sport. If you look back in history and go from the initial events all the way to the modern-day ones, you will find top-level kickboxers in every era.
Yes, MMA is a sport dominated by grapplers, but, a lot of kickboxers have managed to find a way to succeed in cage fighting. In fact, some of the best fighters in UFC history have had a strong background in this standup art.
In this article, you will discover the greatest kickboxers who have fought in the UFC from all eras. On top of that, you will learn more about their careers and what makes them so special.
Honorable Mention: Pat Berry
Pat Berry was a huge name in the late 2000s and a man known for top level kickboxing skills who had some of the best leg kicks in the business. What's more, 3 out of his 7 finishes in MMA are listed as "leg kicks". Although his MMA career was a mix of great wins and unfortunate losses, Berry was a showman and a very popular fighter back in the day.
What most people miss about Barry is the fact that he started training in martial arts quite late at the age of 21. He got into Wushu, Sanshou and kickboxing and would start competing as a pro just two years after. In his kickboxing career, he scored 17 wins and was beaten on 6 occasions.
RECOMMENDED READING:
What are the Different Styles of Kickboxing? Simply Explained
15. Stephen "Wonderboy" Thompson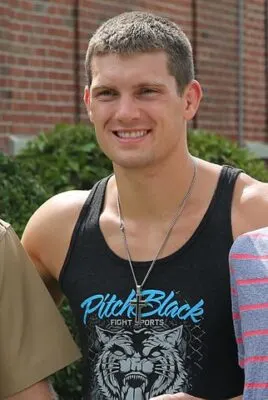 Most MMA fans know Thompson as a fighter with top-level karate skills, and a man who put this traditional martial art on the map in MMA. But, he also has a lot of experience in kickboxing, which is not unusual as a lot of karatekas tend to switch over to kickboxing at some point.
Thompson got into martial arts at a very young age and he trained under the close eye of his father, Ray, who was a pro kickboxer himself. At the age of 15, he would start competing in American Kickboxing matches where he managed to retire undefeated with the record of 58–0 and achieve the following:
W.A.K.O World Champion (2005)
I.A.K.S.A. World Champion (2003)
I.K.F World champion (2003; amateur)
Multiple national champion
14. Thiago Alves
Alves is the former UFC contender and a man with perhaps the most technical standup skills of his era. He fought at the highest level of the UFC for almost 14 years and he beat some of the big names like Matt Hughes and Josh Koscheck, and most fans remember him for his exceptional leg kicks.
Alves got into Muay Thai in the late 90s when he was 15 years old to get in shape and learn how to fight as most teenagers do. But just two years later, he would switch over to MMA where he enjoyed great success despite the lack of top level grappling skills. Although he never won world titles in kickboxing, Alves used to be synonymous with kickboxing in MMA.
Nowadays, Alves works as the main striking coach at "American Top Team"
13. Cung Le
It's really hard to put into words how popular Cung Lee was back in the 2000s when the sport of MMA just started to rise in the US. He is best known for his run in Strikeforce, where he managed to secure 7 wins and the middleweight title. He would later switch over to have a short stint with the UFC where he failed to achieve the same success. However, his KO win over the former champion Rich Franklin (UFC on Fuel TV 6) in 2012 remains one of the best right hook KOs in UFC history.
Before arriving in MMA, Le was a prominent name in the kickboxing world. He fought as a pro both in Sanshou and Kickboxing, where he put together an undefeated record of 17–0 and won the IKF Sanshou World title. He also had a couple of wins in K-1 but has never won any titles there.
RECOMMENDED READING:
What Is Sanda Chinese Kickboxing? Introduction To Sanda
12. Pedro Rizzo
Pedro Rizzo is an MMA legend often seen as one of the best UFC fighters to never win the crown. Back in the 90s, Rizzo was a force to be reckoned with and a man with whom nobody wanted to play too much on the feet. Even by modern standards, Rizzo is among the most technical Muay Thai fighters who had brutal leg kicks and crisp boxing skills. In his long MMA career, he scored 20 wins out of which 15 were brutal KOs over elite fighters like:
Andrei Arlovski (UFC 36)
Josh Barnett (UFC 30)
Dan Severn (UFC 27)
Playing with Rizzo on the feet was risky, but taking him down to the canvas was nothing safer either as he was a black belt in BJJ and a 4th-degree black belt in Luta Livre.
RECOMMENDED READING:
UFC Fighters Where Are They Now? 15 Forgotten UFC Legends
11. Donald Cerrone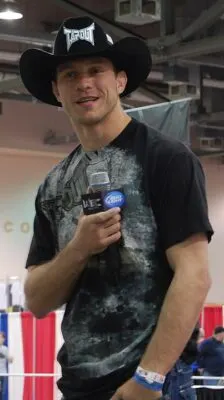 Cerrone is a UFC legend and a fan favorite fighter who is always ready to put his elite kickboxing skills to work to entertain the crowd. However, Cerrone didn't spend time training in martial arts as a teenager. No, when he was 20 years old, he was dreaming about becoming a pro bull rider. But when that fell apart, he made a decision to start training in kickboxing to satisfy his adrenaline nature, and this turned out to be a wise decision.
During his run in kickboxing, Cerrone managed to compile an undefeated record of 28 wins and win:
ISKA amateur Colorado State middleweight championship
Dominion Warrior Muay Thai world lightweight title
In MMA, he holds a record for most knockdowns in history, which speaks a lot about his striking skills.
10. Edson Barboza
Barbosa is a man synonymous with Muay Thai in MMA who is among the most exciting UFC fighters of all time. When he was just 8 years old, he started training in Muay Thai and competing all across Brazil. He compiled a pro record of 25 wins (17 first-round finishes) and 3 losses before moving to the US in 2009 which was also a time when he got into MMA.
As a talented striker with an exciting style, Barboza needed just five dominant finishes on the regional scene to secure his place in the UFC in 2010. In his career, he scored many memorable knockouts, but on the other side, has lost some important fights. This is the main reason why Barboza is one of those famous fighters who have never fought for the UFC gold. But if anything, he remains one of the best Muay Thai fighters in MMA history.
9. Holly Holm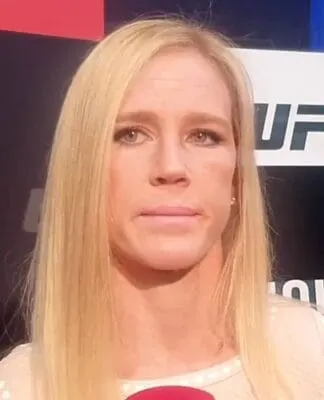 The former UFC 135 lbs champ, Holly Holm, might be the most technical female strike in history, and it is really hard to argue against that. She arrived in MMA from boxing and kickboxing where she managed to win multiple world titles in both sports. As a kickboxer, she owns a record of 14 wins, 1 loss, and 7 draws (6–0 as an amateur).
In MMA, Holm is known for her fast and precise striking. She shines with fast footwork, and her ability to mix kicks with the punches is second to none. On top of that, she has a strong takedown defense, rarely makes any mistakes, and is always a step ahead of her opponents on the feet.
RECOMMENDED READING:
Top 15 Greatest Kickboxers of All Time – Ranked
8. Joanna Jędrzejczyk
Jedrzejczyk is one of the very few fighters in MMA history who have built their entire success on utilizing high-level kickboxing skills. Inside the UFC octagon, she is fast, accurate, has a really high output of strikes, could take a lot of damage, and never gets tired. Or in other words, she was a nightmare matchup for anyone. In 2022, she retired as a former 115 lbs champion with five title defenses.
Jedrzejczyk started her martial art journey at the age of 16 and she fought both in Muay Thai and kickboxing for over 10 years. During this time, she won many titles and has retired with a record of 67 wins and just 6 losses:
Five IFMA world gold medals
WBKF champion (2013)
WKF European champion (2010)
WKN champion (2010)
WMC European champion
RECOMMENDED READING:
10 Greatest Female MMA Fighters Of All Time!
7. Mark Hunt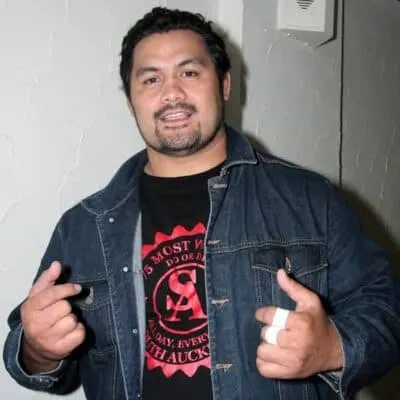 Mark Hunt is a former UFC and PRIDE FC legend who will go down in history as one of the hardest hitters. He had an iron chin, solid takedown defense, nuclear power in both hands, and cardio for five rounds. Standing in front of him and in his line of the attack was a fatal mistake.
After knocking a couple of drunk people in the bar, one of the bouncers invited a young Hunt to his gym to train together. Just a week later, Hunt would win a regulated Muay Thai match. After scoring a couple of more wins, he signed with K-1 in 1999, and just two years later, he would win the title by beating Francisco Filho.
In 2003, he switched over to MMA where he managed to beat none other than Wanderlei Silva in his third pro bout, and Crocop in the fourth. Over the years, he managed to develop solid takedown defense, which mixed with his elite striking made him a scary individual. In 2014, he fought for the interim UFC heavyweight title at UFC 180, but Fabricio Werdum managed to finish Hunt in the second round.
RECOMMENDED READING:
What Is K-1 Kickboxing? The Beginner's Guide to K-1
6. Valentina Shevchenko
Valentina Shevchenko needs no introduction here. She is the most dominant UFC flyweight champion in history, and perhaps the most feared female fighter as well. Although her game is well-rounded, what clearly makes Shevchenko better than the rest are her incredible kickboxing skills. On the feet, she is fast, accurate, and lethal, which is why she carries the nickname "The Bullet".
Shevchenko started her kickboxing journey when she was 16 years old. Between 2003 and 2015, she managed to win over 90 matches in both Muay Thai and kickboxing and multiple world titles:
Eight-time I.F.M.A world champ
I.F.M.A Royal World Cup winner (2015)
World K-1 champ in Peru and Mexico (2013)
World Champ KF-1 MMA pro (2003)
World Champ KF-1 MMA pro(2005)
RECOMMENDED READING:
Muay Thai vs Kickboxing  –  Key Differences Explained and FAQ
5. Alistar Overeem
Also known as the "Demolition Man", Overeem will go down in the history books as one of the most intimidating fighters of all time. But apart from his imposing physique and being one of the most jacked-muscled fighters, what made him really scary were his elite kickboxing skills.
Back in the 90s, kickboxing was the number one sport in Holland. But Overeem actually started his martial art journey in Judo before switching to MMA at the age of 15 to follow in the footsteps of his older brother Valentijn. In the initial stages of his career, he managed to win heavyweight titles in Strikeforce and DREAM, and score many wins in PRIDE FC. But in 2009, he decided to switch over to kickboxing and take part in the famous K-1 World GP tournament.
In his debut year (2009), he secured third place, but a year later, he would shock the world by beating the great Peter Aerts in the finals in 2010. Later on, he would go back to MMA where he would fight for the UFC belt against Stipe Miocic and lose at UFC 203.
RECOMMENDED READING:
What Is Dutch Kickboxing? Basic Guide to Dutch Kickboxing
4. Maurice Smith
The UFC pioneer, Maurice Smith, deserves a lot of credit for putting kickboxing on the map in MMA. He was one of the first elite kickboxers to transition to cage fighting, and show the world the effectiveness of this art. What made him special was his ability to keep the fight standing against elite grapplers, which allowed him to always impose his will inside the cage, and destroy his opponents on the feet. In his career, he won the UFC heavyweight title in 1997 by defeating elite wrestler Mark Coleman. As for his kickboxing career, Smith won the following:
W.K.A. kickboxing heavyweight champ (1983)
W.K.A. Muay Thai heavyweight champ (1994)
I.S.K.A. world Muay Thai champ (1996)
3. Mirko "Crocop" Filipovic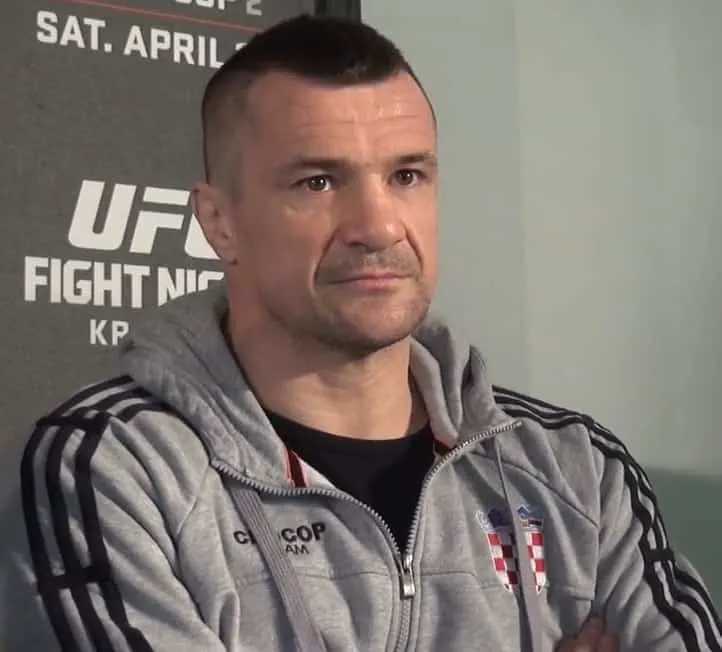 You just can't compile any striking list in MMA without talking about CroCop. He is, without a doubt, among the most technical and violent strikers in the history of the sport. In his career, he fought for all major organizations like UFC, RIZIN, Bellator, and PRIDE, and he left nothing but carnage in just about every fight. But, the Croatian was also quite famous even before he arrived in MMA.
During the mid-90s, Crocop served as a member of the elite Special Forces unit called "Lucko". During his service, he used to train with the Croatian national kickboxing team. After spotting talent in him, one of the colonels told Crocop to leave the unit and focus on becoming a pro fighter and making his country proud.
In 1996, Cropop signed with the best kickboxing promotion at the time, K-1, with an amateur record of 48–0. In his pro-debut, he beat Jerome Le Banner, one of the best fighters at the time, which speaks volume about how talented Crocop was. During his first stint with K-1, he managed to beat many great names and reach the finals in '99 (lost against Ernesto Hoost) and 2000 (lost to Mike Bernardo)
After competing in MMA for 12 years, he would come back to K-1 in 2012 to win the prestigious K-1 World GP title in his native Croatia.
RECOMMENDED READING:
Top 6 Martial Arts for Police Officers – Why They're Great 
2. Israel Adesanya
The UFC champ, Israel Adesanya, is one of the best and most technical strikers the MMA world has ever seen. In fact, Adesanya is so good on the feet that it is fair to say he has elevated the striking game to another level.
Adesanya started his fighting journey at the age of 18 by training in kickboxing. In his own words, the famous "Ong-Bak" and a couple of other action movies inspired him to pursue a career in combat sports. After just two years of training, he would start competing as an amateur and put together a record of 32–0 before turning pro. This was also a time when he moved to Auckland, New Zealand to join the "City Kickboxing" gym.
As a pro, Adesanya compiled a record of 75 wins and just 5 losses while fighting under the top banners like "Glory" and "King in the Ring". Upon switching to MMA, he didn't need much time to succeed. In 2017, he came into the UFC as an AFC champ and needed less than 2 years to achieve the same in the UFC.
1. Alex Pereira
There is one big reason why Pereira was one of the most talked-about signings by the UFC. Pereira, who is a former Glory kickboxing champion, is best known for defeating the reigning UFC 185-pound middleweight champion, Israel Adesanya, twice in a kickboxing match.
Therefore, when Adesanya had cleared out his entire division in the UFC as a middleweight champion, leaving him without any formidable opponent to face next, Pereira was fast-tracked to fight Adesanya for the title despite his lack of MMA fighting experience.
In their third bout in the UFC, Pereira managed to do the unthinkable by winning via TKO, but subsequently lost in their fourth fight as he was defeated via brutal KO. Pereira has since moved up to the light heavyweight division.
Regardless of his future UFC achievements, Alex Pereira is arguably the best kickboxer to ever cross over to the UFC.
Here are some of Pereira's notable achievements as a kickboxer:
2021 Glory Light Heavyweight Champion
2019 Glory interim Light Heavyweight Champion
2017 Glory Middleweight Champion
2014 Glory Middleweight Contender Tournament Winner
2022 UFC Middleweight Champion
RECOMMENDED READING:
What Is GLORY Kickboxing? Introduction To GLORY Kickboxing