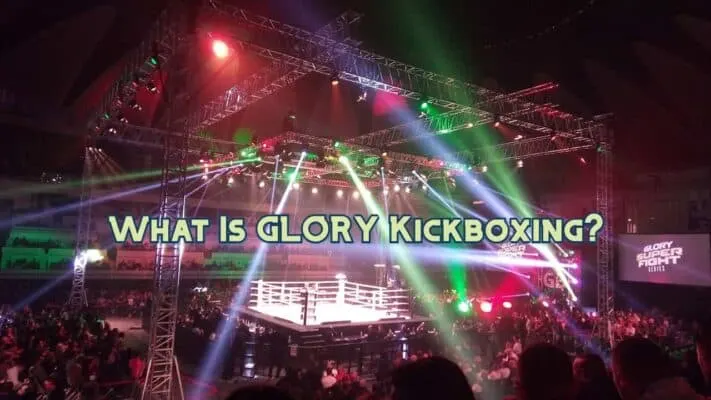 Although kickboxing is not as popular as it used to be back in the 90s and 2000s, it is still more than present in the combat sports world. There are many good promotions that put on high-quality shows, with one of the most popular being "GLORY" Kickboxing.
GLORY is the leader in the modern kickboxing industry and home to the most talented strikers and biggest events. It is a promotion based in Singapore and owned by a French businessman, Pierre Andurand who is one of the richest hedge funders. The promotion consists of seven weight classes in total and holds most of its events in the US and Netherlands.
Keep reading this article to learn more about GLORY Kickboxing. We are going to bring you closer to its history, rules, and fighters.
History of GLORY Kickboxing
The story of GLORY begins in 2011. At the time, the downfall of the largest kickboxing promotion, K-1, had already started which opened the doors for new promotions to emerge and penetrate the market. The CEO of Total Sports Asia, Pierre Andurand, and his partner Scott Rudmann spotted an opportunity. Their initial plan was to buy K-1 along with their production team and contracts, but the two sides failed to settle the deal.
Since the K-1 got sold to a different company, the two partners have decided to launch a new promotion. In 2012, they bought three promotions to lunch their own brand "GLORY World Series":
United Glory
Golden Glory
It's Showtime
The deal with "It's Showtime" was the most beneficial one. It secured them a top event production team, and active contracts with some of the best kickboxers at the time. As a new player on the market with good financial support, Glory had enough resources to keep fighters like:
Peter Aerts
Remy Bonjasky
Semmy Schilt
Giorgio Petrosyan
The first-ever Glory event was held in 2012 in Stockholm, Sweden. Over the course of the next 10 years, Glory would put on over 90 shows all around the world, and become a leader in the market.
RECOMMENDED FOR YOU:
What Is K-1 Kickboxing? The Beginner's Guide to K-1
What Are GLORY Kickboxing Rules?
Glory Kickboxing rules are very similar to the ones in K-1, and with that, are very easy to understand. Here is a detailed overview of all the major rules:
Lenth of the matches - there are 3 classes of Glory matches: A, B, and C class. A class matches have three or five rounds (title fights) with each round being 3 minutes long. In case of a draw in a title fight, there are one or two extra rounds. B class matches have three rounds with each round being 3 minutes long. C class matches include 3 rounds of action with each round being 2 minutes long.
Legal strikes -fighters can strike both upper and lower body using their legs and hands. They throw all types of low/high kicks, western boxing combos, and knees to the body or head. Spinning back fist strike is also allowed.
Illegal strikes -elbow strikes of any type, striking the grounded opponent and punches to the back of the head (rabbit punches) or torso. Fighters are also not allowed to execute throws, trips, takedowns, sweeps, or clinch.
Gear– all fighters must wear full padded boxing gloves, shorts, mouthguard, and groin cup.
Scoring and judges– each match includes three judges sitting beside the ring. They score the fight using 10 point "must" system taken from boxing.
Ways to win - fighters can win a match via decision (split, majority, unanimous), knockout, or by scoring 3 knockdowns in a round, or 4 in a fight.
GLORY Competition Format
Glory competition format consists of single matches, tournaments, and Glory rivals. Here is a brief explanation of all three formats:
Single matches — are regular matches between fighters within one weight class. Glory has 7 weight classes in total out of which 6 are for men, and 1 is for female fighters. Each weight class includes a ranking system where the main goal is to move up the ranks and challenge a titleholder for the belt. It is the same as in other combat sports like boxing or MMA/UFC for instance.
Tournaments — there are different types of tournament forms. The most popular is the World Championship where fighters compete for the world title of a specific weight class. Other ones are Contender, Slam, or Grand Slam tournaments.
Glory Rivals — is a new format launched in 2022. Glory partnered with Enfusion in Europe and RISE in Japan with an intent to put on cross promotional fights. The main idea is to find out who is the best fighter regardless of the promotion.
Does GLORY Kickboxing Perform Drug Testing?
Glory doesn't have clear and strict anti-doping testing policies. But on the other side, this doesn't mean that Glory is not testing its fighters at all. If the event is in the US, the Athletic Commission of that specific state will perform drug tests on the day of the fight. If the event is in Europe or Asia, then governing bodies of these countries would carry out the same tests.
Still, bear in mind that the standard of this type of testing is not the same as the ones performed by USADA for instance. This is also the main reason why only one fighter in Glory history (as of 2022), has tested positive for PEDs via this method of testing. That fighter was Jarrell Miller and he received a nine month suspension in 2014.
In 2018, GLORY started working with a Dutch testing agency "Doping Autoriteit Netherlands (DAN)" to test its fighters. The main idea was to clean the sport from PED users, and make matches safe and fair. The final result of their effort was that 4 popular Glory superstars tested positive for using PEDs:
Badr Hari – suspended for 19 months
Ariel Machado – suspended for 20 months
Mladen Brestovac – reprimanded
Hesdy Gerges – (free from accusations)
RECOMMENDED FOR YOU:
Do UFC Fighters Get Drug Tested? – Fully Explained Here
Who Are The Most Famous GLORY Kickboxing Fighters?
Some of the most popular Glory kickboxers are:
Rico Verhoeven — is often seen as the best kickboxer of his generation. Some even see him as one of the best in history as well. He stands 6″5 and weighs over 255 pounds, and is packed with solid muscles. But although he carries a lot of muscles, he moves really fast and is very technical. In 2013, he won the Glory heavyweight title and, as of 2022, defended it 10 times.
Artem Vakhitov — is a multiple World and European Muay Thai champ, and Glory light heavyweight king. He is one of the most technical strikers who also has a very exciting fighting style. What clearly stands out in his game are very good boxing skills.
Antonio Plazibat — is the hottest prospect in Glory that comes from Croatia. In 2019, he won the "Newcomer of the year" award, and in 2021, a "most improved fighter of the year" award. Plazibat is also a former K-1 champ, and WAKO Pro World low kick champ.
RECOMMENDED FOR YOU:
Top 15 Greatest Kickboxers of All Time – Ranked
Are There Any Former GLORY Fighters In MMA?
In MMA history, there have been many great fighters who came into the sport from kickboxing. These fighters have not just managed to do well, but to reach the pinnacle of the sport. Some of the most famous names are Mirko Crocop, Mark Hunt, and Alistair Overeem. But what about a new generation of kickboxers? Well, there have been a couple of Glory fighters who moved to MMA and fight in UFC like:
Israel Adesanya — back in 2016, Adesanya was one of the most talented fighters on the Glory roster. Just a year later in 2017, he fought for the middleweight title against the champ, Alex Pereira. The two met at "Glory of Heroes 7" with Adesanya ending being knocked out in the third round. Shortly after, he made a decision to fully focus on MMA and he needed less than 2 years to go from making his UFC debut to winning the 185 lbs title. The majority of MMA fans see him as the best striker in the history of the sport.
Alex Pereira — is one of the best Glory fighters and a former champ in two different weight classes. He made his pro-MMA debut in 2015 with a loss at Jungle Fight 82 in his native Brazil. He would bounce back with 2 stoppage wins in 2016, before taking a break to compete in kickboxing for the next 4 years. In 2020, he got back into MMA to knock out Thomas Powell at LFA 95. A year later, he would make his UFC debut with a highlight reel knockout at UFC 268.
Gokhan Saki — Gokhan Saki is a legend of K-1 and one of the best fighters to never win the K-1 World GP title despite all the efforts. After K-1, Saki moved to Glory in 2012 where he had a lot of success fighting at the top level. In 2017, he made his UFC debut by scoring a highlight reel KO against Henrique Da Silva, before losing to Khalil Rountre Jr. He left the UFC in 2018, and decided to take 3 year break before signing with Glory once again in 2021.
What Type of Kickboxing is GLORY?
Watching Glory events, you can see fighters from different styles of kickboxing competing under the unique Glory rules. It doesn't matter if a fighter has a strong base in Dutch, Japanese, or American style(Full Contact Kickboxing) of kickboxing, they can all quickly adapt to Glory rules and do well. In the end, Glory rules are designed in a way so that kickboxers from all styles could come in and adapt to it very quickly, or that is how it is on paper.
For instance, Muay Thai fighters might have a hard time adapting because their game leans heavily on clinch fighting using elbows, which is not allowed in Glory. Muay Thai fighters also tend to execute a lot of throws, sweeps, and trips which are also not allowed in GLORY. But on the other side, there have been many top-level Muay Thai fighters who have conquered Glory promotion despite all the differences in rules.
The Glory rules are actually very similar to Dutch-style kickboxing and are very much the same as the famous K-1 rules. The only difference from Dutch style is the fact that you can use knee strikes to the head in Glory, with everything else being the same.
RECOMMENDED FOR YOU:
What are the Different Styles of Kickboxing? Simply Explained
Where Is GLORY Kickboxing Based?
Glory Kickboxing is based in Singapore and is owned by "GSUKCO LIMITED" and businessman Pierre Andurand. Glory also has offices all around the world such as the ones in the US (Denver), and in Amsterdam, Netherlands. This is due to the fact that these are the two biggest kickboxing markets and Glory, in fact, holds most of its events in these two countries.
Are Knees Legal In GLORY?
Yes, knee strikes are legal in Glory, and fighters can land them both to the body or head of their opponent. However, bear in mind that Glory rules do not allow clinch fighting. Or in other words, fighters can grab or hold their opponent only to immediately attack with a knee strike to the body or head. If a fighter goes for a clinch without doing any damage, the referee would instantly stop the action and separate the fighters.
What Is Not Allowed In Kickboxing?
Here is a list of techniques and moves that are not allowed in the majority of kickboxing promotions like K-1 and Glory:
Landing elbows from the distance or inside the clinch.
Take the opponent down using throws, trips, sweeps, or takedowns.
Striking the grounded opponent using legs or hands.
Landing punches to the back of the head (rabbit punches) or back of the torso.
Landing direct kicks to the knees such as oblique kick, front kick, and side kick.
Utilize dirty techniques such as headbutts, bite the opponent or strike the groin area.
RECOMMENDED FOR YOU:
What Is Lethwei? Burmese Bare Knuckle Boxing Explained
How To Watch GLORY Kickboxing
You can watch all Glory events on pay-per-view at gloryfights.com from anywhere in the world. You can also watch the events on your tablet or phone by downloading their app "GLORY Fight Fight Fight". Preliminary card is always available for free at their website, and Glory's Facebook and Youtube channels. The price may vary between the events but is usually around $24.99. In 2019, Glory has also partnered with the UFC which means that you can also watch all the events at UFC Fight Pass.