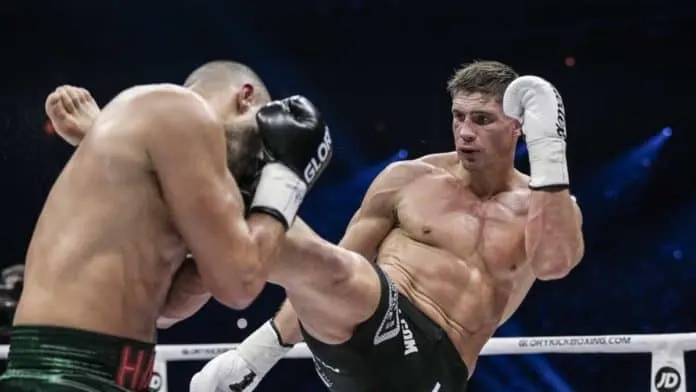 Kickboxing is one of the most exciting combat sports that started to rise in the 1960s in Japan. It exploded in the early 90s with the birth of the famous K-1 promotion that was the most popular combat sport promotion in the 90s and early 2000s. In modern times, kickboxing might not be as popular as it was, but it is still the most exciting form of combat.
In this article, we are going to rank the top 15 best kickboxers of all time. We will bring you fighters from different eras, and explain why they deserve a spot on this list.
15. Jerome Le Banner
Le Banner is arguably the best French kickboxer of all time, and one of the best K-1 fighters to never win the Grand Prix title. Known for his gigantic size, big muscles, and aggression, Le Banner was a force to be reckoned with in the 90s. Not a single fighter who shared a ring with the Frenchman walked away without taking heavy damage.
People loved him because of his reckless fighting style that brought him a lot of success, but on the other side, a lot of losses as well. He would often throw defense and game plan out of the window, stand in the center, and bang with some of the hardest punchers like Mark Hunt. Despite not winning the K-1 title, Le Banner was able to win I.S.K.A and W.K.N. World titles.
RECOMMENDED FOR YOU:
What Is K-1 Kickboxing? The Beginner's Guide to K-1
14. John Wayne Parr
John Wayne Parr is one of the most famous kickboxers who had been in the game for more than two decades. Over the course of his career, he won an amazing 14 titles fighting in Muay Thai, Kickboxing, and even pro boxing. But unlike most other kickboxers, Parr didn't make a name for himself fighting in the western world. No, he did in Thailand.
Parr traveled to Thailand as a teenager with a dream to become a Muay Thai champion. He became one of the very few foreign fighters who managed to beat Thai boxers in their sport, and in 1997, he received a "Best Farang Fighter in Thailand" award.
13. Badr Hari
Badr Hari is a top kickboxer and the former K-1 superstar. Even though he never won the K-1 World Grand Prix title, Hari is by far the most famous fighter of his era. He had that bad boy image, brawl fighting style, and a huge fan base around the world. The biggest moment of his career came in 2007 when he won the K-1 heavyweight title by beating Yusuke Fujimoto with a wild head in the first round.
Inside the ring, Hari is a wild man who has never backed down from a fight, which is a reason why so many people love and respect him. He is a pure brawler who, despite looking wild, is also very technical inside the ring. His kicks are very powerful, but it is the power of his punches that often catches his opponents off guard.
He is by far the most talented kickboxer ever who has never reached his full potential due to the incidents he created both inside and outside of the ring that cost him a greater career.
12. Andy Souwer
Andy Souwer is a legend of K-1 and perhaps the best representative of the Dutch Style of kickboxing. He won the K-1 World MAX title two times in 2005 and 2007, is a four-time "Shootboxing" champ, and "It's Showtime" 70MAX world champion. In 2021, Souwer retired with an amazing 161 wins on his record, 98 knockouts, and 22 losses.
Inside the ring, Souwer was a pure Dutch Style fighter. He used to move forward all the time, throw a high output of punches, and finish each combo with a hard low kick or a knee up the middle. Though he didn't have great punching power, Souwer used to make up for the lack of power with relentless pace and accuracy. His opponents have all had a hard time keeping up with his pace.
11. Georgio Petrosyan
Petrosyan might be the most technical kickboxer of all time. His tactical and strategic fighting style earned him the nickname "The Doctor".
Petrosyan became famous while fighting in K-1 where he was undefeated for almost 5 years. In that time span, he faced and beat the best of the best like Albert Kraus, Mike Zambidis, and Andy Souwer. He also fought a lot in Thailand at the famous Lumpinee stadium where he enjoyed solid success competing against the best Thai boxers. In his career, he won multiple world titles fighting across five different weight classes:
ONE kickboxing Grand Prix Champion
ISKA world champion
K-1 World MAX winner in 2009 and 2010
WKN and WMC Muay Thai champion
RECOMMENDED FOR YOU:
What are the Different Styles of Kickboxing? Simply Explained
10. Rico Verhoeven
Verhoeven is a Dutch kickboxing World champ who represents a new generation of kickboxers. He competes in the heavyweight division and is known for his athleticism, speed, and technical skills. It's fair to say that the world has never seen a man his size move and perform so well. Everything he does in a fight is well calculated and he rarely makes any mistakes.
He has been ruling the Glory kickboxing promotion since 2014, and has cleaned one entire generation of kickboxers.
9. Mirko CroCop
CroCop is a legendary kickboxer who fought in K-1 during the glory days of the promotion. Back in the late 90s, he clashed horns with some of the best fighters, but he just couldn't win the prestigious Grand Prix title. The closest he came was in 2000 when he was a runner-up.
However, after spending more than a decade fighting in MMA, CroCop came back to kickboxing in 2012. He would put together a six-fight win streak, and finally win the K-1 title in his native Croatia. During this campaign, he beat some legends like Ray Sefo, and fighters from a new generation like Ismael Londt.
When it comes to skills, CroCop used to be the most feared man both in MMA and kickboxing. What he did best was keeping his range, before exploding with crisp boxing combos and of course, wild roundhouse kicks. His signature move was the left roundhouse high kick, which is a weapon he utilized to score many brutal knockouts.
RECOMMENDED FOR YOU:
How Hard Can an Average Person Kick?
8. Buakaw
Although there have been many great Thai fighters who fought in the western world, Buakaw was the first one to become a mainstream star. He is widely regarded as the best and most accomplished fighter of all time when it comes to kickboxing. Back in his native Thailand, he used to be the #1 ranked fighter at the Lumpinee Stadium, which is the highest you can get in the Muay Thai world. Outside of Thailand, he was able to win the K-1 World MAX title two times along with WMC and WBC titles in Muay Thai.
In his prime, Buakaw was very athletic, technical, fast, and explosive. He always looked calm and patient inside the ring, but once he picks enough data, it would be game over. Like a pure Thai boxer, he would land fast and powerful kicks, and his clinch game was the best in the business.
7. Ramon Dekkers
Ramon Dekkers will go down in history as the most violent and aggressive kickboxer of all time. His nickname "Turbine From Hell" perfectly describes who he was as a fighter. A power puncher who had bombs in both hands, a strong chin, and insane cardio.
Dekkers moved forward all the time swinging and landing bombs which is why he is considered a Mike Tyson of kickboxing.
He fought a lot in Thailand and is of the very few Europeans who managed to beat Thai fighters in their own game. He came into Muay Thai from kickboxing rules, and in his own words, he had a hard time adapting. But over the years, he would reach legendary status in Thailand, and become a huge star.
In 2012 at the 85th anniversary of the King of Thailand, Dekkers received a prestigious award from the Royal Family for his service to the sport. But sadly, Dekkers would die just a year later in 2013 at the age of 43.
RECOMMENDED FOR YOU:
How Hard Can an Average Person Punch?
6. Rob Kaman
Rob Kaman is one of the pioneers of Dutch-style kickboxing who came out of the famous Mejiro Gym in Amsterdam. Back in the late 70s and 80s, he trained directly under the father of Dutch Style, Jan Plas. In his career, he won 9 world titles in both kickboxing and Muay Thai, and is often seen as the best kicker of all time. He finished 9 fights with brutal leg kicks, which shows you how devastating his kicks used to be.
Kaman spent his youth training soccer for the top European club called "Ajax FC". His strong background in soccer is one of the reasons why he had so fast and powerful leg kicks. At the age of 16, he would switch over to kickboxing where he fought as a pro for the next 20 years before retiring in 1999 with a record of 97 wins out of which 77 were knockouts, and 12 losses.
RECOMMENDED FOR YOU:
What Is American Kickboxing? Here's What You Should Know
5. Andy Hug
It's really hard to put together any list about top kickboxers without talking about Andy Hug. He was one of the most exciting K-1 fighters of all time who enjoyed a god status in Japan. He was the face of kickboxing in the 90s, good looking, charming, and very talented.
Hug came into kickboxing from Kyokushin karate where he was a European and World champion. Inside the K-1 ring, he never hesitated to throw wild techniques like axe kicks, tornado kicks, and the famous spinning heel kick known as the "Hug Tornado". And he didn't throw these techniques just to entertain the crowd, no, he was landing and doing damage with these moves.
The biggest moment of his fighting career came when he won the K-1 World Grand Prix title in 1996 by beating Mike Bernardo. He also has wins over Ernesto Hoost, Peter Aerts, Ray Safo, and Sam Greco.
In 2000, the sad news came that Andy Hugh lost his battle against leukemia on August 24, just two weeks before his 36th birthday.
4. Remy Bonjasky
Bonjasky is a legend of K-1, and perhaps the best kickboxer of the 2000s. He won the K-1 World Grand Prix title three times, all in spectacular fashion. He was a very exciting fighter to watch who has left nothing but carnage every time he fought in the ring.
Standing 6'4″, Bonjasky had a high reach and he used it to perfection. He preferred to land heavy kicks from the distance, before exploding with crazy flying kicks and knees. Back in the day, he would score a flying roundhouse kick knockouts, that's how skilled he was. This fighting style earned him the nickname "The Flying Gentleman".
Bonjasky never used boxing to do damage but it's worth pointing up that his defense was superb. He retired from the sport in 2017 with a record of 78 wins and 20 losses. Nowadays he has his own "Bonjasky Academy", and is focused on producing new Dutch champions.
3. Semmy Schilt
Standing 6'11" and weighing around 255 pounds, Schilt is a mountain of a man. But at the same time, it's weird that a man his size is also one of the most talented combat sports athletes. He is a three-time K-1 World Grand Prix champion, Glory heavyweight champion, and he also fought a lot in MMA where he was a King of Pancrase champ.
Despite being so tall and heavy, Schilt never lacked agility and speed inside the ring. He is among the most technical kickboxers of all time who retired from the sport with 43 wins and 6 losses on his record. During his time in K-1, he beat some of the best fighters like Peter Aerts, Badr Hari, Jerome Le Banner, and many, many others.
RECOMMENDED FOR YOU:
Top 13 Tallest MMA Fighters of All Time, Ranked
2. Peter Aerts
Aerts is a legend of kickboxing who stayed on top of the game for more than two decades. From the early 90s to the fall of K-1 in 2011, Aerts had been fighting only the best of the best, and often fighters who were much younger than him. In this time span, he became the K-1 World Grand Prix champ three times.
In the 90s, Aerts was so dominant that the fans gave him the nickname "Mr. K-1". His other nickname "The Lumberjack", however, perfectly describes his brutal fighting style. Instead of an ax, Aerts would use his long and powerful kicks to demolish his opponents. He would chop their lead leg from all ranges before going high and knocking them out. No matter if he was backed against the ropes, Aerts always had the ability to create space to throw hard kicks, mainly thanks to his strong background in Kyokushin karate.
Aerts retired from the sport in 2020 with a record of 108 wins and 81 knockouts, and runs his own gym "Fight Institute Peter Aerts".
1. Ernesto Hoost
Hoost is, perhaps, the best K-1 fighter in history which also makes him one of the best kickboxers of all time. He fought in K-1 for more than a decade, and he won the K-1 title four times, which is a record.
The reason why he is often regarded as the best is that he won all of his K-1 titles during the glory days of the promotion. From the late 80s to the mid-2000s, Hoost fought only against top-level competition and he beat them all. He retired with 99 wins and 21 losses on his record.
His nickname "Mr. Perfect" is the only thing you need to know about his fighting style. Being tall and lengthy, Hoost was a master in using his long reach to keep his range and demolish his opponents from the distance. From pinpoint perfect leg kicks to crisp boxing combos, everything he did on the feet was perfect.
Interested in learning more about kickboxers? We know the feeling. Here's an article we think you'll like: Top 15 Greatest Kickboxers In UFC History - Simply The Best