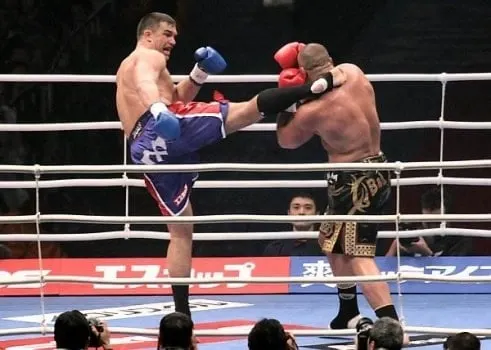 At one point in time, K-1 kickboxing was the biggest and most popular combat sport in the world. It was much bigger than mixed martial arts, and there is a strong argument that it was larger than boxing as well. It's a shame that modern-day fans of don't know much about this, perhaps, the most exciting combat sport ever.
K-1 is the kickboxing promotion that emerged in 1993 in Japan with the idea of finding out which striking martial art is the best. The letter "K" stands for karate, Kung Fu, kickboxing, and Kempo. K-1 was so popular that the "K-1" set of rules later became the official kickboxing style.
But, this is just the tip of the iceberg when it comes to K-1 and what made it so special. Keep reading this article to learn more about this unique promotion from Japan. We will explain the rules of K-1, how it differs from other styles of kickboxing, and remember the best fighters.
History of K-1 Kickboxing
The story of K-1 begins in the early 1980s in Japan. At the time, the former Kyokushin Karate master, Kazuyoshi Ishii decided to form a new style of karate called "Sedokaikan". He did this with the idea to gather the best strikers from other arts, and let them fight against each other. In some way, Ichii wanted to find out which striking art is the most effective one, and which fighter is the best.
In the initial form, fighters fought under the famous Kyokushin knockdown rules. But to find the right balance that would make matches fair, the rules had changed closer to the kickboxing rules, and in some way, this marks the beginning of K-1. Realizing that Sedokaikan karate is turning into kickboxing, Ishii has decided to form another promotion called "K-1" in 1993.
The letter "K' stands for various striking arts like Kung Fu, Karate, and Kickboxing. The first event took place in March 1993, in Tokyo Japan in front of just 2,100 people in the audience.
But this new form of kickboxing would explode in the following years, and become the #1 combat sport in the world. And although K-1 went through many ups and downs, even got shut down at one point, it managed to survive. Ever since 1993, K-1 has been giving the world from 10 to 30 events every single year with the "World Grand Prix Finals" and "World Max Finals" being the biggest and most popular. These are the two elimination tournaments where 16 best K-1 fighters fought for a world title.
What Are The Rules of K-1 Kickboxing?
K-1 rules are very simple and easy to understand. Here is all you need to know about them:
Fighters compete in a square ring wearing boxing gloves and a shorts
Each match includes 3 rounds with each one being 3 minutes long. The rest period between the rounds is 1 minute. In case of a draw, there is one extra round.
There are 10 weight classes in pro K-1 and 19 in amateur competition.
Fighters can strike with kicks, punches, and knees
Backspin blows are allowed but only if the strike connects with a part of the glove. Landing backspin blows with elbow or forearm is illegal.
Sweeps and throws are not allowed
Fighters can clinch but only with an intention to attack with a knee. Stalling the action is not allowed.
Each match includes one referee and three judges sitting beside the ring scoring the fight
What Is The Difference Between K-1 and Kickboxing?
K-1 is an organization that promotes kickboxing matches and an official style of kickboxing. Comparing K-1 with kickboxing is like comparing NBA with basketball. Average people who don't know much about combat sports tend to mix these two terms with one another, thinking these are two separate sports. But this is a huge mistake, and here is why.
Kickboxing is a combat sport that emerged in the 1950s in Japan. Over the years, many different kickboxing promotions, styles and rules have emerged all over the world. Here are the three main styles of kickboxing that are defined by different sets of rules:
So comparing K-1 with kickboxing is a big mistake as we are talking about the same sport. The right way is to compare K-1 with other styles and rules of kickboxing like American and Dutch styles. For instance, you can't compare NBA with the sport of basketball. The only right way is to compare NBA with other leagues that have different rules, like European league for instance.
What Is The Difference Between K-1 and Muay Thai?
This is the same as comparing NBA with the European League basketball. Both Muay Thai and K-1 are styles of kickboxing, but the rules are a bit different. In fact, the rules are so similar that K-1 fighters are often switching over to fight in Muay Thai and vice versa. Here are all the differences you should be aware of:
Emphasis and strategies
Muay Thai is one of the most brutal fighting styles, but at the same time, it is often seen as a complete striking art. It teaches you how to use all limbs as weapons to strike with kicks, punches, elbows, and knees. The emphasis is on hard kicks and fighting in the famous "Thai clinch" using elbows and knees. And Muay Thai fighters focus on landing a single power strike rather than throwing combinations.
K-1 kickboxers on the other side can also strike with kicks, punches, and knees, but elbows are not allowed. The emphasis is on western boxing, high output, and pressure. For instance, they would throw a five-punch combo and finish it with a single kick, instead of loading on a single strike like Thai boxers.
Rules of competition
Muay Thai rules are very much the same across all promotions. The matches have 5 rounds with each round being 3 minutes long and there is a 2 minute break between the rounds. Fighters can fight in the clinch, and they can also use sweeps and various throws to take the opponent down.
K-1 rules are very similar with few exceptions. The matches in K-1 last 3–3 minute rounds with one-minute break between the rounds. Fighting in the clinch is allowed as long as one fighter is landing knee strikes. They are not allowed to clinch to take a rest, hold the action, or throw the opponent down to the ground. And, K-1 fighters are not allowed to strike with elbows.
RECOMMENDED FOR YOU:
Taekwondo vs Kickboxing – Key Differences and Comparison
What Is The Difference Between K-1 World GP And K-1 World Max?
"K-1 World GP" and "K-1 World Max" are two different formats of K-1 competition. Fighters from both formats fight under the same rules, but the only difference is the weight. K-1 World GP was an open weight tournament, while "K-1 World MAX" was a middleweight tournament.
K-1 bosses introduced the "World Max" format in 2002 with an intention to gather all the best middleweight fighters (70kg; 155 lbs). The term MAX stands for "Middleweight Artistic Extreme". But bear in mind that World Max Finals was the final tournament. There were also plenty of other events where fighters fought to secure a place in the finals. From 2002 to 2014, K-1 gave the world a total of 14 World Max finals.
K-1 World Grand Prix, on the other hand, was a more popular elimination tournament. It was an open weight tournament held every year between 1993 and 2012, and the World Grand Prix events were usually the biggest. As for the World Max, there were also plenty of smaller events in which fighters competed for one of 16 places in the World Grand Prix finals. Securing a place in the finals was a big deal as winning the title in K-1 GP was considered the biggest achievement in kickboxing.
The format of events has changed a lot in 2012 when the "K-1 Global Holdings Limited" acquired the rights to K-1. In modern days, World Grand Prix format is still present but it is no longer an open weight tournament.
Who Are the Best K-1 Fighters of All Time?
There have been many great K-1 fighters and choosing the best ones is not an easy task. Here is the list of best fighters from K-1 including the World Grand Prix and World Max. The list also includes fighters from different eras and is ranked in no particular order.
Ernesto Hoost — is often seen as the greatest K-1 fighter of all time with 4 World Grand Prix titles on his record. He was the first K-1 superstar and his nickname "Mr. Perfect" ideally describes Hoost as a fighter. What always stood up in his game were incredible boxing skills and very hard low kicks.
Semmy Schilt — standing 6'11" and weighing around 255 pounds, Schilt was a giant. Although he was huge, Schilt was very skilled and mobile for a man his size, and an expert in multiple martial arts. He is also a four-time World Grand Prix winner and alongside Hoost the best K-1 fighter of all time.
Andy Hug — wasn't the most successful K-1 fighter, but for sure, he was among the most popular. He was good looking, charismatic, and his fighting style was very exciting. He was one of the first fighters to use karate techniques like Axe Kick and the famous Tornado Kick in kickboxing. In 1996, he won the K-1 GP but would lose a battle against cancer just four years later and die on August 24th in 2000.
Remy Bonjasky — is a three-time K-1 World Grand Prix winner and one of the most exciting fighters in history. He was a pure Muay Thai fighter who used to throw all kinds of flying and spinning techniques. But his trademark move was the famous flying knee, which earned him a nickname "The Flying Gentleman".
Peter Aerts — is also known as the Dutch lumberjack. He is the three-time World Grand Prix winner and a true legend of K-1. Most of his fights were chaotic brawls and he fought in K-1 for 16 years. It's really amazing how Aerts was able to deal with the best fighters from different eras for such a long time.
Buakaw — is the most popular K-1 World Max fighter and a two-time champion. He came into K-1 from Muay Thai where he is also a multiple world champion.
Masato Kobayashi — is one of the best Japanese kickboxers and a two time World Max winner. During the golden age of World Max, Masato has fought and beat the best of the best. He holds wins over Buakaw, Andy Souwer, and Mike Zambidis.
Giorgio Petrosyan — is the two time "World Max" champion and perhaps, the most technical striker of his era. From his incredible standup defense, to the speed of his strikes, Petrosyan was always a step ahead of his opponents. But it was the precision of his striking that earned him a nickname "The Doctor".
Related Questions
Who is the Best K1 Fighter of All Time?
Who is the best K-1 fighter of all time really comes down to two names: Ernesto Hoost and Semmy Schilt. However, picking who is the best between these two is very hard, almost impossible, and here is why.
Both Hoost and Schilt have four K-1 World GP titles each, but they fought in different eras. Hoost used to dominate during the 90s until Schilt took over in the 2000s. They were both the most dominant fighters of their generation, and they fought each other three times.
The first fight ended in a draw while Schilt won the second and third. But it would be wrong to say that Schilt is better simply because Hoost was in his late 30s and past his prime when they fought each other the second and third time.
Hoost retired with 121 fights on his record, 99 wins out of which 62 were brutal KOs. Schilt, on the other side, had 50 pro fights, 43 wins out of which 20 were by knockout.
Can You Clinch in K-1?
Yes, you can clinch in K-1 but bear in mind that this type of clinch differs a lot from the one in Muay Thai. K-1 fighters can only clinch during the attack to land vicious knees to the body or head. If the attack is productive, the referee would allow the clinch battle for up to five seconds before separating the fighters. Fighters are not allowed to stall the action, take a rest, or throw the opponent down to the ground. These moves are illegal in K-1.
Are Sweeps Allowed in K-1?
No, K-1 fighters can't use sweeps, trips, or any other grappling move to throw the opponent down to the ground. The only thing they can do is to clinch during the attack to land knee strikes, and they can do this for about five seconds. Sweeps and throws are legal in Muay Thai.
What's the Difference Between MMA and Kickboxing?
MMA and kickboxing are two separate combat sports that do not have much in common. As its name suggests, mix martial arts is a mix of techniques from various fighting styles put into one style of fighting. It is the most versatile combat sport that covers all the elements of fighting. Fighters can grapple using wrestling moves, fight on the ground, and strike on the feet.
Kickboxing, on the other side, is a fighting style that focuses entirely on the standup fight. Depending on the style, fighters can throw kicks, punches, knees, and even elbows in some types like Muay Thai. It doesn't include grappling or ground fighting, but athletes can fight in the clinch in some forms.
Although it doesn't cover all the aspects, kickboxing is one of the most important styles in MMA fighting. In modern days, fighters can't expect to succeed in MMA without having at least basic kickboxing skills.
What is the Difference between Taekwondo and Kickboxing?
The main difference between Kickboxing and Taekwondo is the emphasis. Taekwondo is an art that focuses on kicks, while hands strikes are a secondary weapon. Kickboxing, on the other side, has many forms out of which the emphasis in most is on using all limbs as weapons. It includes kicks, punches, and under K-1 rules, knee strikes as well.