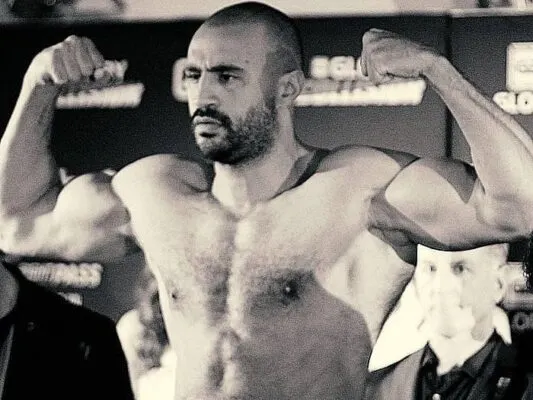 Editor's note: The views and opinions expressed below are those of the author.
During the '90s and 2000s, kickboxing and the legendary K-1 events used to rule the world of combat sports. Throughout these two decades, kickboxing fans got to see some incredibly talented and dominant champions compete inside the ring. However, no one was as popular as Badr Hari, and many people wonder: Is he the greatest kickboxer of all time?
Badr Hari is not the greatest kickboxer of all time, as he certainly wasn't the most dominant one who never won the K-1 World Grand Prix title. But Hari became the most popular kickboxer due to his exciting fighting style, charismatic persona, wild behavior, and constant media attention.
In this article, we will take a closer look into Badr Hari's career, accomplishments, wild personality, and all the troubles that clearly cost him a better career in the end and ultimately prevented him from becoming the greatest kickboxer.
Who is Badr Hari?
Badr Hari is a famous Dutch kickboxer of Moroccan descent, also known as "The Golden Boy." He was born in the Netherlands, a country famous for developing the Dutch Style of kickboxing and a place where kickboxing is a national sport.
Kickboxing is integrated deeply into Dutch people's sports and pop culture, like Karate in Japan or wrestling in Dagestan. Successful kickboxers are considered heroes of the nation, and many kids who look up to them join kickboxing at a very young age, and one of them was Badr Hari.
Born and raised in Amsterdam, Hari enrolled in kickboxing when he was 7 years old. His father sent him to sign up for the classes in order to learn self-defense and how to protect himself against the bullies in school and the neighborhood.
In the following years, Hari showcased a rare talent and potential. By the time he was a teenager, he was already training under the legendary kickboxing coach Thom Harinck and competing and winning matches all across the Netherlands. When he was 18 years old, he already racked up 50 matches on his record and was ready to turn into pro competition.
What made him better than other young kickboxers at the time was his incredibly technical striking, aggression, and prominent finishing instincts, which made him one of the scariest matchups among juniors and later professionals.
After a couple of pro matches in Holland, Hari would leave Harinck and start working with Mike Passenier at the famous "Mike's Gym." At the time, Mike worked with some of the world's finest kickboxers, which enabled young Hari to test himself and elevate his game to another level. He would soon start competing in the Japanese K-1 promotion, which was the biggest combat sports promotion at the time. He fought against the best of the best kickboxers when he was only 20 years old.
In the following five years, he would reach the prestigious World Grand Prix final twice and fail to win the championship. First, he was disqualified in 2008 after kicking the grounded Remy Bonjasky, and then he was finished against Semmy Schillt a year later.
His biggest achievement came when he beat Ruslan Karaev to win the K-1 heavyweight championship in 2007 and when he beat Semmy Schilt to win the "It's Showtime" heavyweight title.
Why Is Badr Hari So Popular?
Badr Hari is a global superstar and a very controversial figure who, according to many kickboxing fans, would have accomplished much more in his career if it wasn't for his troublesome persona and aggressive behavior inside and outside the ring. Within combat sports fans, he is considered the Conor Mcgregor of kickboxing, and these two fighters share a lot in common. Both are incredibly talented, outspoken, charming, and controversial fighters who have been arrested multiple times.
When Hari joined K-1, he was a 20-year-old hothead who didn't respect anyone in the game. He would trash-talk almost every opponent, fight in press conferences, and channel all his anger into the ring by fighting aggressively. He would always lead the fight on the feet, throwing each shot with full power with the goal of knocking out his opponent with pure aggression, which appeared to be without much strategy or tactics.
In the weeks leading up to the event and weeks afterward, he would constantly be on the covers of all sports magazines and news that often portrayed him in a negative way. But as far as Hari is concerned, there was no such thing as bad publicity because it made him more well-known to the general public. After each event, he would be equally destructive on the streets of the Netherlands, where he would often get into street fights, beat people up, and end up in jail.
And he is most likely the first kickboxer who started promoting that flamboyant lifestyle, filming his daily activities, expensive cars, and everything else that comes with being a prizefighter.
In just a few years, he managed to build a really large fan base both in the Netherlands and his native Morocco and create some type of cult around him. He really had that aura of invisibility and was the face of K-1 kickboxing between 2005 and 2009. His rivalries with Remy Bonjasky, Alistair Overeem, and many others brought millions of new fans to the sport, and all of this ultimately made him the most popular kickboxer in the world.
The best thing about him — Hari wasn't acting or playing a villain role. No, he has been battling with anger issues his entire life, and this is something he often publicly talks about. Although this may sound weird, all of these controversies and his hooligan-type persona are what made him so famous in the end.
Conor Mcgregor is a fair comparison. Like Hari, the Irishman is not the most accomplished MMA fighter but is by far the most popular in history.
RELATED:
Why Is Kickboxing Popular in the Netherlands?
Is Badr Hari the Greatet Kickboxer of All Time?
Badr Hari is, without a doubt, the most popular kickboxer of all time. However, he is certainly not among the greatest of all time if you compare his record with other great kickboxers such as Semmy Schilt, Remy Bonjasky, or Ernesto Hoost. In fact, it's really hard to put Hari into the top 5 if we focus solely on titles and accomplishments.
Still, no one can deny what he has done for the sport of kickboxing in terms of global popularity and bringing in dozens of millions of fans. He deserves a lot of credit for elevating the sport to the mainstream levels. What he has done is very similar to the impact Conor Mcgregor had on the sport of MMA and the UFC. Yes, MMA was popular before Mcgregor, and there have been better fighters. But the Irishman is directly responsible for the mainstream rise of the sport. And the same can be said about Hari.
Overall, Badr Hari is not the greatest kickboxer in terms of results. However, he is certainly among the most influential kickboxing figures in history and the most popular kickboxer. And on top of that, there is a strong argument that he might be the most exciting and violent fighter the world has ever seen.
His fights are guaranteed entertainment and fireworks from the opening second to the very end, and that's why there is always such a big hype whenever he is fighting. He has that "kill or be killed" type of mindset that, on one side, made him famous but, on the other, cost him some great wins.
In the end, Hari has over 125 fights on his record, and his finishing rate is close to 90%, which tells you a lot about how exciting his fights are. Speaking of his violent nature inside the ring, let's take a closer look at his fighting style next.
RELATED:
Greatest Ever: Top 11 Dutch Kickboxers of All Time
Badr Hari Fighting Style Explained
At first, Hari might look like a wild fighter who doesn't care much about tactics and defense and who primarily relies on his violent instincts, overwhelming the opponent with sheer aggression and power. But if you look closely, he is a very technical fighter who, even during the wild exchanges in the pocket, always maintains high awareness, knows what he is doing, and is in total control.
Hari is 1.97 m (6 ft 5) tall and enjoys quite a significant reach advantage in most of his fights. He prefers to stand in a square, Muay Thai type of stance and bank on his long reach to demolish his opponents with basics such as the jab, cross, and low-kick combination. Unlike most other Dutch-style fighters, he doesn't have a high output of strikes and rarely throws long combinations. Instead, he has a tendency to load up and throw each shot with full power.
In most cases, he would either catch the opponent coming in with a hard cross or the counter left hook or attack using high kicks or body-head punching combinations. He would rarely throw more than 2–3 punches in one burst. His favorite weapon has to be a powerful right hand down the middle, and he also often uses it to attack the body.
The power combined with his violent nature and fearless mind is what made him such a tough matchup for anyone. Once he senses the opponent is hurt, he will charge in like a maniac with a flurry of punching combos and will not stop until the opponent hits the canvas.
Also, Hari used to compete in the openweight division, where he was undersized in just about every fight. But he never had a problem with this, and he would often successfully trade power shots with fighters much heavier than he was. Later in his career, he would add quite a lot of muscle mass and, at one point, weigh around 250 pounds.
RECOMMENDED READING:
What Is ISKA Kickboxing? A Simple Guide to ISKA Kickboxing
Badr Hari's Top 5 Greatest Matches
Throughout his long career, Hari has been involved in a long list of exciting fights, and picking a few of his greatest fights is not an easy task. Following is a list of his five most memorable wins and finishes. These 5 matches are all you need to learn who Badr Hari is, why he is so popular, and what makes him so special.
Badr Hari vs. Peter Aerts (2008 K-1 World GP Quarter-Final)
Back in 2008, Hari faced the legendary 3-time K-1 World GP champion Peter Aerts. This was a typical matchup between the veteran on his way down and an established contender in his prime. A much younger, faster, and more powerful Hari put on an amazing performance to finish Aerts in the second round.
Badr Hari vs. Errol Zimmerman (2008 K-1 World GP Semi-Finals)
After beating Peter Aerts, Hari faced Zimmerman in the semi-finals. In the second round, Zimmerman would knock him down with a vicious overhand right. The shot literally echoed through the arena, and everybody thought Hari was done.
However, he stood back up and, a minute later, managed to send Zimmerman down to the floor with a nasty counter right-cross in the last second of the round before finishing him in the third with another cross.
Badr Hari vs. Ruslan Karaev (2007 K-1 World GP)
Karaev and Hari fought a couple of times, but their meeting in 2007 ended up as one of the most chaotic kickboxing fights ever. After a wild back-and-forth brawl in the first, where Karaev landed better and more damaging shorts, he finally managed to knock Hari down in the second with a nasty right hand.
Hari somehow managed to stand up but was visibly hurt. Karaev smelled the blood, and he moved in to finish the fight with another flurry, completely forgetting about his defense. As a result, Hari managed to return the favor and knock Karaev out with a hard right cross.
Badr Hari vs. Stefan Leko 2 (2005 K-1 World GP)
In the first fight, Hari got knocked out by Leko with a spinning back-kick to the body. The knockout was a big deal because there was a lot of animosity and trash-talk leading up to the fight and even more in the rematch that happened a few months later.
But this time, Hari would avenge the loss with one of the greatest knockouts in combat sports history. He caught Leko with a spinning back heel kick to the head, and he knocked him out unconscious.
Badr Hari vs. Semmy Schilt I ("It's Showtime"; 2009)
Many fans consider Hari's win over Semmy Schilt at "It's Showtime" to be the greatest of his career. At the time, Schilt was already a three-time K-1 champion and still in his prime, and no one saw Hari winning the fight. However, Hari came out aggressive, and he managed to finish Schilt within the first minute of the fight.
Is Badr Hari Still Competing?
Despite being close to his 40s and having over 125 professional kickboxing fights on his record, Hari is still an active fighter. What is surprising, however, is that he still is a global superstar, and his fan base is stronger than ever.
Despite the 3 losses he suffered and two no contests in his last 5 matches, Hari is still easily selling out stadiums in the Netherlands, and all events he participates in are real spectacles. Also, he is physically looking strong and is still agile, fast, and powerful. In fact, he managed to go toe-to-toe with all of his last 5 opponents, hurt them at some point in a fight, and nearly get a finish.
But the one crucial thing that started giving up on him is his chin. Due to all the gym wars and damage he absorbed in competition, Hari can no longer take a shot as he used to, and he has a really hard time recovering when he gets caught.
So, despite looking good in a fight and even leading on the scorecards, it seems like the one-well-placed shot is all that it takes to put him out. And in his defense, he fought some of the best kickboxers in the last couple of years, like Rico Verhoeven, who is one of the greatest of all time and always dangerous Benjamin Adegbuyi.