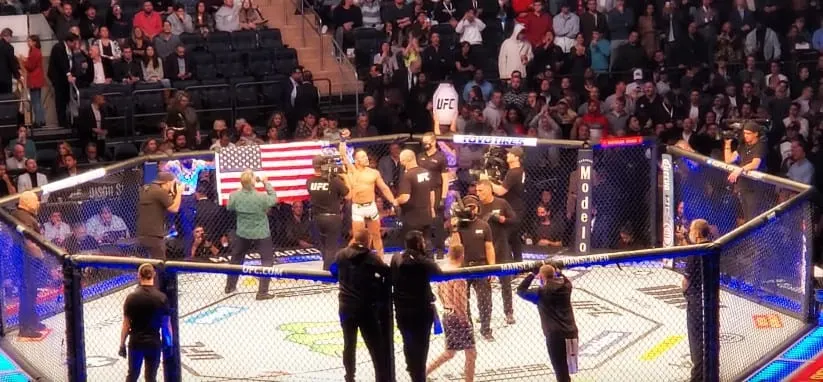 There are a number of mixed martial arts promotions today and you can make a pretty good living in many of them if you are a top star. However, the goal for just about every MMA fighter is making it to the UFC. After all, it is the premier and most popular promotion in the world featuring the best and biggest stars in the sport.
But how exactly can an aspiring MMA fighter get into UFC? Do they wait for the call up from the regional scene? Take part in Dana White's Contender Series? Or maybe take part in The Ultimate Fighter? Or is it your record that matters or who your manager is?
The most common ways to get into UFC are the following: Join a reputable MMA gym, compete in local MMA circuits to gain experience and to be scouted, apply directly to UFC to be considered, and contact influential MMA management.
In this article, you'll find more intricate details on how to become a UFC fighter. I will also address some of the commonly asked questions in regards to signing with the UFC.
How Do You Get Into The UFC?
1. Join a reputable MMA gym
Influence and connections can also play a big role. Suppose a fighter trains at a large, reputable MMA gym and has the opportunity to train with current UFC fighters. In that case, they will have an easier time connecting with UFC recruiters through the UFC fighters they train with than an aspiring fighter at a small gym somewhere else.
2. Compete in local MMA circuits to gain experience and to be scouted:
There are a couple of ways to get into the UFC. First and foremost, it should be noted that you will not get into the UFC with minimal experience. There are exceptions such as CM Punk, but those are unique situations which mainly depend on how popular the aspiring UFC fighter is along with their following. But as a whole, you will need some level of experience in the amateurs as well as the regional or local circuit before getting signed to the UFC.
Provided you have that, the UFC is always scouting for the next big thing. This is highlighted in UFC's YouTube series "Looking For a Fight" where UFC president Dana White or UFC representatives attend local shows and seek out talent to sign. Any fighters that interest or impress UFC will either be signed directly into the UFC or will be given the opportunity to feature in Dana White's Contender Series. This is a seasonal competition aimed at scouting talents to sign for the UFC.
The biggest star in the UFC today to come out of the Contender Series is bantamweight striker Sean O'Malley whose 2017 knockout of Alfred Khashakyan earned him a contract with the promotion. Even those who don't end up getting signed receive plenty of exposure. One such example is Brendan Loughnane who many felt White should have signed. Instead, the PFL picked him up.
3. Apply directly to UFC to be considered
Fighters aspiring to compete in the UFC can also apply to become a fighter through the UFC portal. Fighters create a profile and submit your professional fight record. You are then considered for shows like Looking For A Fight, Contender Series and The Ultimate Fighter. The Ultimate Fighter is one of the most notable ways to get into the UFC where if a fighter wins the competition, they will earn a six-figure UFC contract. In some scenarios, fighters who don't win the competition but impress as a whole are also given contracts.
That said, not every fighter has to go through those shows to get signed with the UFC. If UFC scouts notice you have extensive experience and an impressive record in other sports like kickboxing or boxing, you may get the opportunity to sign with the Las Vegas-based promotion based on your potential to become a great MMA fighter.
One such example is Gokhan Saki who was signed by the UFC in 2017 despite only having an 0-1 professional record. But because of his extensive kickboxing record, he was given the opportunity. There's also just simply impressing on the regional scene whether it's by having exciting finishes or just having a solid record where fans want to see a fighter compete in the UFC.
4. Contact influential MMA management
Having an influential and powerful manager can also help a fighter not only get signed in the UFC, but have a desirable contract with the right matchups. Here are some of the most reputable management companies in MMA:
Do UFC Fighters Get A Salary?
UFC fighters do not get a salary as they are not employed by the UFC. Instead, they are considered independent contractors, with each fighter having a different contract.
For example, it's very common for a newcomer to the UFC to have a contract where they get paid $20,000 to show up and get a $20,000 win bonus. However, bigger stars could have a contract where they get a flat $300,000 or much more to show up with no win bonus and also receive a portion of pay-per-view earnings which can be a very significant amount. As each contract ends, a fighter can negotiate a more lucrative contract during negotiations.
RECOMMENDED FOR YOU:
How Much Do UFC Fighters Earn? – Here's a Closer Look
How Much Do UFC Fighters Get Paid?
As aforementioned, UFC fighters get paid the base show money on their contract, and if applicable, they also get a win bonus. However, that's not the only way UFC fighters get paid. UFC fighters also receive sponsorship money as part of the UFC's deal with Venum. ESPN was the first to publish the details.
Fighters receive compensation by wearing Venum gear throughout fight week, weigh-ins and during their fights. The current Venum pay(sponsorship money) tier is as follows:
Fighters with 1-3 UFC fights receive $4,000
Fighters with 4-5 UFC fights receive $4,500
Fighters with 6-10 UFC fights receive $6,000
Fighters with 11-15 UFC fights receive $11,000
Fighters with 16-20 UFC fights receive $16,000
Fighters with 21+ UFC fights receive $21,000
Fighters challenging for a UFC title receive $32,000
Fighters defending their UFC title receive $42,000
UFC fighters are also eligible for bonuses. This comes in the form of a Fight of the Night bonus or Performance of the Night bonus which is usually handed out to a select number of fighters at each UFC event. This bonus is usually $50,000 which can make a lot of difference, especially for fighters in the lower tiers of fighter pay. It's also been known that the UFC sometimes gives out locker room bonuses to fighters under special circumstances. These figures are usually undisclosed.
Champions and headliners are also eligible to earn pay-per-view points whenever they compete in a pay-per-view event. Fighters eligible for pay-per-view points essentially get a fixed dollar amount for every pay-per-view buy within a certain range. For example, it's possible that a fighter receives 0 points if their event sells less than 100,000 buys. However, if they are eligible to earn $2 for every pay-per-view buy bought in excess of 100,000 buys, they can essentially make an extra $200,000 if the event ends up selling 200,000 buys.
Finally, UFC fighters can also get paid through various endorsement deals and business ventures which are not associated with the promotion.
RECOMMENDED FOR YOU:
How Many Times A Year Do UFC Fighters Fight? Fully Explained
Do UFC Fighters Still Get Paid If They Lose?
UFC fighters are compensated regardless of whether they win or lose a match. Losing fighters are also eligible for locker room bonuses as well as Fight of the Night bonuses.
Is There An Age Limit For Fighting In The UFC?
It appears one would need to be at least 18 years of age to compete in the UFC. In general, however, most fighters tend to sign with the UFC after they have some amount of experience which is why it is rare for teenagers to sign with the promotion.
The oldest fighter to ever compete in the UFC was Randy Couture when he competed at the age of 47. There is no strict age limit, but in general, most fighters tend to have their last fights in the UFC in their early forties.
Who Was The Youngest UFC Fighter Ever?
Bantamweight fighter Raul Rosas Jr., at age 17, is the youngest fighter to sign with UFC after winning a unanimous decision over Mando Gutierrez on Dana White's Contender Series.
How Hard Is It To Get Into MMA?
Given the increasing popularity of MMA, it's not as hard to get into as it was a few years ago. There are MMA gyms in just about every country now with all the major cities worldwide having multiple options to choose from. Simply enroll in a gym and remain committed and focused on your goal.
If you want to end up going professional, let your coaches know and they'll keep you informed of any local events to participate in. Sometimes, gyms also hold their own fight nights where aspiring fighters can gain experience as well as spar or fight with more seasoned professionals.
How Do I Start A Career In MMA?
It's important to have a decent level of experience before embarking into a career of MMA. It is recommended to train for a year before having some amateur fights to get a feel of the fighting experience. With that said, every fighter is different and some like former UFC featherweight champion Max Holloway had their first amateur fight after only a few training sessions. Amateur fights are unpaid (or pay minimal amounts) and are usually favorable matchups for the future elite fighters. Most top-level fighters in the UFC today have an amateur record assuming they weren't competing in any other sports prior to starting MMA.
Once you are ready for the next step, it's time to go professional. Most fighters start off by fighting for local or regional promotions to gain experience and build up their records before going to the more popular promotions such as the UFC, Bellator and PFL.
Can You Start MMA With No Experience?
You can certainly start MMA with no experience whatsoever in combat sports. Greg Hardy is one such example as the former NFL player decided to start his MMA journey in 2016. He had his first pro fight in 2017 and would eventually sign with the UFC in 2019. However, starting with no combat sports experience means taking a lot more time to catch up with the highest level of opponents who have been training for much longer.
Most fighters, however, have some martial arts experience before embarking into MMA. This can be in the form of boxing, judo, jiu-jitsu, wrestling, kickboxing, Muay Thai or karate to name a few of the arts. Conor McGregor, for example, started off with boxing before getting into MMA. There is no guarantee fighters with experience in combat sports will do well in all facets of MMA, but having a decent base in one of the more popular arts is always beneficial when choosing to pursue MMA as a full-time career.
RECOMMENDED FOR YOU:
MMA Fighters Who Succeeded Despite Starting Late