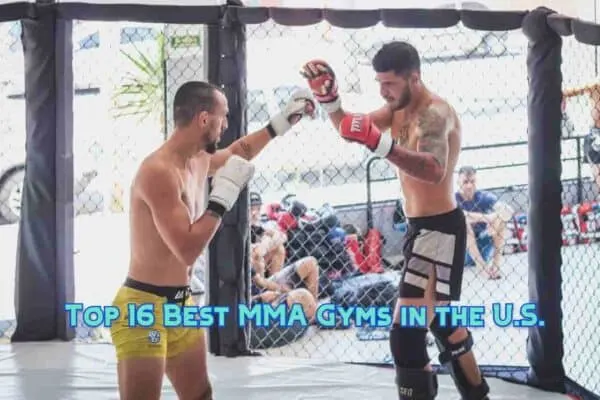 You can often hear coaches and experts saying that "iron shapes iron" and how crucial it is for athletes to train in the best MMA gyms to maximize their potential. If you look at the most successful UFC champions, they all train in large facilities under one of the best coaches.
Following is a list of what we consider the top 16 best MMA gyms in the U.S. The success of these gyms is based on the quality of coaching staff, and the number of top fighters and champions they have produced over the years.
We will analyze their coaching staff, expertise in teaching, quality of fighters, reputation, and what makes them so good. You should definitely check out one of these MMA gyms we'll be showing you if you are lucky enough to live nearby. So let's dive right into it.
American Top Team
Location: Coconut Creek, Florida, U.S.
American Top Team (ATT) is among the most popular MMA training facilities. Founded in 2001 by Dan Lambert, ATT is the most successful MMA gym and home to the best fighters. On top of that, ATT is a very strong brand, and there are over 40 ATT affiliates worldwide.
The main academy, located in Coconut Creek, Florida, is a training facility of 50,000 square feet of space. It hosts hundreds of pro-fighters, state-of-the-art equipment, various training programs, and of course, great coaches.
It also includes a dorm where fighters can lodge while preparing for a match. This makes ATT a top-rated destination for foreign fighters who are looking to improve their game by training under the best coaches and best training partners.
ATT's strength is turning its fighters into the best all-around MMA fighters. When you look at ATT-trained fighters, they are some of the world's most well-rounded MMA fighters. They know how to strike and defend against wrestlers and are well versed in fighting on the ground if needed.
The main instructors like Mike Brown, Conan Silveira, and Steve Mocco have worked with some of the most successful UFC fighters such as:
Tyron Woodley
Joanna Jedrzejczyk
Jorge Masvidal
Dustin Poirier
Amanda Nunes
Robbie Lawler
American Kickboxing Academy (AKA)
Location: San Jose, California, U.S.
Not only is American Kickboxing Academy (AKA) among the best MMA gyms in the U.S., but it is also one of the very few that have managed to stay on top for a couple of decades now. AKA is one of the longest-running MMA gyms. It was founded by the former kickboxing world champion, Javier Mendez, in 1985.
Over the years, AKA has become a very popular gym for all fighters, notably those with a strong base in wrestling seeking to develop their striking skills for MMA fighting. It is a popular destination for fighters from Dagestan and many collegiate wrestlers who seek to transition to MMA.
AKA consists of world-class striking and grappling coaches such as Javier Mendez and BJJ legend, Leandro Vieira. The gym does a really good job of helping fighters develop an all-around game.
It enables grappling-based fighters to improve their striking skills and elevate their MMA grappling skills to another level by training with the best wrestlers in MMA. The gym roster consists of the finest strikers and grapplers who are helping each other improve all the weak areas in their game.
AKA's most well-known fighters:
Daniel Cormier
Khabib Nurmagomedov
Islam Makhachev
Cain Valasquez
Luke Rockhold
RECOMMENDED READING:
Why Do Wrestlers Dominate MMA?
Kill Cliff FC (formerly known as Sandford MMA)
Location: Deerfield Beach, Florida
The story of Sanford MMA began in 2017 when two coaches, Henry Hooft and Greg Jones, founded "Combat Club." They later changed the name to "Hard Knocks 365", then to "Sanford MMA" before re-branding once again to "Kill Cliff FC."
Hooft and Jones have a strong reputation and are among the best coaches in MMA. The two managed to build a strong roster of UFC fighters quickly, and the gym was an instant success in terms of the results.
The Kill Cliff FC training facility consists of over 40 world-class athletes who compete in the biggest promotions all around the world.
Apart from a high-quality coaching staff and advanced methods of teaching, the gym also includes an advanced support clinic. A place where experts help fighters recover from hard training and injuries, get nutrition advice, and enjoy many other benefits.
Over the years, the gym has produced champions such as:
Kamaru Usman
Gilbert Burns
Leon Edwards 
Kings MMA
Location: Huntington Beach, California, U.S.
The owner of Kings MMA and head coach, Rafael Cordeiro, is among the most respected MMA coaches in history. Cordeiro used to be a coach in the famous "Chute Boxe" gym in Brazil before he decided to move to the U.S. and focus on producing his own champions. And he did, a lot of them.
Cordeiro won "the coach of the year" awards two times in 2012 and 2016. What sets him above the rest is not only the experience he has gained over the years and the ability to pass down knowledge but also the ability to evolve and improve the concept of training methods.
Cordeiro is known for turning elite grapplers into elite strikers, which is what he did with Fabricio Werdum and Raphael Dos Anjos, for instance. Some of the other fighters he worked with over the years are:
Wanderlei Silva
Lyoto Machida
Marvin Vettori
Kelvin Gastelum
Cesar Gracie Jiu-Jitsu
Location: Pleasant Hill, California, U.S.
Founded in the early 2000s, Cesar Gracie jiu-jitsu is one of the most recognized MMA gyms in the world. It became a really popular place to train during the glory days of Strikeforce promotion, where champions in three of five weight divisions came from this gym.
As one would assume, Cesar Gracie academy has a strong reputation for being the place where you can develop the best BJJ skills for MMA. The primary grappling coaches are Cesar Gracie, Ismael Mota, Nick and Nate Diaz, and Jake Shields. All world-class BJJ athletes.
Though known for grappling, the quality of striking classes does not fall behind at all. The famous boxing coach Richard Perez is responsible for turning some great grapplers like the Diaz brothers and Gilbert Melendez into decorated strikers.
Famous Cesar Gracie Jiu-Jitsu fighter:
Nick and Nate Diaz
Gilbert Melendez
Jake Shields
Joe Schilling
RELATED:
Top 10 Absolute Best BJJ Coaches in the U.S.
Roufusport Academy
Location: Milwaukee, Wisconsin, U.S.
Founded in 2006 by the kickboxing legend Duke Roufus, "Roufusport" is widely regarded as a top MMA gym specializing in teaching top-level striking skills. In 2012, Duke Roufus partnered with the UFC fighter at the time, Anthony Pettis, a gym co-owner.
Roufusport Academy embraces hard methods of training and a lot of intense sparring. Unfortunately, between 2012 and 2014, Roufusport academy was mired in controversy, as some members spoke out against Rofusport's training methods.
Despite all the criticism, the gym remains an elite powerhouse for MMA fighters such as:
Tyron Woodley
Rose Namajunas
Ben Askren
Anthony Pettis
RECOMMENDED READING:
Why Are MMA Fighters Bad at Boxing? The REAL Reason Explained
Serra-Longo Fight Team
Location: Long Island, New York, U.S.
The structure of the Serra-Longo Fight Team may seem confusing at first glance. Two separate teams are working united as one MMA team: Serra BJJ Academy and Longo-Weidman MMA.
Matt Serra is the former UFC champion and a BJJ legend responsible for teaching fighters top-level BJJ skills. Conversely, Ray Longo and Weidman focus more on the striking aspect (Longo) and wrestling (Weidman) and how to incorporate these two segments for MMA. Though it may sound a bit confusing, the system works well in practice.
Serra-Longo Fight Team's most famous fighters:
Chris Weidman
Aljamain Sterling
Al Iaquinta
Merab Dvalishvili
RELATED:
Is MMA Hard to Learn? Easily Explained For Beginners
Jackson-Wink MMA
Location: Albuquerque, New Mexico, U.S.
Jackson-Wink MMA has been around since the early 2000s and is considered one of the best MMA gyms in the world. This gym is operated by two close friends, Mike Winkeljohn and Greg Jackson, who both stand for true masterminds of the fighting game.
Over the years, the two coaches have received many "coach of the year" awards. One of the core competencies of their work is the ability to adapt an individual training plan to each athlete who trains under their roof. They are masters in creating strategies and game plans to the slightest detail, which is just one of the reasons why they have produced so many UFC champions.
Jackson-Wink MMA training facility is enormous, which includes housing for in-house fighters. They will get the most out of your talent and potential if you have what it takes to be a fighter.
Jackson-Wink MMA produced the following fighters:
Jon Jones
Holly Holm
Rashad Evans
Diego Sanchez
Donald Cerrone
Carlos Condit
Elevation Fight Team
Location: Denver, Colorado
Elevation Fight Team has grown into one of the strongest MMA teams in the world. The unique thing about Elevation Fight Team is that each co-owner has their own gyms specialized in different fields of MMA.
According to head grappling coach, Cody Donovan, this business concept takes a lot of pressure away. So apart from training in the main facility, each fighter is enabled to train in a wide variety of other gyms such as:
Eason's MMA
Vital Strength and Fitness
Pound 4 pound fitness
High Altitude MMA
What also attracts the athletes is the location of the gym. Denver sits at 5,280 ft. or one mile above sea level, where the air is much thinner. Training at this altitude boost endurance and overall aerobic capacity.
The following fighters are associated with the Elevation Fight Team:
Cory Sandhagen
Alistair Overeem
Neil Magny
Curtis Blayde
Xtreme Couture
Location: Las Vegas, Nevada, U.S.
Founded by the former UFC champ, Randy Couture, "Xtreme Couture" is one of the largest training facilities. It covers approximately 24,000 square feet. For the general public interested in learning about MMA, Xtreme Couture has become a popular destination. It also attracts many seasoned MMA fighters who want to enhance their fighting skills and fitness to another level and achieve their combat sports goals.
The gym has a very knowledgeable coaching staff that has been working together for a long time. Next, the facility is equipped with the latest gear. Overall, it provides an athlete with everything they need to succeed.
The gym offers BJJ, Muay Thai, Boxing, and Wrestling classes as well as programs to improve functional fitness. Some of the most famous MMA fighters that came out of Xtreme Couture have been:
Francis Ngannou
Randy Couture
Vitor Belfort
Ryan Bader
Alistair Overeem
Alliance MMA Gym
Location: Chula Vista, California, U.S.
Founded in 2007 by the former UFC heavyweight contender Brandon Vera and Lloyd Irvin, Alliance MMA Gym has been a powerhouse for top-level MMA fighters for a long time now. The gym came into the spotlight with the rise of the former UFC champ, Dominick Cruz, who deserves a lot of credit for putting the Alliance MMA Gyms on the map.
According to Cruz, the gym is attracting fighters from all over the country and worldwide, especially those looking to improve their BJJ game. Though the BJJ culture is really strong, Alliance is specialized in other fields of MMA like Boxing, kickboxing, and wrestling.
Some of the most popular fighters who came out of Alliance MMA gym are:
Dominick Cruz
Brendon Vera
Alexander Gustafsson (* also part of Allstars Training Center )
Team Alpha Male
Location: Folsom Blvd, Sacramento, California, U.S.
Founded by the former UFC title contender Uriah Faber, Team Alpha Male stands for one of the top MMA facilities on the West Coast. Though the gym covers all aspects of MMA, the main focus is on wrestling, submission grappling, and Muay Thai.
The majority of UFC fighters and champions that came out of this camp have top wrestling skills and sharp striking. The likes of Cody Garbrant and TJ Dillashaw and how advanced these two fighters are in all aspects of MMA are great representations of the Team Alpha Male.
Though the gym accepts athletes from all weight classes, it is actually very popular among fighters who compete in the lower weight divisions.
Team Alpha Male fighters are:
Cody Garbrandt
TJ Dillashaw
Deiveson Figueiredo
Fortis MMA
Location: Dallas, Texas U.S.
Founded by former NBA star Deron Williams in 2017, Fortis MMA is one of Texas's most prominent MMA gyms. The head coach, Sayif Saud, has built a powerhouse team of talented fighters. In his words, he wanted to surround each athlete with the coaches he trusts and provide them with all the equipment to succeed.
Fortis facility includes a 7,000 sq. ft. training area, separate rooms for BJJ classes, cage-covered wall, cardio equipment, locker rooms, and even a kitchen and weight room. Over 50 fighters train at Fortis every day, and initially, their roster consisted of talented up-and-coming fighters.
But over the years, most of these athletes have reached the highest levels of the UFC. Some of the notable fighters are:
Ryan Spann
Alonzo Menifield
Mohammed Usman
Factory X
Location: Santa Fe Cir, Englewood, Colorado U.S.
Factory X is one of those MMA gyms that is working hard and building a strong roster of fighters under the radar. It was founded in 2009 as a Muay Thai school. But over the years, they added grappling classes, and Factory X diversified their business model towards MMA.
The training facility spreads around 10,000 sq. ft. and offers Muay Thai, BJJ, and MMA classes. However, the core expertise of the school is striking, and the key figure is head coach Marc Montoya, who is a true mastermind of the fighting game, producing more UFC fighters than anyone else.
Notable fighters:
Anthony Smith
Dustin Jacoby
Brandon Royval
MMA Lab
Location: Phoenix, Arizona, U.S.
MMA lab stands for the #1 training facility in Arizona. It was founded in 2007 and has produced many UFC and Bellator fighters. But the biggest structural change came in 2018 when the former UFC champ, Ben Henderson, partnered with the owner and head coach of MMA Lab, John Crouch.
The training center is enormous and consists of three separate training rooms for BJJ and MMA, a striking room equipped with punching bags and a boxing ring, and a children's training room fully matted from floor to wall. There is also a separate room for strength and conditioning and a childcare room where the Infant CPR certified workers would take care of your child while you are training.
Notable fighters:
Benson Henderson
Jared Cannonier
Sean O'Malley
Alex Caceres
AMC Pankration
Location: Woodinville, WA, U.S.
Though not as popular as others on this list, AMC Pankration is among the oldest MMA gyms. It started operating in 1988 when the founder, Matt Hume, started a Pankration Club that would later re-brand to "AMC Pankration" in 1991. This was long before the UFC got launched in 1993. Apart from martial arts classes, the gym also hosted MMA events from 1999 to 2008.
The gym is best known for Demetrious Johnson, former UFC flyweight champ and one of the best fighters in history. But there are also other successful fighters such as Bibiano Fernandes.