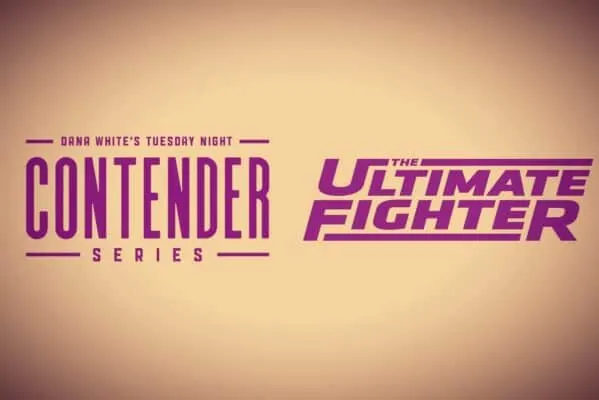 UFC is putting a lot of resources into scouting and discovering new talent all across the world. One of the most popular methods is through two popular shows — Dana White Contender Series (DWCS) and The Ultimate Fighter (TUF). But what is the difference between these two shows?
"Dana White Contender Series" is a non-UFC promotion in which fighters compete to be scouted by Dana White. The Ultimate Fighter, on the other hand, is a UFC-produced reality TV series in which fighters compete for UFC contracts.
Read this article to learn more about how these two popular shows differ from one another.
What is Dana White Contender Series (DWCS)?
DWCS show is a platform where top prospects from different parts of the world compete under one roof, vying for a spot on the UFC roster. Instead of UFC scouts traveling worldwide to seek out top prospects, Dana White created DWCS as a recruitment system for new talent right in Vegas.
Although the face of the DWCS is the UFC president, Dana White, the DWCS show is not a UFC brand. Instead, it is licensed separately from the biggest MMA promotion. In fact, Dana White needed to obtain a promoter's license to run the contender series.
It was stated ahead of the license being approved that "this is not the UFC, this is not the UFC brand," but instead a promotion that will allow up and coming fighters the chance to showcase their talents in hopes that one day they may compete in the UFC.

Dana White receives promoter's license for new contender series separate from UFC
DWCS hosts one season every year, and each season consists of around ten different events, and each of these events hosts about 5 MMA fights. The season is aired usually by the end of July and lasts around two months by the end of September or mid-November. All DWCS seasons are hosted in the UFC Apex Center in Las Vegas, Nevada.
The show focuses on giving talented young fighters a chance to prove their worth directly in front of Dana White and UFC matchmakers. However, not every winner is guaranteed a spot on the UFC roster. You have to show dominance, and aggression, fight at a high pace, and in most cases, finish the match to earn a spot.
On average, more than 30 MMA fighters earn a contract per season or per year. The show is aired on ESPN+, but you can also watch it on UFC Fight Pass.
LEARN MORE
Is MMA Hard to Learn? Easily Explained For Beginners
What is The Ultimate Fighter show (TUF)?
The Ultimate Fighter (TUF) is a reality television show produced by the UFC's sister company, Zuffa LLC. The first episode aired on January 17, 2005, and since then, the UFC has been consistently airing one season every year.
The show's main goal is to discover new MMA talents and attract new audiences through the reality television format. In 2005, the UFC struggled to break into the mainstream. However, after years of struggling, their breakthrough moment finally came when they created The Ultimate Fighter reality show, which became an instant hit. The show brought new audiences to the sport and helped the new fans understand the game better.
The way TUF works is straightforward. Two famous UFC fighters coach two separate teams pitted against each other. At the show's beginning, there will be 16 fighters on the show who come from diverse backgrounds, and each coach picks eight fighters to form their team. Throughout the show, fighters from team A compete against the fighters from team B.
In addition, all fighters from both teams get to reside in the same TUF house in Las Vegas for the duration of the show. With that, the fighters' daily life is filmed and shown on TV throughout the show. They eat, sleep, drink, and party together despite pitting against each other on the show. This makes the show dynamic and dramatic as viewers learn more about fighters' personalities and their drama interacting with other fighters on the show.
Participants of the show compete in a form of elimination tournament where there are:
Preliminary Round
Quarter-Finals
Semi-Finals
Finale
The winners of the show, as well as runner-ups and other members who left a strong impression, would earn a contract with the UFC. But the winners are the only ones who get a three-year contract worth six figures.
RECOMMENDED READING:
How Long Do UFC Fighters Train Every Day? FAQ For Beginners
What is the key difference between DWCS and TUF?
The key differences are the format of the show and the way athletes earn contracts with the UFC.
Production and goals
TUF is a reality television show designed to attract the mainstream audience. It gives the fans an insight into fighters' everyday life, how they prepare for matches, their struggles, anxiety, fears, and ups and downs on their journey. The main goal of the show is to:
Find new talented fighters
Introduce new fighters to the existing fan base
Attract new audiences
Improve the image of the sport
Strengthen the UFC brand
The TUF show, in essence, educate fans and laymen to learn the sport. The show's objective is to attract new audiences to learn more about UFC throughout the episodes, who may later become fans to purchase PPV events.
DWCS is slightly different because the show's primary focus is finding new talents. It serves as a recruiting platform where top prospects can showcase their skills and get scouted by Dana White to earn a spot on the UFC roster.
The DWCS show gives you a basic background of every fighter. The core value of the show is exciting fights and giving fighters a media spotlight to introduce themselves to the large UFC audience.
Simply put, DWCS is a show that promotes newly signed mid-or lower-tier fighters who are often ignored by the media and their ascension to the top.
Competition format
TUF is a reality show produced by the UFC where fighters compete in a tournament format. The show includes two teams with 16 fighters competing in an elimination format.
DWCS is an MMA promotion that hosts around ten events per season in which athletes compete in front of UFC matchmakers who evaluate their talents. Fighters usually sign a one-fight deal to showcase their skills. However, they may get an opportunity to sign a UFC contract backstage if they win a spectacular fashion. The events are similar to the UFC's preliminary cards, where low/mid-tier fighters compete.
Who became the most famous fighter from DWCS?
The most famous fighter who came out of the DWCS is Sean O'Malley thus far. He earned his UFC contract in the very first season with a win over Alfred Khashakyan. Following is a list of other popular UFC fighters produced by DWCS.
However, remember that the show is still relatively new and has yet to produce global UFC superstars or champions.
Geoff Neal — earned a contract with the TKO win over Chase Waldon in season 3.
Sodiq Yusuff — got his contract with a dominant decision win over Mike Davis at DWCS series 14.
Maycee Barber — earned a contract with a win against Jamie Collen at DWCS Series 13.
Johnny Walker — got his contract after winning a unanimous decision at DWCS Brazil 2.
Marina Rodriguez — secured her contract with a stoppage win over Maria de Oliveira Neta at DWCS Brazil 2
Jamahal Hill — the UFC's light heavyweight contender secured his shot in the UFC with the finish over Alexander Poppeck at DWCS Series 21
Who became the most famous fighter from TUF?
The most famous TUF winner has to be the welterweight champ, Kamaru Usman, who won the TUF 21 show in 2014 with a submission win over Hayder Hassan. Later as a UFC fighter, he went on to win the UFC 170-pound title in 2019 and defend it five times in the next two years before losing it to Leon Edwards.
Since 2005, The Ultimate Fighter show has produced many top-level UFC fighters, such as:
Rose Namajunas — joined the TUF 20 season from Invicta FC. Although she lost to Carla Esparza in the finals, Namajunas became a two-time UFC strawweight champion.
Nate Diaz — is an MMA superstar who earned his UFC contract by winning the TUF 5 season by beating Manvel Gamburyan in the finals in 2007.
Diego Sanchez — is the winner of the very first season of the TUF show aired in 2005. Sanchez went on to compete for the UFC for 15 years before retiring in 2020.
Tony Ferguson — is the former UFC Interim lightweight champion who won the TUF 13 season by beating Ramsey Nijem in the finals.
Michael Bisping — is the UFC hall of fame and the former Middleweight champion. He earned his contract by winning the TUF season 3 show in 2003.
How do you get into the Dana White Contender series (DWCS)?
You can secure a spot in the DWCS show in two ways. The first is through the manager, and the second is by contacting the UFC directly through their online portal.
The first and most obvious requirement is that an athlete has a winning record against decent opponents. Being a champ in some smaller promotions and having an exciting fighting style is also a huge plus. Fighters with many finishes on their records are more likely to get an opportunity than the ones whose matches often go to distance.
One of the key figures that may help you get on the show is a sports agent or manager. Most modern MMA fighters have agents running their careers, booking fights, negotiating contracts, and creating opportunities. Agents with good reputations have strong connections in the industry, which they may use to secure you a spot on the show.
The other way is to use the UFC online portal to reach out to the UFC matchmakers. For example, the UFC is cooperating with talentbid.com, where you can create your fighter profile and directly apply to be a UFC fighter.
If you fit their profile, the matchmakers might call you to take part in DWCS, TUF show, or maybe jump on the short notice opportunity to make a UFC debut.
RELATED:
How To Become A UFC Fighter? (COMPLETE BEGINNER'S GUIDE)
How do you get into the TUF show?
Each year, the UFC announces the new season of TUF by publishing the application procedures for any athlete interested in participating in the TUF show. In that case, they must fill out the application and wait for the response.
If selected, the UFC will call you to participate in the final casting process to secure a place in the show. Around 50 athletes will be invited to tryouts. They might participate in a grappling and striking session in front of Dana White and UFC matchmakers to be evaluated. They also do interviews where they need to showcase their personalities.
Each TUF season has different requirements, notably regarding weight classes. For example:
The season might be open only for bantamweights and middleweights.
Athletes must be between 21 and 34 years old.
Athletes must have a winning record and at least three professional fights.
One important thing to note is that athletes who compete in TUF shows are not paid regularly. However, they may receive bonuses for winning certain challenges, and the UFC covers all their expenses during the show. Still, they do not receive any fight purses.
RECOMMENDED READING:
Top 16 Best MMA Gyms in the U.S. – (What You Need to Know)
Which show should I sign up for to be a UFC fighter?
Which one works better for you depends on many factors as each of the shows has pros and cons. On one side, DWCS is great because it allows you to come to the event, show a bit of personality, spectacularly finish the fight, and instantly you earn a UFC contract after the show. However, you won't get a big media spotlight, and the contract you sign is not as lucrative as the one you can get on a TUF show. Fighters out of DWCS usually get a one-fight deal for a minimum purse.
TUF is a bit different because it is a reality show. You will get a lot of media coverage to showcase your personality, get viewers' attention and build a fan base. You also compete multiple times in a short span of time, allowing you to make a name for yourself quickly if you succeed.
But the TUF's biggest advantage over DWCS is the contract you get. If you manage to win the show, you will sign a six-figure contract with a guaranteed first year. Each year consists of three fights where in the first year, you get a $12,000 guaranteed purse + 12,000 if you win. For the second year, you get a $16,000 guaranteed purse per fight + $16,000 for a win. And in the third year, you will get $22,000 per fight + $22,000 if you win.
TUF vs. DWCS – Which is better to watch?
Which one is more entertaining comes down to your personal preference. But the majority of fight fans watch both.
TUF is a reality television show where you can get familiar with the fighters and their stories and maybe become a fan through the episodes. There is more drama, interactions between the fighters and coaches, rivalries, and a better narrative you can relate to.
DWCS production is very similar to UFC preliminary cards. Although the events only include yet-to-be UFC fighters, the match quality and skill level are still high. Most matches are packed with high-pace action as featured fighters are very eager to earn spots on the UFC rosters.
Related Questions
What is Dana White lookin' for a fight show?
"Dana White Lookin' for a Fight" is a show produced by the UFC. The UFC president, Dana White, and his two best friends, former UFC champ Matt Serra and Din Thomas, travel across the U.S. in search of new MMA talents.
The show is not just about MMA fighting, as the production highlights the funny personalities of all three hosts. They will try local food and activities related to the local culture whenever they visit a particular state or town with a rich history. For example, they might ride the bulls, go paddle boarding in sub-freezing temperatures in Alaska, swim with the dolphins, etc.