Disclaimer: The following fighter salaries and UFC pay structure information is sourced from various websites and media reports. We do our best to get the most accurate information. As a result, this article does not guarantee 100% accuracy.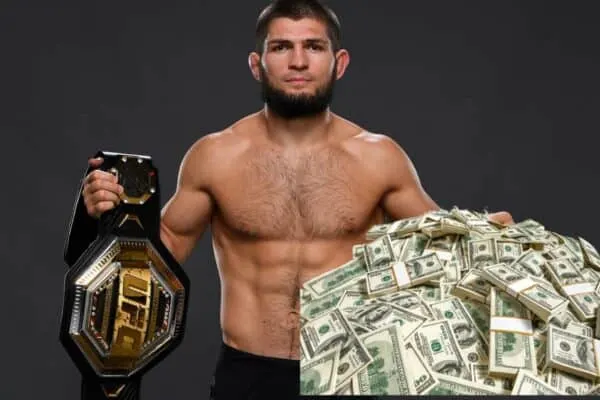 The question of how much money a UFC fighter makes does not have a straightforward answer. The amount a UFC fighter makes is different for every fighter and greatly depends on their fight card in a UFC fighting event.
The average salary estimated for UFC fighters in 2020 was US$147,965. UFC fighters are paid for making the weight, turning up to fights, the number of fights they partake in, and other endorsements outside of the UFC's domain, including sponsorship support.
How Much Does a UFC Fighter Make a Year?
UFC fighters do not earn a typical annual salary but instead earn a salary based on a signed and agreed contract with the UFC which determines their base wage for the year for turning up to and fighting in a set number of events and also for making weight.
UFC fighters are classed as "contractors", which essentially means they can negotiate their pay based on how many fights they plan to partake in during the year and also on their popularity. The more popular a UFC fighter is, the higher their base salary will be because they essentially bring more money and fame to the UFC.
Sponsorship and endorsements play the main role in how a UFC fighter gets paid. Conor McGregor, for example, was paid US$5 million for his match against Dustin Poirier in January 2021. He also received a share of the pay-per-view (PPV) revenue, sponsorship pay from the UFC's main uniform sponsors and other sponsorship endorsements and deals which earned him approximately 20 million(in U.S. dollars) in 2020/21 according to Statista.
The average salary estimated for UFC fighters in 2020 was US$147,965.
38% of UFC fighters in 2020 earned a six-figure salary.
Who Are the Highest-Paid UFC Fighters?
Some of the highest-paid fighters in the UFC earn millions just for making weight and turning up to a fight. As per their contracts, fighters can also earn more for winning the fight, but might not necessarily take home less if they lose the fight.
Here are some of the top paid UFC fighters and their earnings in 2020:
Khabib Nurmagomedov took home the highest UFC income in 2019/20 with US$6,090,000
Conor McGregor, as an entrepreneur and founder of Proper No.12 Irish Whiskey, took home an estimated US$120million in 2019/20. An estimate of US$3,060,000 of that was from his UFC earnings.
Israel Adesanya earned US$1,230,000 for his involvement in the UFC
Justin Gaethje earned US$920,000 and
Stipe Miocic made US$790,000 for his UFC fights in 2020.
As you can see, there is a large difference in the pay amounts between Khabib and Stipe, although they both only fought in one match each in 2020.
UFC Salary Structure
Here is a list of how UFC fighters are paid and what type of endorsements and sponsorship deals will add to their yearly and individual fight income:
Contracted fights
Base salary per fight
Sponsorship
Venom
The primary sponsors of MMA pay fighters in each fight night event. A small sponsorship rate ranging between $2,500 and $40,000 depending on the fight card they're in and how many UFC fights they have scheduled for the year according to their contract.
Fight of the night bonus: The favorite fight of the night, judged by UFC management, will award both the winner and loser of the most entertaining fight with a US$50,000 bonus.
Win bonus: Most fighters can establish a "win bonus" in their contracts. Fighters with a higher contracted salary for the year may not have a win bonus added to their contracts, this is all negotiable.
Fight Card: Being matched with another fighter in the main televised fight card will earn a UFC fighter a higher salary.
Performance of the night bonus: Another bonus endorsed by UFC management is the performance of the night which is awarded to the best and most exciting individual performance of the night.
Here is how fighters can be grouped depending on the money they made for a single fight in 2020.
Highest paid tier: Highest paid UFC fighters made anywhere between US$500,000 to US$3million for participating in a main fight card in 2020. Fighters like Conor McGroegor, the retired Khabib Nurmagomedov, Nate Diaz, Stipe Miocic, Amanda Nunes, and Jon Jones to name a few would be the names found in this tier.
Middle paid tier: Fighters in the middle tier were paid between US$80,000 and US$250,000 per fight. You will see names like Petr Yan, Aljamain Sterling, Jimmie Rivera, and Dominic Cruz making this kind of cash for a single event in the UFC Fight Night.
Lowest paid tier: Fighters in a lower tier, also known as the Undercard, will be paid an approximate minimum of US$10,000 and anywhere up to US$80,000 per fight for signing up with the UFC and participating in fight night. Lesser-known fighters like Yorgan De Castro, Jairzhino Rozenstruik, Michelle Waterson, and Sam Alvey all make less than US$100,000 per fight. Keep in mind, this can change at any time if their contracts are re-negotiated and if they become more popular or land better sponsorship deals.
Multiple factors need to be taken into consideration when asking how much money a UFC fighter makes. Fighters currently in the lower paid tier group may work their way up to a much higher pay bracket either through popularity, or being matched for popular fights, as well as working their way up in the rankings by continuing to defeat opponents and be matched in a main card fight on UFC's Fight Night.
Male UFC Salary vs Female UFC Salary
There is a large difference in the amount of money made between male and female MMA UFC fighters. According to thesportsdaily, Amanda Nunes took home the highest female UFC salary in 2020 with approximately US$450,000. This was based on Amanda's contracted fight salary of US$350,000 and her win bonus of US$100,000.
Female UFC fighters earned only 41% of the amount that male MMA fighters did in 2020. This gender pay gap has been commented on and questioned numerous times. Although in an interview with Dana White in July 2019, White advised that Cris Cyborg was paid a base wage of US$500,000 in December's UFC 232 card in 2018. This put Cris Cyborg on par with male fighters Jon Jones, and Alexander Gustafsson.
It might look like a gender pay gap, but when taking into consideration that female UFC fighters, Weili Zhang and Joanna Jedrzejczyk, were in the top 4 earnings in the UFC 248 Main Card, behind Israel Adesanya and Yoel Romero, the two female MMA fighters were well ahead of other male fighters in their fight earnings.
Because UFC fighters can negotiate their contracts based on how popular they are with UFC fans and how much money they bring into the UFC through pay-per-view earnings, it rears the question, are female UFC fighters as popular as male UFC fighters?
As female fights in the UFC progress, so does their popularity. The gender pay gap between men and women in the UFC is decreasing every year as the women bring more money into UFC.
Highest Paid Male UFC Fighter 2020 VS Highest Paid Female UFC Fighter 2020
Khabib Nurmagomedov took home US$6,090,000 in 2020
Zhang Weili earned US$290,000 for fighting in 2020
Zhang Weili has become extremely popular in China, where she was born, and is one of the female UFC stars leading the way into a more equal UFC world for women.
The main difference here is that Khabib earns more in sponsorship endorsements and is a popular fighter with the UFC fans. As of September 2021, there are 607 men and only 117 women on the UFC roster. This makes it difficult for UFC management to match and schedule fights with the women contenders.
As seen in this survey in statista, there is also a much higher level of male fans compared to female fans who watch UFC. This may or may not be a reason why women in UFC is not as popular, yet. 25% of females who partook in the study, advised they had never even heard of UFC. While 14% of men claim they are 'avid' fans of the sport.
Do UFC Fighters Still Make Money if They Lose?
UFC fighters still make money if they lose a fight. Because they are paid based on a contracted salary amount for the year, UFC fighters merely need to show up for their fight to be paid regardless of whether they win or lose.
Incorporate the sponsorship wages, pay-per-view endorsements, and possible bonuses, occasionally the loser of the match will still take home more than the winner.
In the UFC 263 Main card, Brandon Moreno was paid a base wage of US$100,000 and an additional US$100,000 for winning the fight against Deiveson Figueiredo, taking home a total of US$200,000 for the night. His opponent, although the loser of the match, still took home his contracted base wage for the night which was a total of US$210,000. Figueiredo took home more than the winner.
In July 2021, Conor McGregor and Dustin Poirier fought in the UFC Main Card 264 and although McGregor lost the match, he took home millions more than Poirier. The exact amount is unknown, but assessments based on previous fights and take-home salaries estimate that McGregor took home approximately US$23 million while Poirier took home around US$5 million.
The Expenses Of Being a UFC Fighter
Every UFC fighter has a dedicated team backing them to the top. Typically, more professional, and higher-level fighters have more on their team like training partners, as they can afford it through their set contract with the UFC.
Fighters are given weeks-notice, generally up to 8 weeks, to get prepared for a fight. This takes them to what is known as "training camp" to get ready for their fight card.
Here are the things people rarely consider when contemplating how much money a UFC fighter makes:
Gym Fees
Most fighter gym fees will be paid on a per-fight-basis. The gym will take anywhere between 5-10% of a fight purse earned for a fight.
Medical Bills
Depending on how the fight goes will determine what medical treatments need to be made and how much they will cost. The UFC's insurance policy covers injuries made in competition.
Management Team
UFC fighters have a manager or a management team who arrange their sponsorship deals, UFC contracts, marketing promotions, and their fight matches. The standard management fee for the work a management provides is 20% of a fighters purse.
Coaching
Coaches come with the gym and as such will be included in the 5-10% of the fees the gym takes. What's not included, however, is the necessary private coaching that coaches can charge up to US$150 an hour. Fighters getting ready for an upcoming fight, may need numerous additional coaching hours.
Transport, accommodation and miscellaneous
Nutritionists, massage therapists, supplements, dieticians, visas, food, and taking your coaches and training partners along with you to a fight all add up. Fighters like John Cholish explain that these costs can get as high as $6000 for some.
Taxes
We all need to pay our taxes and UFC fighters are no different. Similar to contractors, UFC fight earning do not consider tax deductions. Fighters need to pay the government at the end of the financial year and Miles Jury recommends putting aside approximately 30% of a fight purse for an adequate amount to pay taxes.
In the eyes of a newly signed UFC fighter, fees and payments to distribute to outside sources as part of their UFC career, can take whole figures off their 'take-home' fight wage.
At the end of the day, fighters may have to pay approximately 10-20% of their fight purse to their team behind the scenes.
If a fighter is contracted with the UFC for US$20,000 a fight, minus the above approximate fees, they might only take home US$8000 before tax, medical bills, and private coaching. This is the reality for many up-and-coming UFC fighters.
Do UFC Fighters Have Second Jobs?
Many MMA fighters have second jobs to be able to support themselves at the beginning of their UFC career to supplement their income.
Handz of Steel fighter, Geoff Neal, in the Welterweight class of the UFC, is ranked number #10 in the welterweight division. Neal's secondary job next to UFC fighting, is waitering in his hometown in Dallas. Neal has stated openly that his decision to work in a restaurant was mainly due to other fighters unwilling to fight him.
Stipe Miocic has a full-time job alongside his UFC career. The American Mixed Martial Artist is a full-time firefighter and Paramedic in Cleveland. Stipe makes more than enough in a fight to sustain a lifestyle without a second career and his reasons for continuing his career as a fireman is that he "likes being there for a person that needs you".
Dominick Reyes is the UFC fighter known for 'almost' beating Jon Jones in the light heavyweight division in 2020. Before Reyes was an up-and-coming star in the UFC, he was training while working full time as a teacher. Reyes works as an IT technician while training for his next unscheduled fight in the UFC.
Al Iaquinta has established a real estate business while waiting for his next fight.
UFC fighters that are currently at the top of the pay chain, weren't always there and had to work their way up to become the champions they are today that no longer have to work second jobs.
Conor McGregor was a plumber and is now a multimillionaire with his own whiskey company
Dustin Poirier worked in distribution before and at the start of his UFC career to keep up with fees bills. Dustin now runs a charity in Louisiana called "The Good Fight Foundation" to help raise funds for underserved communities.
RECOMMENDED FOR YOU: