In modern MMA, having a lot of muscles or most swole is not necessarily an advantage as big muscles require more oxygen and cause fatigue faster in strenuous activity. This is the reason why MMA fighters prefer to stay lean and look ripped. They search for an ideal balance between strength and muscle endurance.
Still, there have been more than a few fighters who proved that big muscles can work in MMA fighting. Despite carrying a lot of muscles on their frame looking closer to jacked bodybuilders, these fighters have all been able to reach the highest levels of the sport and even become UFC champions. Keep reading this article to find who they are, and their interesting stories.
15. Joaquin Buckley
Buckley is a top UFC fighter who is not as famous as some other fighters from this list. But the man is so big that he often looks like his muscles are about to blow up. Maybe genetics play a big role in the way he looks, but for sure, Buckley spends a lot of time lifting weights as well.
Inside the cage, Buckley is all about being patient, and waiting for the perfect chance to move in for a kill. He is a technical striker who, despite his massive size, moves really well and is very flexible. Don't look any further from the way he knocked Impa Kassanganay with the famous spinning back kick if you need any proof.
Once he sees the opening, Buckley would start swinging haymakers and he is one of those fighters who need only one shot to knock you out.
14. Cris Cyborg
The former UFC 145 pound champ is the most muscular female fighter, and she hits really, really hard. She often looks much bigger than her opponents on fight night, and it's the power in her strikes that catches her opponents off guard.
Cyborg came into the UFC as the Invicta FC champ and the most intimidating woman on the planet. She went on to score 4 finishes in 5 UFC fights, all brutal KOs. And she also won the 145 lbs belt in the process. Although she lost the crown to Amanda Nunes, Cyborg would move to Bellator promotion to win another world title in 2020.
13. Rousimar Palhares
Palhares is a former UFC contender who looked like a Hulk in his prime. His entire upper body used to be packed with nothing but big muscles, and he probably had the biggest arm girth in the 185 lbs weight class. If you combine this with top-level BJJ skills, you get a terrifying fighter who had the ability to advance the fight to the ground at his will. And once he would do that, it would be just a matter of time before he sets up his favorite submission, the infamous heel hook.
Unfortunately, despite having a solid career, the UFC released Palhares from his contract for not letting go of the submission after the initial stoppage on two occasions. He would later join the WSOF promotion in 2014 and win their 170-pound belt. But once again, he got suspended for not letting go of the submission against Jake Shields.
12. Tyron Woodley
The former UFC 170 pound champ used to carry a lot of big muscles. The size of his thighs, biceps, and shoulders were massive and Woodley has built his career on being explosive, and utilizing his power to put people to sleep with a single strike. Despite being so swole, that never compromised his speed, agility, and cardio.
Back when he came into the UFC from Strikeforce in 2013, Woodley looked like a tank, and he used to punch like one as well. Inside the cage, he was like a time bomb ready to explode at any given moment. He would wait for an ideal chance to move in, close the distance in a split of a second, and land with full power. It's amazing how a man so big could move so fast.
The best example of how powerful Woodley is, was his fight against Robbie Lawler at UFC 201 in which he won the world title. Just as the fight had entered the third minute, Woodley exploded with a devastating right hook and Lawler instantly went out.
11. Kamaru Usman
Usman is among the most muscular 170-pound fighters in UFC history. Whether it's genetic, heavy lifting in the gym, or a mix of both factors, Usman looks like a fighting machine. He carries a lot of muscles and has a really low body fat percentage.
Inside the cage, he looks super strong and is well versed in all aspects of the MMA game. No matter if it's wrestling, striking, or ground fighting, he has enough skill and power to deal with any threat. But what makes him special is the fact that he has really good cardio. You will never see him gassing out in a fight, which is special considering how much muscle mass he carries on his frame.
Usman is a fighter who can easily push a high pace for full five rounds, which he proved many times. When you look at Usman vs. Colby Covington fight, Usman twice went a five-round battle against Colby Covington, and he looked as fresh as he was in the first round in the fight. In fact, we haven't seen him slowing down in a fight ever.
10. Shane Carwin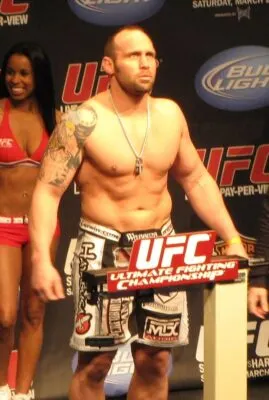 Back in his prime, Carwin had big shoulders, biceps, and was always looking very intimidating standing inside the octagon or on the scale during the weigh-ins. And despite walking at around 255 pounds, he also had a six-pack which was crazy for a man that big.
Carwin didn't just look like a beast, he was a monster inside the cage too. Fans tend to forget how violent he used to be, and that he retired from MMA with a 100% finishing rate. On his road to winning the UFC interim title, he finished the best fighters of that era like Frank Mir and Gabriel Gonzaga.
9. Hector Lombard
Lombard is a man associated with violence, knockouts, and jacked muscles. From big forearms, biceps, to jacked back muscles, Lombard looked like he was made out of bricks.
He is a former Olympic Judoka who has never utilized his strong grappling skills in MMA. Instead, he fell in love with his power and knocking people out cold.
In his career, he enjoyed the most success fighting in Bellator where he was a 185-pound champ and a season 1 tournament winner. During his run, he scored 8 knockouts, out of which the one against Jay Silva came in just 6 seconds. Lombard would switch to the UFC in 2012, but he failed to repeat the same success as he had in Bellator.
8. Paulo Costa
Paulo Costa received a lot of attention from both the media and the fans when he signed with the UFC in 2017. People could not believe how big he is, and how on earth he cuts all the way down to 185 pounds while carrying so much muscles. And before you even think he has been using PEDs, let's not forget that Costa was the most tested UFC athlete in 2019 according to USADA and that he passed all the tests.
Costa kicked off his UFC career with four straight KOs and he quickly gained a reputation for being the hardest hitter in a division. Despite carrying around 200 pounds of pure muscles on fight night, his gas tank is quite big. In 2021, he went through a 5 round war with Marvin Vettori at UFC Vegas 41, and although he lost the fight, Costa went to distance without gassing out.
7. Cheick Kongo
Kongo is an MMA veteran who had a lot of success competing on the highest levels of the UFC and Bellator. Apart from his good striking skills, most fans know Kongo for his muscular frame and minimal body fat. On top of that, he is 6'4″ tall and has really long reach which makes him a tough matchup for anyone.
Kongo has always preferred to carry a lot of muscle mass and stay at around 235 pounds. He looked lean and ripped throughout his entire career, but it's fair to say that his physique looked the best at UFC 144 weigh-ins. Kongo stepped on the scale looking like a terminator.
6. Kevin Randleman
Randleman was, perhaps, the most feared fighter during the glory days of PRIDE FC. Just seeing him standing in the ring with all those bulky muscles was as scary as it gets. Maybe his nickname "The Monster" perfectly describes who he was inside the ring: explosive, fast, and powerful.
Standing 5'10", Randleman was often a smaller man in a fight. But at the same time, he used his speed and athleticism to cover the distance in a split of a second, dive for a takedown or throw a punch. His opponents, in most cases, didn't have enough time to react and stop his attacks. The way he knocked out Mirko CroCop is an ideal instance of that.
The biggest moment in his career came when he beat Pete Williams at UFC 23 to win the UFC title. He would later switch over to PRIDE FC where he enjoyed solid success.
If you want to see how strong and explosive he was, do not look any further from his fight against Fedor Emelianenko. At "Pride FC: Critical Countdown", Randleman executed one of the best and most brutal suplex throws ever, and he nearly killed the Russian with it.
Sadly, Randleman passed away on February 11, 2016 due to complications from pneumonia. He was only 45. Randleman will be dearly missed by his fans and his contribution to the sport will never be forgotten.
5. Mark Kerr
Kerr is one of the pioneers of modern MMA and a fighter with the most imposing physique of his era. Although his body had gone through many changes, there are no words to describe how scary Kerr was in the 90s. He looked like a terminator and a man who could easily win the Mister Olympia competition
He signed with the UFC in 1997 and he came into the sport as a World Vale Tudo champ and NCAA Division I wrestling champion. He would go on to win UFC 14 and 15 tournaments before moving to PRIDE FC in '98 where he also enjoyed solid success.
On top of that, he won the ADCC Submission Wrestling World Championships three times. And bear in mind that he did this while he was fighting at the highest levels of MMA at the same time.
RECOMMENDED FOR YOU:
UFC Fighters Where Are They Now? 15 Forgotten UFC Legends
4. Mark Coleman
Mark Coleman is an MMA legend and one of the most jacked fighters in history. Back in the 90s, he was one of the pioneers of wrestling in MMA. In fact, he is often seen as a father of ground and pound techniques that changed the MMA game forever.
Apart from the fact that he looked like a giant, Coleman was a top wrestler who knew how to make the most out of his size and skills. Once the fight would hit the ground, Coleman would get a strong top control, and posture up to unload with devastating strikes. In his incredible career, he won:
UFC heavyweight champion
UFC 10 and 11 tournament winner
Pride Grand Prix OpenWeight Tournament winner (2000)
One of only two fighters to win both PRIDE FC and UFC Tournaments.
RECOMMENDED FOR YOU:
Why Do Wrestlers Dominate MMA?
3. Yoel Romero
Romero might be the most intimidating 185-pound fighter ever. He has so much muscle mass that he actually visually looks like a heavyweight fighter. And it's not just about big muscles and raw power as Romero has a perfect body frame. He could easily enter some fitness competition and win it straight away.
Romero kicked off his MMA career quite late at the age of 32. He spend his 20s competing at the highest levels of wrestling where he won the silver medal at the 2004 Olympic Games in Athens. Like most other fighters who carry a lot of muscles, Romero is explosive and strong. Though he is powerful and intimidating, Romero lacks the stamina and endurance to fight at a high pace the entire fight.
This is the reason why he is hesitating a lot and waiting for a perfect chance to attack in a fight. He prefers to keep his output low and preserve his energy. Although this approach cost him a couple of wins, it also brought him a lot of success.
2. Brock Lesnar
Before joining the UFC, Lesnar used to be a WWE superstar, and like all other pro wrestlers, a jacked monster. He is among the scariest fighters that have ever set foot inside the cage, and just looking at his physique is as intimidating as it gets. He is 6'3″ tall, and during his UFC days, he used to weigh 265 pounds, all solid muscles.
Looking at his size, one could make a wrong perception and say that Lesnar wasn't a real athlete. But despite starting late at the age of 29, he needed less than 2 years to go from making his MMA debut, to beating Randy Couture for the UFC title at UFC 91.
The MMA world has never seen a man so big being so agile and fast.
RECOMMENDED FOR YOU:
11 Most Intimidating MMA Fighters Of All Time
1. Alistair Overeem
Overreem body went through some drastic changes over the years, with the biggest one coming when he left the PRIDE FC in 2007. In his own words, Overeem got big just by eating 6-7 times a day, mostly horse meat.
Apart from big muscles, Overeem is known as among the best strikers in the game, and the mix of these two factors was what made him so dangerous. He looked the most swole between 2009 and 2015. In this time span, he won the following titles:
Dream heavyweight title
Strikeforce heavyweight title
K-1 World Grand Prix Champion
RECOMMENDED FOR YOU:
What Is Dutch Kickboxing? Basic Guide to Dutch Kickboxing