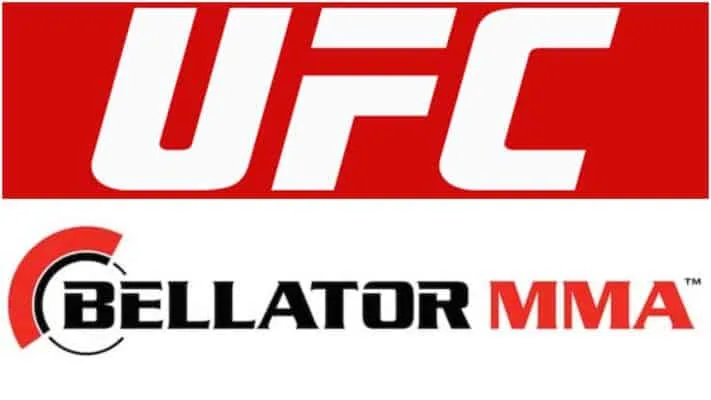 UFC and Bellator are the two biggest MMA promotions in the world. For many years now, these two have been the home of the best fighters and leaders in the MMA market. And as time goes by, the rivalry between them seems to be getting bigger and bigger. But, which one is better?
UFC is the best MMA promotion that is larger and more famous than Bellator. It is also much older, its roster consists of more skilled fighters, and it is a stronger brand. At some point, most elite fighters end up signing with the UFC, as winning their title means you are the best in the world. In the eyes of most fans, Bellator is often seen as the second league compared to the UFC. But is it like that?
Keep reading this article to find out more about how these two promotions differ from one another. We will also explore their comparisons when it comes to rules, the strength of competition, and many other aspects.
UFC vs Bellator- What are the Main Differences?
UFC and Bellator are two separate promotions that differ a lot in various aspects. Here is a brief look into all you need to know about how they differ from one another.
History– UFC is the pioneer of modern MMA in the US and their first event took place in 1993. Bellator came more than a decade later in 2008, with the first event taking place in 2009.

Ownership– the owner of the UFC is the company called "Endeavor" which bought it in 2016 for $4 billion. Since 2011, the owner of Bellator has been the company named "ViacomCBS".

Fighters and competition — UFC is the home of the best fighters and toughest competition. They sign only the best fighters who already showcased their talent in other promotions, including Bellator.
Event format– Apart from the regular events, Bellator still includes a "Grand Prix" tournament format. The early UFC events also included tournaments in the past, but they don't do this any longer.

Weight classes– UFC has eight classes for men and four for female fighters. Bellator has seven classes for men and just two for females.

Rules– Both promotions have adopted the "Unified Rules of MMA" put together in 2000. But, the rules differ to a small degree as we are going to discuss in more detail later in this article.

Cage Size- UFC uses an eight-sided steel cage named "Octagon" that is 30 feet in diameter, 6 feet high, and has 750 square foot fighting area. Bellator uses a circular cage that is 36 feet across with around 1020 square foot fighting area space.
Is the Drug Testing Program the Same in UFC and Bellator?
No, as of 2021, the drug testing program has not been the same in these two promotions. Since 2012, the UFC has been working aggressively with the "USADA" drug-testing agency on keeping the sport clean. Bellator, on the other side, has a weaker testing program. They are not working with independent agencies like USADA or WADA.
UFC is doing a superb job in keeping the sport clean and stopping fighters from using performance-enhancing substances. The collaboration between the UFC and USADA resulted in many fighters testing positive for banned substances. Some of them were even champions and top fighters. But in modern times, the number of fighters testing positive for banned substances has been in decline because of steep penalties when caught and worse yet, stain their reputation as a fighter.
UFC Fighters must provide blood and urine samples whenever USADA needs them. It even doesn't matter if they have the fight booked or not, or are in the church and about to get married. They must answer the call and go to the toilet to fill in the cup and give the sample. If they refuse, the fines and suspensions issued by USADA can be very serious.
As a regulated promotion, Bellator works with a state commission that tests the fighters before the fight. But this is nowhere near the same level of testing that USADA does. It is very weak testing and this is one of the key reasons why UFC is better than Bellator.
UFC vs Bellator – PPV Buys, Worth, and Revenue
UFC has grown into a gigantic company and is more successful than Bellator in just about every single aspect of the business. It is a very strong brand, which is, in some way, synonymous with the sport of MMA. Even in modern times, people tend to mix UFC with MMA, thinking it is the same thing. This shows you how big the company is, and let us back up our claims with some data.
Who sells more pay per view?
The UFC has been using the pay per view model since the early days. And when it comes to the MMA market, they hold every single record in PPV sales and viewership. The biggest one was the "UFC 229" that sold 2.4 million PPV buys around the world. As of 2021, they had 18 events that reached over one million PPV buys and not a single other MMA promotion can come even close to these numbers.
Bellator, on the other side, started using the pay-per-view model quite late in 2014. The event that cashed in most PPV buys was "Bellator 120" which sold 100,000. And we have to point up that more than 200 UFC events have had more than 100,000, which shows you how superior it is to Bellator.
Net worth and revenue
The same stands when it comes to worth. In 2016, the famous Fertitta brothers and Dana White sold the UFC for $4 billion dollars to WME-IMG. In 2021, Dana White revealed that UFC is now worth around $9 billion and according to Moody's rating, the UFC revenues for 2020 were over $800 million. On the other side, Bellator's worth is much less with its total valuation ranging between $50 and $100 million. The annual revenue was around $80 million in 2019, and $100 million in 2020.
Are the Fighters in Bellator Just as Good as the Fighters in the UFC?
The short answer is: no, they are not. UFC is the best MMA promotion in the world and the home of the best fighters. Just about every skilled fighter who does well in other promotions, including Bellator, ends up signing for the UFC at some point.
Over the years, many young prospects have moved from Bellator to the UFC, while things do not go the other way around. In most cases, fighters who move from UFC to Bellator are in the late stages of their career, on a bad losing streak, or simply are not competitive enough to continue at the UFC level.
This is because the UFC has more fighters, and their roster is much stronger in every single weight class. If we look at the rankings in both promotions, all UFC weight classes are much stronger and tougher to compete in than the ones in Bellator. So if a young fighter dreams about being the best and becoming a champ, he/she must go to the UFC to be considered the best.
The math here is very simple to understand. Bellator is signing talented young fighters who are still working their way up in the MMA world. Once they pass the initial tests and get the hype going, the UFC will sign them as potential stars. You can look at the UFC as the NBA of MMA, while Bellator is the NCAA league where players are working their way up.
Are the rules different between UFC and Bellator?
The rules are very much the same since both promotions have adopted the "Unified Rules of MMA". This means the rules are the same when it comes to:
legal and illegal strikes
length and number of rounds, and rest period between them
scoring system and judges criteria
But, the Unified Rules allow both promotions to make certain changes. This is why some of the rules differ between these two promotions and here is all you need to know about that.
In Bellator, for instance, only championship fights are five rounds while nontitle bouts are three rounds. In UFC, however, every main event, no matter if it's for the title or not, is five rounds which differs a lot from Bellator.
The other rule is the number of weight classes. According to Unified Rules, there are 14 weight classes for men and five for female fighters. But, this doesn't mean that all MMA promotions must include all weight classes.
The UFC, for instance, has eight weight classes for men and four for females. Bellator, on the other side, has seven weight classes for men and two weight classes for female fighters. In total, UFC has three weight classes more than Bellator.
Who are the Highest-Paid Fighters in UFC and Bellator?
These two promotions are a world apart when it comes to how much money top fighters are earning. UFC has richer sponsors, better TV deals and much higher pay-per-view buys than Bellator. This means they can give their fighters higher base payouts, pay per view and post-fight bonuses.
Here is a list of the most famous Bellator fighters and how much they earn per fight. These numbers do not include sponsorship deals and extra bonuses.
Fedor Emelianenko– $300,000

Juan Archuleta– $250,000

Patricio Freire– $200,000

Gegard Mousas– $150,000

Lyoto Machida—  $150,000

Source: Forbes, mmafighting.com
The numbers get much bigger if we move to the UFC. Here is a list of highest paid UFC fighters without bonuses:
Khabib Nurmagomedov— the former UFC champ earned around $6 million in his fight against Justin Gaethje.
Conor McGregor- the Irishman earned around $3 million for showing up to fight against Dustin Poirier. But this is without sponsorship deals and bonuses.
Dustin Poirier- in his fight against Mcgregor, Poirier received around $1 million base pay from the UFC.
Kamaru Usman– earned around $750,000 paycheck for knocking out Jorge Masvidal.
Is the Bellator Cage Different than UFC?
Yes, the shape and size of the steel cage in which fighters compete differ a lot between Bellator and UFC. Bellator uses a much bigger cage that has a circular shape and is 36 feet across with 1020 square space of fight area. The cage design doesn't have any corners which makes it much easier for fighters to move around.
The UFC, on the other side, uses a steel cage that has eight corners named "octagon". The size of the octagon varies between the events as they have smaller and larger versions. The original version of the octagon is 30 feet across, 5'9″ inches high, and has approximately 746 ft2 of interior area. The smaller version is 25 feet across and has around 518 ft2 of interior area.
The size and shape of the UFC cage play a big role when it comes to the finishing rate or place of the fight. For instance, a smaller cage favors wrestlers who like to press and stuck the opponent against the fence/corner. They can use this position to score takedowns or tire the opponent out. One of the masters of this was the former champ, Randy Couture.
And when it comes to the finishing rate, the numbers don't lie. As of 2020, the finishing rate in the larger octagon was around 48%. But this number was much higher in the events in which they used a smaller cage since around 60% of the fights ended in a finish.
Can UFC Fighters Fight in Bellator and Vice Versa?
Yes, fighters can leave the UFC to fight in Bellator and vice versa. Over the years, we have seen many fighters crossing over between these two promotions. In most cases, fighters who go to the UFC are upcoming stars who yet need to work their way up and become famous. But, there are also cases in which the UFC may sign a champion or a very famous Bellator fighter like they did with Michael Chandler.
Since Bellator is a league below the UFC, you will never see a UFC fighter moving to Bellator while they are on top. No, fighters who do that are, in most cases, in the late stages of their careers where they can't achieve much. But at the same time, they are still famous and skillful enough to do well in Bellator. There were some exceptions like when Gegard Mousasi left the UFC to sign with Bellator. But this was due to the contract dispute he had with the company, not because he wanted to leave.
On the other side, some UFC veterans who did well in Bellator and even became champions were:
Benson Henderson
Ryan Bader
Rory McDonald
Even though crossing over between the promotions sounds simple on paper, the reality is a bit different. Each fighter must sign a contract with the promotion they are fighting for. For this reason, fighters can't just break the contract they signed and leave as free agents. No, they have to comply with what they agreed upon in the contract. But once the contract expires, or the promotion decides to let them go for some reason, they can join some other promotion if they want.