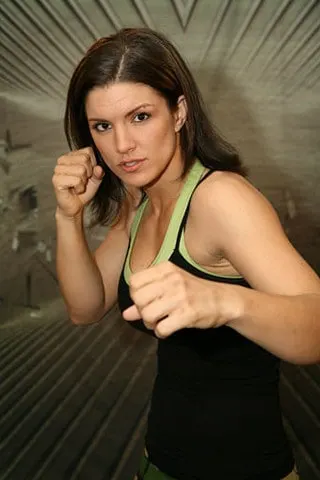 The history of women MMA is much shorter than MMA itself. However, since the 2000s we have the privilege to watch a more attractive side glazing our bellowed sport and proving that men and women are equal when it comes to the fighting business. The fact that we're speaking of "10 Greatest Female MMA Fighters of All Time" after this short period, speaks a lot about the mainstream rise of Woman MMA.
The popularity of female gladiators exploded in 2013 with the arrival of the pioneers from Strikeforce to the leading UFC promotion. Considering how everything played out, we can't escape but instantly remember the UFC chairman Dana White firmly stating the UFC audience will never see women fighting inside the Octagon!
Just two years later, UFC would open its doors for women fighters. The pioneers of woman MMA such as Ronda Rousey and Gina Carano helped the sport growing at the rapid pace and female's cage fighting skyrocketing! With the help of marketing experts, female fighters became so popular and present that we just can't imagine our sport without them!
Without further restraint, let's count down 10 greatest female MMA fighters of all time below!
10. Cat "Alpha" Zingano
Though she hasn't won UFC or Strikeforce belts, there are plenty of reasons why Zingano deserves a spot on our list. Above all, Zingano actually KO'd the great UFC Bantamweight champions Amanda Nunes and Miesha Tate in no title bouts!
Initially coming from the wrestling background, popular "Alpha" is a 4-time All American wrestling champion and the 2010 ADCC North American submission wrestling Champion (60kg).
Apart from the obviously exceptional grappling skills, Zingano enjoyed great boxing skills and natural power which she demonstrated by scoring many devastating finishes! However, this wild and aggressive approach would backfire on her in the most important fight of her career.
Many thought she could be the "chosen one" to defeat the all-time great Ronda Rousey. To support this claim, Rousey never faced a level of grappling or standup skills that Zingano had to offer in her prime.
At UFC 184, Zingano made the biggest mistake of her career by relentlessly charging at Ronda without any plan and ending up being submitted after just 14 seconds!
Zingano never recovered from this loss and she went 1-3 inside the Octagon before leaving the Company in 2019.
9. Miesha "Cupcake" Tate
Throughout Tate's career, she demonstrated incredible offensive wrestling capabilities which combined with slick submission game made her a tough matchup for anyone. What's more, with the great boxing and Muay Thai skills, she is one of the first well-rounded female athletes.
In the mid stages of her career, Tate captured the Strikeforce Bantamweight title but her days as a champion were short-lived. The fearsome Ronda Rousey destroyed her in the first title defense, and by doing so, the first rivalry in women MMA had officially begun!
Shortly after, the two carried their rivalry to UFC and their roads would cross just one-year later at UFC 168. To this day, the rematch between Tate and Rousey in their prime is one of the most anticipated matchups in UFC history.
Once again, Rousey was a better woman that night and famous armbar submission win transcended their rivalry…or perhaps not (Rousey refused to shake her hand after the fight).
Like a real champion, "Cupcake" bounced back with four consecutive victories which earned her another shot, this time against Holly Holm at UFC 196.
After dominating the majority of the fight, Holm made a crucial mistake in the last round, and Tate capitalized by advancing the fight to the mat! This mistake proved deadly as Miesha secured the rear-naked choke in the last minute of the fight and by doing so become the UFC Bantamweight champion!
With the Strikeforce and UFC belts cemented in her legacy, Tate prevented her career from living in the shadow of Ronda Rousey. This way, we'll all remember her as one of the most accomplished pioneers of the sport!
8. Valentina "Bullet" Shevchenko
Being multiple Kickboxing and Muay Thai World Champion, the Ukrainian was the first one to introduce the elite level striking in the modern-day MMA and her nickname perfectly describes her fighting style: "The Bullet" – fast and devastating
Similar to Miesha Tate who had Ronda Rousey as her bitter enemy, Shevchenko has Amanda Nunes. In her second UFC fight, Shevchenko would drop the unanimous decision against the Brazilian. However, she would bounce back with two victories to secure a shot at the Bantamweight gold against the old rival.
Although she put on an excellent performance and looked very good, Nunez defeated her in a split decision at UFC 215. However, with the newly established Flyweight division, Shevchenko faced Priscilla Cachoeira for the vacant Flyweight title and scored a phenomenal second-round submission.
With her skillset rapidly improving with every fight, we just can't see anybody stopping her in the future!
7. Joanna Jedrzejczyk
For many years, Jedrzejczyk was terrorizing the Strawweight division by displaying sheer violence and destruction in any fight she participated in. Instead of us, let her accomplishments speak:
IFMA World Champion (2009; 2010; 2011; 2012; 2013)
IFMA European Champion (four times)
Most wins in the UFC Strawweight history (10)
Five successful Strawweight title defenses
Most leg kicks in UFC history
Highest significant strike differential in UFC championship history against Jessica Andrade (+142)
Everything she does on the feet is precise and fast. Her specialty is mixing the punches high and following with the variety of kicks and knees below. Every fighter has a key competence, for Jedrzejczyk its simple: relentless pace and high output! Against Karolina Kowalkiewicz for example, it looked like she could continue throwing combos for the next 10 rounds!
Immediately upon joining the UFC, Jedrzejczyk received the opportunity to claim the UFC gold in her third Octagon appearance! She went on demolishing Carla Esparza at UFC 185 to claim the Strawweight title, and she defended it five times! Outside the Octagon, she carried herself perfectly as a champion.
Her overconfident personality and brilliant trash-talking game enabled her to build an incredible fan base across the world and enjoy huge popularity! Without a doubt, Jedrzejczyk has popularized the Strawweight division and paved the way for a new generation of fighters!
6. Gina Carano
Gina Carano is the first female MMA fighter to gain a serious number of followers and get recognized all around the world. The fact that she received a "face of women's MMA" nickname from the MMA community, speaks a lot about this pioneer.
Although she hasn't won any titles, Carano has had a direct impact on sparking an interest in women competing inside the cage, and this will forever be her greatest contribution and achievement!
She kicked off her martial arts career in Muay Thai (12-1) and was a perfect combination of beautiful and badass! We know it's hard to believe, but although she's a stunner, her fighting skills are equally astonishing!
Way back in 2006 before UFC even had the female divisions, Gina Carano made her successful MMA debut in the WEF promotion and she would go on winning the next two fights before signing with the "Elite XC" promotion in 2007.
After dominating the next four fights, displaying a very rounded game, her popularity literally exploded! This incredible rise was recognized by Strikeforce which provided her with the opportunity to capture the Women's Featherweight title against Cris Cyborg.
However, Cyborg quickly outworked Carano on the feet and put her out with the devastating ground and pound at the end of the first round.
5. Megumi Fujii
Fujii could be equally portrayed as an Asian version of Ronda Rousey! Although she never competed inside the UFC Octagon, Fujii is one of the greatest and most dominant pioneers of women MMA.
"Mega Megu" bounded the combination of Judo and BJJ skills to perfection and the effectiveness of her style remained a mystery for almost a decade. While most female fighters were wild and aggressive, Fujii had a different approach. Her technique was years in front, and discipline always present!
After dominating the opposition through Shooto, Smack Girl and Jewel promotions, Fujii made a decision to move her skills and undefeated record to the Bellator promotion. She stormed through Bellator by scoring three straight victories and everything looked perfect for the Japanese fighter!
However, Fuji felt the taste of the defeat for the first time after 22 professional fights against Zoila Gurgel! Like a true warrior, she bounced back with three dominant performances, but after losing next two fights against Jessica Aguilar, Fuji retired from the sport.
As a true pioneer, she was a true game-changer and deserves a lot of credit for the mainstream rise of women MMA
4. Holly Holm
What Holly Holm was able to achieve that night in Melbourne at UFC 193, will forever be remembered as the biggest shock and upset the MMA World has ever seen!
Looking at her striking resume, we just can't figure out why everybody doubted her? Was it because of the hype behind Ronda, or doubts around Holm which made as all think she doesn't stand a chance, we'll never know! Either way, with the Bantamweight gold, Holm secured a place into the history books as one of the greatest female MMA fighters.
Even before completing a transition to MMA, Holly was a prominent name in the fighting world. Naturally coming from the striking base, Holm started her career in kickboxing before switching to the boxing ring. Her kickboxing and boxing achievements are incredible and are also providing us the explanation on why the win over Rousey wasn't a fluke:
IKF amateur Welterweight champion and tournament winner (2001)
IBA, IBA, IFBA, WIBA, WBC, NABF WBF and WBAN Female World Welterweight and Light Welterweight champion!
Highest ranked female boxer in automated all-time pound for pound rankings
Many fighter of the year awards
Inside the Octagon, Holm demonstrated an incredible lateral movement which combined with stiff and accurate jabs made her almost untouchable. However, her biggest weapons are vicious kicks which she is throwing from all angles and positions.
This unique "stick and move" style brined her ton of success. However, after the Ronda fight, Holm would go on losing her belt to Miesha Tate and never recover from that loss. Despite the losing streak, she received three more opportunities to regain the UFC belt, but failed to deliver in the following championship fights:
Germaine De Randamie (Featherweight championship) – UFC 208
Cris Cyborg (Featherweight championship) – UFC 219
Amanda Nunes (Bantamweight championship) – UFC 239
3. Cris Cyborg
Cyborg is arguably the most violent female athlete in all combat sports history! Although the others like Amanda Nunes or Holly Holm have similar finishing abilities, there is something different in the power, explosiveness and warrior mentality of Cris Cyborg.
With the body naturally built for fighting and the ability to shut the lights with the single shot, Cyborg puts tremendous fear into her opponents.
Furthermore, she doesn't appear to rely heavily on tactics and play safe, instead, she is always marching forward and looking to finish the job early. What's more, she won the ADDC submission grappling World bronze medal (2009) and is the IBJJF World Jiu-Jitsu gold medalist (2011, 2012), but she never put these incredible skills to work!
This relentless approach has attracted many fans around the world and brined her tremendous popularity!
After losing her MMA debut way back in 2005, Cyborg would go on the incredible 20 fights winning streak and capturing the StrikeForce, Invicta and UFC Featherweight titles before stepping inside the Octagon against the fearsome Amanda Nunes.
The fight between the two Brazilians took place at UFC 232 and is considered as the biggest fight in woman MMA history! Both known as very aggressive, they started blasting each other from the first second! Although Nunes knocked out Cyborg in a spectacular fashion, the fight was so competitive and exciting that we simply have to see them going at it once again in the future!
However, this is unlikely to come true as Cris Cyborg left the UFC promotion earlier in 2019.
2. Amanda "The Lioness" Nunes
Thus far, she has cleaned out the Bantamweight division and holds the memorable victories over the former champions in Ronda Rousey, Cris Cyborg, and Holly Holm.
What she brings to the table are the unbelievable power and precision. Everything she does on the feet is perfect and aggressive at the same time. Combined with incredible focus and self-belief, Nunes accurately represents the overall MMA package.
After Cat Zingano KO'd her at UFC 178, we've all thought that Nunes will have just the average fighting career. We're unsure what happened in the meantime, but it seems like everything about her changed overnight! She would dominate the next three fights and rightfully earn a shot at the Bantamweight title.
At UFC 200, Nunes destroyed Miesha Tate and finally crown herself with the UFC gold. Thus far, she has defended it for times and after putting Cris Cyborg away at UFC 232, Nunes became the Featherweight champion and the first female UFC fighter to win two titles and holding them simultaneously!
1. Ronda "Rowdy" Rousey
Hands down Ronda Rousey is the greatest woman fighter in combat sports history! Her rise as a fighter has had a direct impact on the mainstream rise of women's MMA and positive image of women competing inside the Octagon!
Rousey began her martial arts career in Judo and won the Olympic bronze medal in Beijing (2008), multiple Pan American championships and tournaments. Saying that her Judo skills transitioned well inside the Octagon is just an understatement.
She literally stormed through Strikeforce and UFC promotions by capturing Bantamweight titles in a short period! One after the other, the legends have fallen under the relentless grappling and aggression of "Rowdy". Let's take a look at some of her accomplishments:
First UFC champion
Six successful Bantamweight title defenses
Longest title fight finish streak (6)
Most consecutive armbar finishes in UFC history (8)
Most post-fight bonuses amongst women's
2x Best Female Athlete ESPY award (2014, 2015)
She was so dominant that many people including the UFC color commentator Joe Rogan have thought she could beat a lot of male fighters, even Floyd Mayweather! Although this is pure fantasy, it gives us a better understanding of the hype and attention she was receiving from the general public.