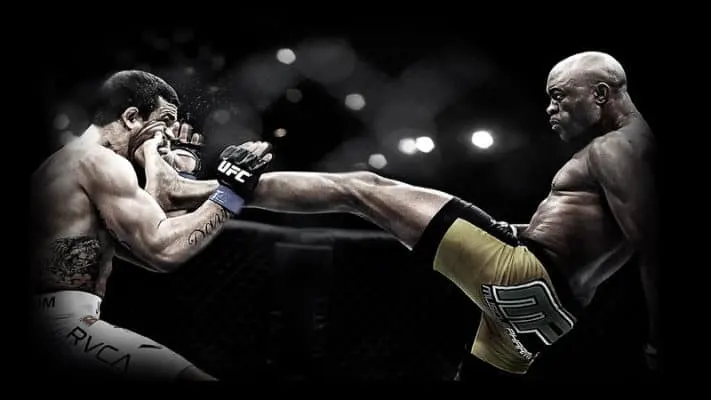 A lot of MMA fans believe that Taekwondo (TKD) doesn't have any relevance in cage fighting. But the reality is TKD is more than present in modern MMA. Although the application of this Korean art is quite limited, there have been a number of successful UFC fighters who came from a strong foundation in TKD.
In this article, we bring you the 10 greatest Taekwondo UFC fighters in history. The fighters listed below not only have a strong background in taekwondo, but they have also effectively used taekwondo moves in the cage.
10. Chris Barnett
Rank: 3rd-degree black belt
If you have seen Barnett, he clearly looks out of shape, but don't let his appearance deceive you because Barnett is actually quite athletic, flexible, and agile. Chris Barnett is an exciting UFC heavyweight fighter who has scored one of the most spectacular spinning kick finishes in recent history.
At UFC 268, he caught Gian Villante with a perfectly placed wheel kick to the head, instantly sending the Canadian down to the canvas. The crowd was shocked as no one expected 5'9″ out of shape looking Barnett to blast 6'2″, very athletic-looking Villante with a wild head kick. But he did it mainly thanks to his strong Taekwondo background.
Barnett grew up in a martial art family, with both of his parents being black belts in TKD. Naturally, he decided to follow in their footsteps and began training at the age of 5. He later switched to wrestling during his high-school days and trained in Judo before finally going into MMA.
Thanks to his hilarious personality and fearless fighting style, he quickly amassed a huge fan base in the UFC. Fans love him mainly because he does not hesitate to execute all types of flashy moves that are very entertaining. In fact, it's incredible to see how a man of his size and weight can pull off some of the moves he is regularly doing inside the octagon.
RELATED:
Why Is There A Weight Limit For UFC Heavyweight Fighters?
9. Paul Felder
Rank: 2nd-degree black belt
Paul Felder is a former UFC contender in the lightweight division who took on the color commentator role upon retiring from the sport. Although mainly known for his great Muay Thai skills, Felder actually has a strong TKD background, which he showcased on multiple occasions during his career.
Felder started his martial art journey by signing up for TKD classes when he was 12. For years, he would simultaneously train in TKD and karate, where he also holds a 2nd-degree black belt. In his career, he won many medals and competed in the AAU Junior Olympic Games for TKD along with his cousin Niko Portillo. Later in college, he switched to Muay Thai and MMA in his mid-20s.
He fought under the UFC banner on 15 occasions and scored 9 wins against top opponents such as Edson Barboza and Charles Oliveira. Though he suffered 6 losses, bear in mind that four were close split decisions that could have gone either way. He was very talented, tough, durable, and spectacular to watch.
8. Edson Barboza
Rank: Black belt
Edson Barboza is a fan-favorite UFC fighter who has been fighting at the top of the game for many years. What he brings into each bout are exceptional striking skills deeply rooted in Taekwondo and Muay Thai.
He started training in Taekwondo as a kid, where he managed to reach a black-belt rank in a short period of time. Later on, he would switch to Muay Thai and then MMA, where he didn't need much time to succeed.
With exceptional striking skills and brutal knockouts, he quickly climbed the UFC rankings all the way to the top. Over the years, he added a strong grappling defense, enabling him to keep the fight standing and demolish his opponents with laser-perfect striking.
What stands out in his game are his spinning kicks from TKD. The way he knocked out Terry Etim at UFC 142 with a wheel kick is an ideal example of how practical TKD is in MMA. The other great example of his kicking game was the beatdown he put on Dan Hooker. It was painful to watch Barboza land kick after kick until Hooker couldn't take it anymore. Though he has faced and beaten many great fighters, Barboza has never won the UFC title.
7. Bas Rutten
Rank: 2nd-degree black belt
Rutten is one of the pioneers of modern MMA who dominated the scene back in the 1990s. He is the former UFC and Pancrase heavyweight champion and one of the very first all-around fighters. The secret behind his success lies in the fact that he was a master of multiple martial arts at a time when the rest were primarily one-dimensional fighters. Although these were the early MMA beginnings, Rutten's style was advanced even by modern standards.
He started his martial art career in Taekwondo at the age of 14, and he reached a 2nd-degree black belt. But after getting into a couple of street fights, his parents put his martial arts journey on hold for the next few years. Rutten would eventually get back to training in his early 20s, but this time in Kyokushin karate, where he also earned a black belt. His last stop before going into MMA was kickboxing, where he accumulated a record of 14 wins and 2 losses.
What's impressive about him is that he retired while on a 22-fight winning streak and on top of the game. Shortly after winning the UFC title at UFC 20 against Kevin Randleman, he left the sport to pursue other challenges. He came back 7 years later for one last fight, which he won against Rubel Villareal.
RECOMMENDED FOR YOU:
What Are Liver Shots In Combat Sports/MMA?
6. Yair Rodriguez
Rank: black belt
Yair Rodriguez is among the most exciting UFC fighters and a great TKD representative in modern MMA. While most other fighters on this list have all changed and adapted their styles for cage fighting, Rodriguez didn't. He remained "loyal" to TKD by using TKD techniques as his main weapon in a fight.
And he mastered the art of timing and delivering powerful kicks to absolute perfection. He has, by far, the best kicking skills in the game. What's amazing about his kicks is the fact that he can throw them from all ranges and angles. Whether it's a wild wheel kick, jump kick, or spinning kick to the body, Yair can do it all, and he rarely ever misses.
His fighting IQ, speed, flexibility, and spatial awareness are off the charts, and the world has never seen such a dynamic and fluid fighter. In his career, Rodriguez scored many memorable highlight-reel knockouts. But the one that stands out is undoubtedly the beatdown he put on veteran BJ Penn in 2017. This fight showcased the effectiveness of Yair's TKD kicks in a UFC fight at the expense of BJ suffering a brutal defeat.
5. Rose Namajunas
Rank: black belt
Rose Namajunas is one of, if not THE greatest, UFC female strawweight champions who comes from a strong Taekwondo background.
Growing up in a tough Milwaukee, WI, neighborhood, she witnessed violence from a young age while dealing with her father's schizophrenia. During this time, Namajunas often got into fights, earning her the nickname "Thug Rose."
To sublimate all the anger issues, her mother enrolled her in Taekwondo, where she earned a junior black belt rank at the age of 9. She would then switch to karate, where she holds a black belt rank, and BJJ, where she is a brown belt. Considering her background, it's not surprising that she is probably the most complete female athlete on the UFC roster.
As far as TKD is concerned, Namajunas shines with fast and precise kicks, with her front kick technique being a thing of beauty. In her UFC career, she won the strawweight title twice, and she was the first woman in UFC history to regain the championship after losing it.
4. Valentina Shevchenko
Rank: 2nd-degree black belt and Master of Sports
Shevchenko spent her childhood training in many martial arts, including TKD, in which she enrolled at the age of 5. Her talent, dedication, and skills led her to win multiple World and European championships. But to say that her TKD skills transitioned well into MMA would be an understatement. Inside the cage, she shines with incredible kicking technique, timing, stance switch, power, and prominent finishing instincts. Though she has other skills as well, her TKD defines her style.
Shevchenko made her UFC debut in 2015, and she reached the top in a short period of time. Just three years later, in 2018, she would win the vacant flyweight title and successfully defend it seven times in the next five years. On top of that, she holds multiple records for consecutive wins, knockouts, and takedowns, and she showed dominance in many other aspects of the game.
Over the years, she established herself as one of the most dominant and well-rounded fighters in women's MMA. She is among the best female MMA fighters in history, according to many fans.
3. Anthony Pettis
Rank: 3rd-degree black belt
Anthony Pettis is a former UFC lightweight champion with a strong TKD background. Apart from being a champion, Pettis is among MMA's most exciting fighters and best strikers. Most fans primarily know him for his incredible kicking skills, which come from TKD.
Pettis got enrolled in TKD at age five, and by the age of 18, he was already a 3rd degree black belt. At 19, he began his MMA training at Roufusport MMA Academy, eventually becoming a MMA/UFC fighter. He quickly became famous while fighting in the WEC promotion with the famous "showtime kick" he landed against Benson Henderson at WEC 53, which remains one of the most iconic moments in MMA history.
Pettis arrived in the UFC in 2011 as a big prospect. He needed less than two years to win the lightweight title, again by beating Henderson at UFC 164. Throughout his UFC career, he faced and beat numerous top-ranked opponents and was engaged in many memorable battles. Fans loved him because he was always ready to put on a show and was never in a boring match. Whenever Pettis was on a card, you knew you were about to see something spectacular.
2. Benson Henderson
Rank: Black Belt
MMA fans know Benson Henderson as the former UFC and WEC lightweight champion and one of history's best 155-pound fighters. His mother, who is of Korean descent, decided to enroll him and his brother in TKD so that they could learn more about Korean culture. Benson achieved a TKD black belt after a few years and began wrestling in high school. He went on to become a collegiate wrestler and was twice recognized as an NAIA All-American.
Benson became a pro-MMA fighter in 2006, mainly utilizing his strong TKD background for standup fights and wrestling skills to handle any adversity on the ground. His TKD training gave him flexibility, speed, and accuracy, especially in executing kicks, which he was really good at.
During his prime days, Henderson rarely made any mistakes, miscalculated, or went out of his zone, which is why his nickname is "smooth." Whether it was grappling or striking, he was good everywhere and comfortable fighting against any style.
1. Anderson Silva
Rank: 5th-degree black belt
Anderson Silva is widely regarded as the greatest UFC fighter of all time. He embarked on his combat sports journey in TKD at a young age. During this time, he also trained in Muay Thai, Capoeira, and Wing Chun. The combination of these striking styles is the reason why Silva was such an unorthodox fighter and so hard to beat. He had too many tricks up his sleeves.
In MMA, he was known as the most dynamic striker. In his prime, this man was untouchable. His unorthodox movement, footwork, timing, accuracy, speed, and combos were laser perfect. It was clear that his fighting style was too advanced for his era, and it took a while for his challengers to catch on.
Silva went on to win 16 fights in a row between 2006 and 2013, winning the UFC title in the process. During this time, he scored 11 finishes and defended his throne 10 times before losing it to Chris Weidman. Despite some setbacks in later years, his impact on the sport remains undeniable.