Throwing caution to the wind and swinging haymakers with full force has always been a double-edged sword in combat sports. On one side, you risk getting KO'd, but on the other, this fighting style can also bring you a lot of success in the entertainment business, as long as you keep winning, of course. It can quickly bring you a lot of money, global fame, and a lot of good opportunities.
In modern times, the majority of UFC fighters are strategic, methodical and prefer to follow a strict game plan in matches. But, there has always been that other, more aggressive, and violent group of UFC fighters who is, in some way, the total opposite inside the octagon. The ones who do not try to impress the judges, win points and decisions. Instead, they rely more on their violent instincts and are always pushing for a finish. Without further ado, let's see how they are.
15. Khamzat Chimaev
Khamzat Chimaev is the most intimidating 170-pound fighter and a man who needed less than a year to reach a contender position in the UFC (2020-2021). He is one of those fighters who doesn't care much about when, which weight class, and who he is going to fight next and is always eager to sign a contract to fight the next opponent. He has all-around skills and is very confident and very aggressive inside the cage. Despite being a wrestler with a dangerous BJJ game, he is not afraid of stepping into a pocket and swinging bombs. He never takes a step backward and is always on the hunt.
The best example was his fight against Gilbert Burns at UFC 273. In this fight, Chimaev threw the game plan right through the window, and he relied on sheer aggression and violent instincts to stand and bang with Burns for 3 rounds, and win a decision.
14. Cris Cyborg
In some way, you can look at Cris Cyborg as the female version of the boxing legend, Mike Tyson. Yes, she punches that hard, attacks with the same terrifying ferocity, and can shut your lights out with a single touch. She is like a predator, constantly walking down her prey and waiting for the perfect chance to unleash a barrage of punches. And when she does, her attacks usually end up with her opponent going down unconscious.
In her career, she scored more than 20 memorable knockouts, which is a lot for a female fighter. She is the only female fighter who managed to capture belts in the following four major organizations:
Invicta FC
Bellator
UFC
Strikeforce
RECOMMENDED READING:
10 Greatest Female MMA Fighters Of All Time!
13. Khabib Nurmagomedov
You might be surprised to see Khabib taking a spot on this list. Yes, he is a humble man, always respectful and guided by strong religious beliefs. But inside the cage, he had always been aggressive, relentless, and even violent to some extent. He would break the opponent's will with strong top control, vicious ground and pound skills, and exhausting pace. The way he demolished Edson Barboza and Michael Johnson are the best examples of how he used to break people's will inside the cage.
Khabib looked like a man possessed in most of the fights he stepped in to compete and his fighting style is as intense as it gets. Although he didn't score many brutal KOs, Khabib is, and always will be, one of the most aggressive fighters.
12. Vitor Belfort
Vitor Belfort is an MMA legend and the former UFC titleholder and tournament winner who had been competing on top of the sport for more than two decades. Back in his prime, Belfort was a total MMA package. He had a jacked physique, was very fast and technical on the feet, and as far as entertainment is concerned, very aggressive inside the UFC octagon.
Although he started in the 90s, his best and most violent performances came in the closing stages of his career, or the famous "TRT" days between 2011 and 2013. At the time, Belfort looked and fought like a monster that came straight out of the laboratory or horror movies. He knocked some of the biggest legends of the sport like Michael Bisping, Luke Rockhold (both later became champions), and Dan Henderson.
LEARN MORE
Get the full report on Top 15 Most Muscular MMA Fighters of All Time – Ranked
11. Francis Ngannou
Whenever you see Ngannou on the UFC card, you know that you are about to see violence and people flying across the cage unconscious. Ngannou is, by far, the hardest hitter the world has ever seen, and if you combine this with his aggressive style, you get why Ngannou is the most feared man on the planet. From the way he lifted Alistair Overeem off the ground with the vicious uppercut to the way he recklessly charged at Rozenstruik with the barrage of punches, Ngannou is a terrifying human being inside the octagon.
He is known as an MMA fighter who doesn't have the most technical striking skills. But throughout his career, he managed to make up for the lack of technique with sheer power and aggression. No matter what happens in a fight, Ngannou is always one punch away from winning the fight, and that's why you can never count him out.
RECOMMENDED READING:
How Hard Can an Average Person Punch?
10. Calvin Kattar
Calvin Kattar is one of the wildest and most durable fighters on the planet who also has top-level boxing skills, maybe the best in the business. He never backed down from a fight, and the majority of his UFC matches have been brutal standup wars. Even when things are not going to plan and he is taking a lot of damage, you will never see Kattar moving backward, slowing down, or playing it safe. No, the man is all about the pressure, is ready to absorb five shots just to land one, and is often too aggressive and tough for his own good, like against Max Holloway at UFC on ABC 1.
But despite being a wild man, Kattar is highly technical and very talented, and standing and banging for 3 or 5 full rounds is just the way he fights. Although this approach cost him a couple of wins, it also brought him a lot of love from the fans.
9. Michael Chandler
Chandler is one of the best Bellator fighters in history, and the former UFC title challenger. Whenever you see Chandler on the card, you know that entertainment is guaranteed from start to finish. He is a hard matchup for anyone simply because of his aggressive approach and the freak power in both of his hands. He'd start swinging power shots and chasing his opponent from the onset of the first second, and it'd be difficult to shake him off.
In his career, he has left nothing but carnage in just about every fight he stepped in to compete. He is one of those fighters who throw each and every strike with full force, without carrying much about the gas tank or counterattacks. Whether it's a kick, punch, or entry for a takedown, Chandler is very explosive and always pushing for a finish.
In some cases, this approach cost him a better result like the fight he lost against Justin Gaethje. But on the other side, it also brought him a lot of success like against Dan Hooker and Tony Ferguson.
RECOMMENDED READING:
10 Most Fearless MMA Fighters In History Who Are Undersized
8. Matt Brown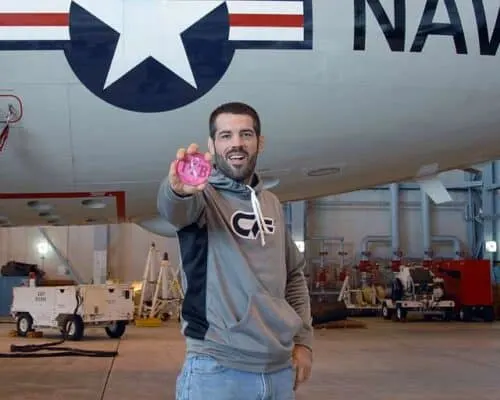 Matt Brown is a UFC legend and one of the most underrated fighters of all time. He holds a record for most finishes in UFC's 170-pound division (14) and most knockouts (12), and he managed to achieve all of that in "just" 16 UFC fights (as of 2022). Known for his brutal Muay Thai game on the feet and dangerous submissions on the ground, Brown is simply a tough matchup for anyone, even in his 40s.
The main reason why so many fans love him is his consistency when it comes to violence inside the cage. You know what you are going to get each time Brown competes simply because of his violent nature. In his career, Brown won many post-fight bonus awards and will go down in history as one of the most aggressive fighters of all time.
7. Mauricio "Shogun" Rua
Shogun is an MMA legend who managed to win titles both in PRIDE FC and UFC, and he did it in a spectacular fashion. Known for his top-level Muay Thai, Rua used to knock people left and right utilizing various brutal techniques such as soccer kicks, head stomps, and pinpoint perfect boxing skills. He quickly gained a reputation for being a very aggressive fighter who wasted no time playing games inside the ring and following tactics and game plans. Each kick or punch he throws carries a lot of force and is aimed to knock you out cold.
The best examples of how wild and aggressive Rua used to be were his two violent brawls against Dan Henderson. Despite losing both times, Rua displayed a lot of heart, courage, and skill, which, in the end, secured him a place in the "UFC Hall of Fame 2018-Fight Wing."
6. Robbie Lawler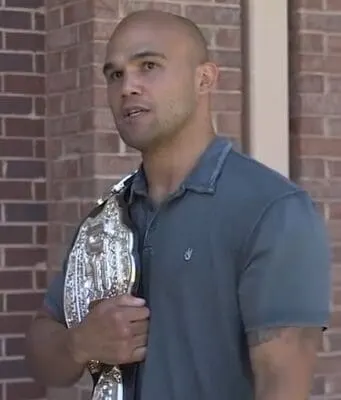 The former UFC 170-pound champ Robbie Lawler might be the most intimidating fighter in sports history. He is one of those quiet guys who rarely raise their tone during the interview and is always calm. He is not that into trash talking and even looks like an average man. But once the cage door closes, he turns into a pure madman, moving forward and swinging power shots until he rips your head off.
Over the course of his long career, Lawler has been into many violent brawls and has won a "fight of the year" award an amazing three times. They don't call Lawler "ruthless" for nothing, right?
Still, his most violent performance came in his first UFC title defense when he finished Rory MacDonald at UFC 189. This fight stands for one of the most brutal and bloodiest displays of violence in UFC history. It is also a great example of who Lawler is as a fighter, and why people love him so much.
5. Diego Sanchez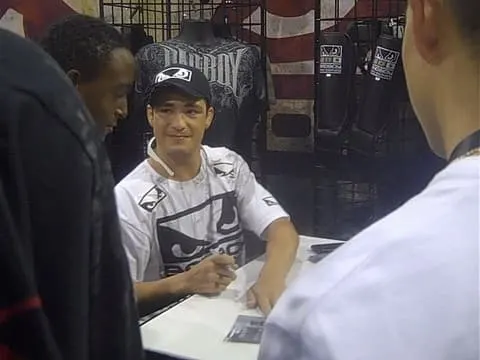 Diego Sanchez is a man associated with violence in UFC, and a name that brings so many memories when it comes to brutal fights. Once the cage doors close, you know Sanchez is about to go full-blast, and unleash all of his violent instincts right from the opening second. He is a definition of a warrior, and back in his prime days, he was a tough matchup for anyone simply because you can't prepare for that type of aggression.
As if the constant pressure and swinging haymaker punches were not enough, Sanchez was very durable and almost impossible to put out. He would drag you into the deep waters, and if needed, overcome adversities and lose a pound of blood in the process just to knock you out.
4. Cain Velasquez
The former UFC heavyweight champ, Cain Velasquez, is widely regarded as one of the most aggressive fighters of all time. What made him so special were his top-level wrestling skills, solid boxing, and very, very good cardio. He was a terrifying individual simply because of the fact that he could push a high pace for five full rounds without getting tired. Most of his opponents just couldn't keep up with his tempo and would gas out after the first round. He used to maul his opponents inside the octagon, and the majority of his fights were one-sided beatdowns.
One such beatdown came in his second and third fight against Junior Dos Santos. He beat him so bad that even Velasuez's fans had a hard time watching their fighter mauling the exhausted Dos Santos in the fourth and fifth rounds. The Brazilian was never the same after these two fights. Velasquez literally deformed his face.
3. Wanderlei Silva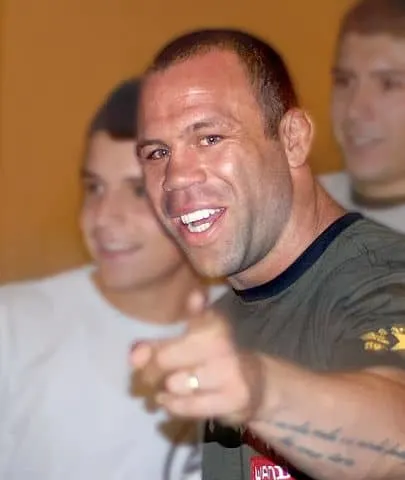 Silva is the former PRIDE FC legend and a man who holds a record for most KOs in PRIDE history, 15. In MMA history, there has never been a more violent fighter and some of his fights are really hard to watch. From vicious soccer kicks and stomps knockouts to relentless pressure and high output, Silva was the most feared fighter of his era.
While most fighters prefer to keep their range and dictate the tempo, Silva was a bit different. He would force you to fight inside the pocket, a place where he felt like a fish in the water. But although he often looked too aggressive, Silva was actually very technical during those wild brawls and in full control. This is one of the main reasons why he managed to get away with such a "reckless" fighting style, and achieve so much.
2. Justin Gaethje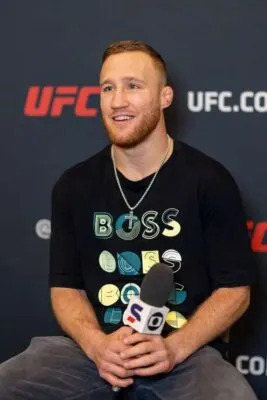 Justin Gaethje is a man who needs no introduction. The former 155-pound interim UFC champ is, by far, the most exciting lightweight in the history of the sport. In his career, he won multiple "fight of the year" awards, many post-fight bonuses, and has probably lost more than a few brain cells.
Despite having top wrestling skills, Gaethje is a brawler who has built his success on being in wild standup wars. He is always moving forward looking for the pocket exchanges and has a chin made out of iron. He is capable of taking huge damage and fight his way out of bad situations. Most of his fights go back and forth until he, or in most cases, his opponent doesn't get knocked out or submitted.
Some of his memorable wars were against Michael Chandler (UFC 268) and Michael Johnson (TUF 25 finale). In both of these fights, he was in serious trouble early in the fight but managed to recover and beat them in the later rounds with strong pressure and aggression.
1. Charles Oliveira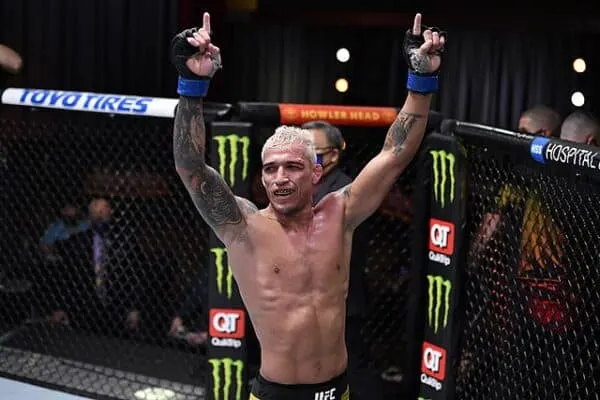 The UFC champ, Charles Oliveira, is a very aggressive fighter who has prominent finishing instincts. But what makes him special, apart from his very good ground game and sharp Muay Thai skills, is his ability to recover and make adjustments in the middle of the fight. Due to his wild fighting style, Oliveira oftentimes gets caught on the feet, and even dropped early in the fight, as he did against Chandler and Gaethje.
But, he somehow always manages to keep his cool, make small changes in his approach, and find a way to finish the fight. It often happens that these small changes and the ability to adapt is what separates great fighters from the average ones.
Last but not least, Oliveira is a man who holds a record for most UFC finishes, which clearly shows you how aggressive he is.