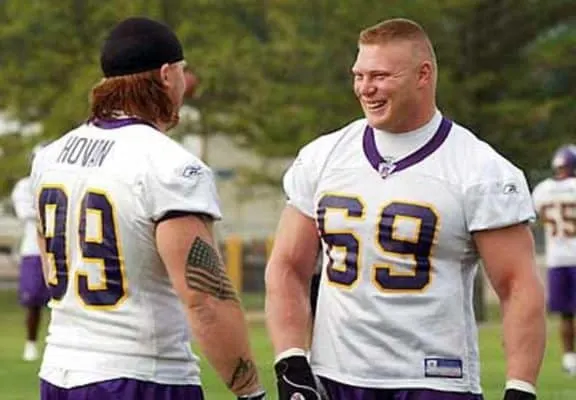 MMA is a compelling sport where some of the best fighters on the planet eventually end up. Either to test their skills or potentially even show how their specific martial art is best. Regardless of the reason behind it, many people understand why martial arts join the world of MMA to literally "mix" things up. You do not, however, expect football players to make the jump as often.
In the case of the people on our list today, their paths all differ. Some are multi-sport athletes, others even played football professionally. Regardless of their run, they all ended up in MMA after playing football.
Kevin Ferguson (February 8, 1974 – June 6, 2016) aka Kimbo Slice
Kimbo is well-known for being a notable street fighter. He would eventually go on to get a huge opportunity in professional MMA corporations and even landed television and movie roles. However, before all of this Slice was a gifted linebacker from the Miami-Dade area. When growing up, he was entering a big season that could have resulted in some major football scholarships.
Sadly, Hurricane Andrew hit his hometown. Not only did it take out Kimbo's own home but would also affect his school and the entire neighborhood. It all took place in 1992, the worst possible time for Kimbo. Scholarship offers dried up and he was left without a potential football career path. Yet he would eventually get an opportunity with the Miami Dolphins in 1997 at the age of 23.
While he did not make the team, it was for the best. As Kimbo went on to have quite a lot of success without football in his life, including a short but still notable MMA career.
Eryk Anders
When discussing Eryk Anders, you have to truly give the man some props. He played for Nick Saban at the University of Alabama and even won a BCS National Championship in 2009. He was a huge asset for the Crimson Tide during the 2008-2009 period as a starting linebacker for the team. This same season was his Senior Year.
He had 66 tackles, 14,5 of them being for losses. Along with 6 sacks and an interception. In the National Title game, Anders even caused a forced fumble and had seven tackles. While Anders did go on to the NFL, he did not really do well enough to last. He also tried his hand at the CFL and even Arena Football before eventually deciding on getting involved in MMA.
This has been a solid career choice. He won 9 fights in a row before being offered a deal by the UFC. Of course, while his UFC career has been hit and miss thus far, he has been quite impressive. From National Champion football star to the Octagon, Eryk Anders has lived a compelling life.
Brenden Shaub
While most people recognize him today for his comedic prowess and podcast success, Brenden Shaub had a big run in both MMA and the world of football. In high school, he played both football and lacrosse. However, he did not see any college scholarships for either sport, which led him to try out for the football and lacrosse teams at Whittier College. He made both teams and was so successful that he ended up getting a football scholarship offer from the University of Colorado.
Due to NCAA rules, he had to sit out for one season due to transferring. Yet he would eventually play for the team. Although he went undrafted in the 2006 NFL Draft, he eventually landed on the Buffalo Bills practice squad. He would be released shortly into his time with the Bills but landed on his feet by getting signed to the Utah Blaze, an Arena Football League team. Brenden retired from football just a year later but decided to give MMA a try.
This turned out pretty well. He won his first 4 fights before he was signed to take part in the 2009 version of The Ultimate Fighter. While he would eventually lose to Roy Nelson in the Finale of the show, he proved himself enough to the UFC to earn a contract. Brenden would win 6 fights in the UFC before having to retire in 2014.
Since then he has been doing pretty well for himself as a podcaster.
Brian Stann
We should actually formally introduce this man. 2nd Mobile Assault Platoon & 3rd Battalion, 2nd Marines Captain Brian Stann. As you can tell, Captain Stann spent time in the United States Armed Forces. Yet before he did this, he was actually a pretty good linebacker for the Navy Midshipmen. Of course, any man who is able to do so after graduation from the Naval Academy must serve at least 4 years in the Armed Forces.
This meant that a career in football for Stann was never really the goal. He was obviously quite successful in his time with the Armed Forces and was even awarded a Silver Star for directing two casualty operations, three vehicle-recovery operations, and multiple close air support missions under enemy small arms, machine gun, and mortar fire in a 360-degree fight. We're thinking he earned this honor!
After his time was up in the Marines, Stann went into MMA. He was signed by the WEC and even won the WEC Light Heavyweight Championship! In 2009, he was offered a contract by the UFC and had moderate success. Stann won 6 fights and had 3 Fight of the Night wins. Of course, he left the sport in 2013.
For 9 total years, he served as CEO for Hire Heroes USA, and today he is the Chief Operating Officer at FirstKey Homes.
Ovince Saint Preux
Ovince Saint Preux was a major high school athlete. He was born to Haitian immigrants in Immokalee, Florida. It was here at Immokalee High School that was part of the wrestling, track, and football team. As a wrestler, he ended up with a record of 26-1, becoming the State's 1A Runner-Up in his weight class. In his Senior Season for the football team, he ended up with a then-school record of 18 sacks! That resulted in All-State honors.
In track, he was pretty impressive too and competed in the 110-meter hurdles, 300-meter hurdles, discus throw, and 4×400 Relay. All of this helped him earn a scholarship from the University of Tennessee. While he'd redshirt his freshman season, Saint Preux played football for the team each year from 2001 to 2004. He even earned Varsity Letters in 2002 & 2004 respectively after playing a total of seventeen college games. He played both defensive end and linebacker as a reserve.
After he graduated college, Ovince decided to train in kickboxing and submission grappling while also trying to get a professional football opportunity. His professional attempts turned out to be unsuccessful, yet his martial arts experienced seemed to be quite useful and resulted in opportunities in the world of MMA.
Saint Preux would go on to win 6 out of 7 fights for Strikeforce. Of course, once the company was purchased by then-UFC owner Zuffa, LLC, Ovince was also given a chance to compete in the UFC. He has competed in the company since 2013 and has been incredibly successful with the company.
He has won a Fight of the Night Award as well as SEVEN Performance of the Night awards! Ovince has also won more than a dozen fights in the UFC on top of this.
Dominick Reyes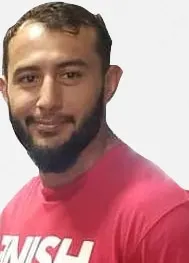 Dominick Reyes has had a huge MMA career, but he was an incredibly gifted Strong Safety for the Division-1's Stony Brook Seawolves. A 4-year starter for the Seawolves, he was able to rack up over 200 tackles. He even led the Big South League in tackles in 2010. He is even the all-time tackles leader for Stony Brook too.
He was voted to the All-Big South First Team & Second Team in his time with the Seawolves as well. While Reyes attempted to head to the pros for both the NFL & CFL, he never could land on any team. This was when he decided to truly dive into MMA. While he holds a Blue belt in Brazilian Jiu-Jitsu today, this took him years to achieve. He was even working a normal day job while also having some nice success in MMA.
He was simply not making enough in MMA to survive, so he was pulling a Clark Kent/Superman concept on people until the UFC gave him an opportunity after he went 6-0 in his early MMA career. The UFC managed to take on one heck of a fighter, as Reyes was able to win his first 6 fights, capturing Performance of the Night twice.
Today, Reyes is considered a regular top contender in the UFC Light Heavyweight Division.
Matt Mitrione
Matt Mitrione actually enjoyed some pretty good success in the world of football, even played professionally in the NFL. He was a standout in college for the Purdue Boilermakers, where he had 35 starts at defensive tackle. Sadly, he sustained a broken foot that kept him from being drafted in the 2002 NFL Draft. The New York Giants, however, took a chance on him when he healed up.
Yet injuries plagued his career. Not only did he have more foot injuries, but he had 7 surgeries to fix the issue. One of those was even done to extend his Achilles Tendon, keeping him on crutches for a full 16 months. The Giants cut him in 2004 and Matt tried playing for a few other teams before, ultimately, his career was over.
However, Mitrione always had a love for martial arts, even as a kid. His parents enrolled him in karate to help with his hyperactivity, meaning Matt was well-versed in Shotokan Karate for years. Matt even has a black belt in the martial art, which resulted in him getting an offer to fight for Jayson Werth's inaugural promotion. Nothing really came from this but Matt would get a big opportunity to be part of the 2009 Ultimate Fighter: Heavyweights edition.
He won his fight in the Finale of the show, resulting in a UFC contract. Since competing Mitrione had had some huge wins over some well-known fighters. He has beaten Kimbo Slice, Gabriel Gonzaga, Derrick Lewis, and Roy Nelson. He is even one of only 6 people to ever defeat the incredibly notable heavyweight fighter, Fedor Emelianenko.
Matt did have a long career in the UFC, but he has since competed in Bellator MMA.
Bob Sapp
Bob Sapp has sort of mixed his time in both MMA & Professional Wrestling for years now. Of course, Sapp has not really been the most successful MMA fighter, known mostly for his losses than his wins. Sapp was actually a Kickboxer for a lot of his early fighting career. But what he did best was playing football out of all the sports he tried.
He played for the University of Washington and was part of the Huskies team that ended the Miami Hurricane's 58-game home winning streak. Sapp was even able to win the Morris Award in 1996, a trophy given to the best offensive/defensive lineman annually. Due to his great collegiate success, he would be drafted in the third round by the Chicago Bears in the 1998 NFL Draft.
Sadly for Sapp, he would be released by the Bears yet the Minnesota Vikings took a chance on him. However, he only played one game in two full seasons for the Vikings due to steroid abuse and the suspensions that followed. That led to the team releasing him and a chance to play for another team pretty much dead in the water. This put Sapp in poverty, which eventually led him to professional wrestling.
Sapp wrestled for a lot of places, including New Japan Pro-Wrestling and even World Championship Wrestling or WCW. While his career in WCW was short-lived, he decided to give professional kickboxing a try and did enjoy some moderate success, winning the K-1 World Grand Prix Tournament in 2005.
Sapp also felt he could have some success in MMA, along with wrestling in NJPW. Since he was already in Japan, he tried his hand at working for PRIDE FC, evening earning 2 wins in 3 fights. He'd eventually fight for K-1, Dream, Strikeforce, ONE Championship, & Rizin. Again, Sapp has rarely been a major success in MMA. But between football, pro-wrestling, & MMA, Sapp has managed to have one heck of an athletic career.
Greg Hardy
Greg Hardy has been known for his football career far more than anything related to his MMA time. He played at an elite level in the NFL and managed to rack up 40 career sacks, 238 total tackles, and 8 forced fumbles. In fact, in 2012 & 2013, he had two seasons where he had over 10 sacks. Hardy even made the Pro-Bowl in 2013 after having a career best 15 sacks that season!
However, Greg Hardy has always been his own worst enemy. He only played roughly 6 seasons in the NFL in spite of being highly productive because of several suspensions. He was arrested and eventually faced criminal charges for domestic violence, eventually having some charges dropped.
From 2014 to 2016, the man could not get out of the public eye in a negative way. This resulted in his NFL career pretty much ending and a transition to MMA with no prior martial art background. He began this in 2016 and would win some major amateur fights that eventually caught the eye of UFC President Dana White.
That resulted in Hardy appearing in Dana White's Contender Series, and eventually the UFC. Hardy has had a moderately successful transition to MMA from football. Hopefully he can stay out of his own way this time.
Brock Lesnar
Brock Lesnar is mostly known for his work in the WWE. He was a pretty successful collegiate wrestler who won the NCAA Heavyweight Championship as a collegiate wrestler. He would transition this success into the WWE, but only for around 3 years. Lesnar is a freak athlete, but the schedule for WWE was too difficult for him, yet he still wanted a competitive opportunity. Football seemed like the best transition for a man in his mid-20s.
In spite of never playing high school nor college football, he was given an opportunity by the Minnesota Vikings to try out for them. Lesnar was nearly successful at making the team. However, he just missed out on doing so. This seemed to be for the best, as he decided to jump into MMA right after. He did not have to wait very long for a phone call from the UFC.
Lesnar then joined the company and the rest, as they say, is history. He won the UFC Heavyweight Title and helped the company grow massively, becoming a huge blockbuster attraction. While Lesnar would depart from the UFC for another WWE run, he did go back for a fight with Mark Hunt. Of course, Brock did win the fight but it was eventually thrown out when Lesnar tested for a banned substance.
He has not competed in the UFC ever since. Yet many believe he'll yet again return. Time will tell!
RECOMMENDED FOR YOU:
11 Most Intimidating MMA Fighters Of All Time
Herschel Walker
When you hear the name Herschel Walker, you automatically think about football. It is not crazy to do, as Walker is considered by many to be one of the best running backs in history. He was an incredible college running back for the University of Georgia, helping them capture a National Championship in 1980. Walker also won the Heisman Trophy & Maxwell Award in 1982.
This led to a big opportunity at the professional ranks. Instead of going to the NFL, however, Walker decided to go to the newer USFL. Obviously he became a major success there but when the league died, Herschel jumped to the NFL where he played for the Dallas Cowboys and eventually the Minnesota Vikings & Philadelphia Eagles.
Walker was not just a gifted runner, as he could also catch the ball and become a productive Wide-Out. In spite of being one of the best running backs of his era, he'd only make 2 Pro-Bowls. Yet if we combine his USFL & NFL statistics, he put up a major 13,787 career rushing yards. This would be good enough to maintain the Top 10 best career rushing numbers, except he only put up a little over 8,000 yards in the NFL.
One would think that after a Hall of Fame football career, Walker would be done as an athlete. Yet he proved everyone wrong when he decided to try his hand at MMA. This was not as crazy as many might have thought. People did not realize that Herschel Walker has a fifth-degree black belt in Taekwondo!
He won both of his only two MMA fights but has not competed since 2011, Either way, what an impressive accomplishment for a man years out of his prime. Imagine if Walker dedicated the prime of his life to MMA over football. We might not have heard of other top heavyweight fighters at all!