MMA and the military have more in common than you would ever guess. Both ask for strict discipline, hard training, and mental focus to succeed. In addition, the pressure one has to deal with on the battlefield or in the cage is very high and the margin for error is small.
This is the main reason why fighters with military backgrounds do well in MMA. They tend to be more disciplined, easier to work with, and always ready to train harder than the others. There's no fooling around in the military and it is all about working hard to achieve your goals.
For example, United States Marines Corps might not teach you the most technical fighting skills you can apply in MMA, but they will indoctrinate you how important it is to work hard and to never give up.
Over the years, there have been many top MMA fighters who came from strong military background. In this article, you will see that the reason why the fighters listed below have done well in MMA is because of their deep rooted miliary background.
10. Luigi Fioravanti
Fioravanti is a former US marine who had a short stint fighting in the UFC. He served in the US Marines as an antitank assault man and took part in Operation Iraqi Freedom in 2003. He spent five months fighting in the Iraqi war before leaving the military just a year later in 2004.
While he was in the military, Fioravanti used to train jiu-jitsu, kickboxing, and do a lot of sparring. This was enough for him to make a pro-MMA debut the same year he left the military. In fact, he went on to win seven fights in a row in less than two years which was enough for the UFC to give him a shot.
Yet, he failed to deliver against elite fighters like Chris Leben and Jon Fitch. After his short stint with the UFC, Fioravanti went on to fight in various other MMA circuits. He retired from MMA in 2016 with a record of 26 wins and 15 losses.
9. Colton Smith
Smith is the former UFC fighter and the winner of "The Ultimate Fighter" TV show in 2012. His story is very inspiring because Smith had been on active duty during his MMA career. Just imagine how much discipline and organization it takes to fight against the best fighters while serving in the army at the same time.
In the army, Smith reached the rank of Sergeant first class and served two tours in the both Iraqi and Afghan wars. And he also fought in the army "Combatives" tournament where he finished second in 2009.
It was around this time Smith began fighting in MMA matches outside the military. Being trained in the Combatives and high school wrestling, it didn't take long for Smith to work his way up. Shortly into his MMA career, he got the call from the UFC to take part in "The Ultimate Fighter" season 16 in 2012.
Smith ended up winning the show and receiving a contract with the UFC. But, he had a hard time dealing with top-level fighters like Robert Whittaker and Michael Chiesa. After losing the third fight in a row, Smith left the UFC in 2014 to fight for four more years in various other promotions before retiring and opening his own MMA gym in Stafford, Virginia.
8. Jorge Rivera
Rivera is a former UFC fighter who in his prime was a tough matchup for anyone in the 185 lbs weight class. He joined the Army in his early 20s and was a 19K Armored Cavalry Scout at Fort Polk, Louisiana. However, he would leave the army after just two years of service to pursue an MMA career.
Upon leaving the Army, Rivera spent the next four years training hard in the gym. When he turned pro in 2009, he was already 29 years old which is quite late for any person to start a career in MMA.
Despite the lack of previous martial art background and starting late, Rivera worked his way to the UFC in less than two years. He fought under the UFC banner for over seven years in total during which he scored eight wins and six losses.
7. Brandon Vera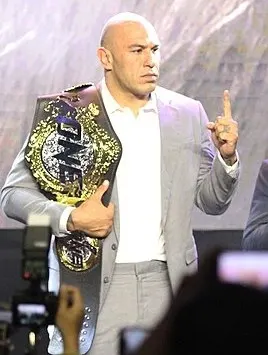 Vera is a veteran of the US Air Force and a former UFC fighter. He joined the U.S. Air Force in 1997 and was a member of the wrestling team. During his service, he trained with some of the best wrestlers at the US Olympic Training Center in Colorado Springs.
But his wrestling career cut short due to the elbow injury he suffered in training. The injury was so bad Vera was unable to use his right arm for quite a long time. As a result, he got released from the Air Force after two years of service in 1999.
Upon recovering, Vera started training MMA and made a pro debut in 2002. He quickly made a name for himself by winning the WEC heavyweight title in his 4th pro MMA fight. Shortly after, the UFC would sign Vera as the hottest prospect at the time.
Vera kicked off his UFC journey with four stoppage wins out of which one came against the former UFC heavyweight champ, Frank Mir. The win over Mir launched Vera into the contender position, but he failed to secure a shot at the title by losing to Tim Sylvia at UFC 77.
It's fair to say Vera never recovered from this loss as he suffered five losses in the next eight fights. After leaving the UFC in 2013, he joined the ONE FC promotion where he was able to win a heavyweight crown.
6. Jake Ellenberger
Ellenberger is the former UFC fighter who in his prime was one of the most violent finishers on the roster. He came into MMA from the US Marine Corps where he served as a heavy equipment mechanic for 10 years. The biggest thing Ellenberger took away from the military days was the discipline that would help him grow into an elite UFC fighter later.
When I joined (Marine Corps) I had no direction, no discipline in my life. It was kind of a wake-up call. It gave you that structure to prepare you for anything you chose to do in life, including mixed martial arts.

Jake Ellenberger
Ellenberger put together a perfect record of 12-0 fighting on the regional scene which propelled his status that lead to signing with the UFC in 2009. After losing his UFC debut fight, Ellenberger bounced back by going on a six-fight winning streak out of which he finished four via KO. He beat some huge names like Jake Shields and Diego Sanchez.
Despite the initial success, his career would take a steep dive. In his last 11 fights, Ellenberger would lose an astonishing 9 bouts and score just 2 wins. He left the UFC and retired from MMA in 2018 while being on a four-fight losing streak.
5. Liz Carmouche
Carmouche is one of the pioneers of woman MMA and perhaps the first female MMA fighter with a strong military background. Before joining MMA, she served in the US Marine Corps for five years as an aviation electrician. From 2004 to 2009, she took care of the Marine helicopters and she did three tours of duty in the Middle East.
After leaving the military in 2009, Carmouche started focusing on fighting in MMA. Despite the lack of any prior background in martial arts, she made her pro debut after a few months of training.
In her own words, she was always getting the butt end of the deal of everything in the military. But this helped her to improve her mental toughness and work ethic she transferred well into MMA.
Carmouche made a name for herself fighting in the "Strikeforce" and "Invicta FC" promotions back when the UFC didn't have women's weight classes. When UFC lunched women's divisions in 2013, Carmouche took part in the very first UFC female bout against Ronda Rousey which she lost by decision. She went on to fight in UFC for six years before moving to Bellator MMA promotion in 2020.
RECOMMENDED FOR YOU:
10 MMA Fighters that are or were Police Officers
4. Neil Magny
Magny is a UFC veteran who has been fighting at the top of the UFC's 170lbs weight class for a long time. Before MMA, he served in the military for seven years as a light-wheeled mechanic in the Illinois National Guard. He even had a short stint in the Afghanistan war during which he reached the rank of Army National Guard Sergeant.
In the military, Magny was a member of Combative team in the National Guard where he learned the art of hand to hand combat. He won two amateur tournaments within the army called "All-Army Combatives" and "All-Guard Combatives".
Magny started fighting in MMA matches while still being in the active service. In one interview, he said being an army Sergeant has helped him to prepare mentally for MMA fighting and all that comes with it.
You have to focus on the goal or task at hand. That's something that transfers over from the military to training. You're in training camp for six days a week; away from friends and family. You're not eating things you enjoy, just kind of having that discipline and courage to sacrifice for that goal."

Interview with mmamania.com
After working his way up on the regional circuit, Magny joined the UFC in 2013. At one point in his career, he was on a seven-fight winning streak out of which five of them were in a single calendar year. He beat some huge names like Hector Lombard, Kevin Gastelum, and former UFC champ, Robbie Lawler.
3. Brian Stann
Brian Stann is the former decorated U.S Marine who had a decent UFC career as well. Stann joined the US Naval Academy in 1999 and he served in the US Marine Corps for nine years. During his service, Stann reached a rank of Captain and was commanding the 2nd Mobile Assault Platoon.
In 2005, Stann's unit got ambushed by the enemy while trying to secure the bridge. Stann and 41 marines fought the enemy for six days before the tanks and air support arrived to rescue them. For his heroic actions, Stann received a silver star which is the nation's third-highest award.
Just one year later in 2006, he joined the "WEC" MMA promotion while still serving on active duty as a commanding officer. While balancing between two careers, he was able to amass a record of 6-0 and win the WEC 185lbs title.
After losing his WEC title in 2008, Stann left the military to sign with the UFC where he fought for next four years. His UFC career was a mix of unfortunate losses and amazing KO wins. MMA fans will forever look back on his last UFC fight against Wanderlei Silva at "UFC on Fuel TV 8". Even though Stann lost, the fight included a lot of back and forth action and was certainly one of the most exciting fights in history. Here's the highlights from that fight.
Shortly after retiring from fighting in 2013, Stann landed a job as an analyst/commentator with the UFC and he became really good in it. But in 2017, he quit the job with the UFC to become a real estate executive.
2. Tim Kennedy
Tim Kennedy is a former UFC and Strikeforce fighter who has an unique background in the military. Kennedy was a member of the Amry special force unit called "Green Beret". This unit is responsible for carrying out some of the most complicated and dangerous military tasks. He went on many tours in both Iraqi and Afghani wars for which he received a Bronze Star Medal for valor under fire. While serving in the Army, Kennedy still competed in MMA events simultaneously.
Kennedy actually made his MMA debut in 2001, three years before joining the military. He had a lot of success fighting in the Strikeforce MMA promotions where he fought two times for the 185 lbs title but never got it. In 2013, he signed with the UFC and he had a strong start by going on a three fight winning streak.
But, he would lose the next two fights and retire from the sport in 2016. Even though he is not fighting in MMA anymore, Kennedy is still active in the military.
1. Randy Couture
The former UFC two-division champ, Randy Couture, served in the U.S army for six years before moving into MMA. Couture joined the Army in 1982 shortly after high school and was a member of "101st Airborne Division." He had a job as an air traffic controller and attained the rank of Staff Sergeant before resigning in 1988.
Couture wrestled a lot while being in the Army and he developed good boxing skills as well. After leaving the military, Couture focused on wrestling only. He went on to compete in the "NCAA Division I" and "All – American Wrestling" for the next ten years before shifting to MMA in 1997. Couture was already 34 years old when he made his pro MMA debut.
Despite starting late, he was able to reach the top of MMA and the UFC in a very short time span. Elite wrestling skills and discipline he carried from the military helped him to win the UFC title the same year he made his pro-MMA debut (1997).
Couture fought in the UFC for 14 years and he became one of the greatest in history. He won the UFC heavyweight crown in his fourth professional MMA bout by beating Maurice Smith in 1997. Six years later, he would drop to the 205 lbs weight class to beat much younger Tito Ortiz at UFC 44 to win the second title. With the win over Ortiz, he became the first-ever UFC fighter to win titles in separate weight class.