This may sound odd, but there is a close relationship between MMA and law enforcement. You see, MMA is widely known as a combat style that covers all the elements of fighting and is very useful in real-life situations. So in order to improve their self-defense skills and safety on the job, many thousands of cops around the world actually train in some form of MMA to enhance their defensive tactics.
In MMA history, there have been many MMA fighters who worked or are still working as cops. These fighters can use their combat experience gained inside the cage and elite fighting skills to better protect people on the streets. Also, MMA fighters can handle the pressure of a law enforcement job and know how to stay calm in stressful situations.
We have decided to bring you a list of 10 MMA fighters that are or were police officers.
Honorable Mention: Sean Gannon
Sean Gannon lived a life of an average American working as a Boston Police Officer. But his life changed when the video that showed Sean fighting in a bare-knuckle street fight went viral.
In this video, Sean fought against none other than the "King" of street fights, Kimbo Slice. What's more, the video shows Sean defeating Kimbo, handing him the first loss on the street.
As you would expect, the Boston Police opened an investigation on Sean's actions. Also, he ended up being on the front pages of many newspapers, including the "Boston Herald."
But soon, he would receive the call from the UFC that wanted to give Sean a chance to prove himself inside the cage. Sean made his UFC debut in 2005 against Branded Hinkle at UFC 55. He went on to lose via TKO and never return to fight again in the UFC or elsewhere.
In fact, Sean suffered a few concussions and was unable to return to his job as a police officer. So in 2006, they moved him to the Boston Regional Intelligence Center where he was working on a drug Intel.
Unfortunately, Gannon passed away in September 2021, not long after retiring as a police officer after 20 years on the force. The cause of death is unknown to the general public.
10. Chris Daukaus
Daukaus is a former police officer for the City of Philadelphia, and his father was also a police officer.
He began training in mixed martial arts a year before enrolling in the police academy to satisfy his competitive drive. However, his career goal changed after he began competing in MMA and achieved great success as an MMA fighter.
When Daukaus signed with the UFC, that was all the motivation he needed to quit his police job. His wife also encouraged him to pick one profession over another, not both. So after spending almost ten years fighting on the street to catch bad guys as a police officer, Daukaus resigned to turn his fighting career into a full-time job and pursue his dream of becoming the best UFC champion.
"Once I got signed to the UFC, I kind of was like, 'OK, this is probably a possibility that I can leave the job,' " Daukaus says of police work. "And then once I started getting the wins, I was like, 'OK, this is definitely a possibility of me leaving the job.' "

Chris Daukaus
9. Josh Haynes
Josh Haynes is a former MMA fighter who had a respectable MMA career and was also a coach at the "Xtreme Couture" gym. But his actions as a police officer made him a hero we all need to admire.
Some fans may recall Josh for his role in the third season of "The Ultimate Fighter" show. He went all the way to the finals where he lost to Michael Bisping.
Josh fought twice inside the UFC and he lost both of the fights. After fighting for several more years, he retired in 2010 to follow a career in law enforcement. Since retiring from MMA, Josh has been working as a police officer in Las Vegas according to MMA insight.
In 2017, Josh was on duty during the Las Vegas shooting at Mandalay Bay and one of the first responders. On that awful night, Josh put his own life in danger to save a rookie officer's life. The young officer was shot in the shoulder and in serious condition.
While under fire, Josh managed to save the young colleague by getting him out of the area. Since it was impossible for the ambulance to arrive at the scene, Josh drove the wounded officer right to the hospital.
Later on, President Donald Trump visited both Josh and the wounded officer at the hospital.
RECOMMENDED READING 
What Is Verbal Judo for Police? The Gentle Art of Persuasion Explained
8. Phillip Miller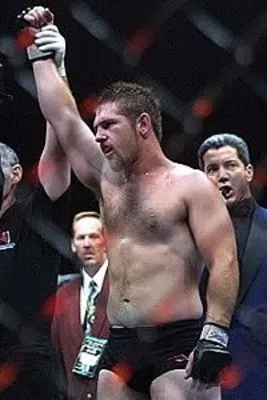 Miller was a huge MMA talent but he never reached his true potential. Just as he was about to turn into a star, Miller left a promising MMA career to join law enforcement.
Miller was the hottest UFC prospect at the beginning of the 2000s. He compiled a record of 16-0, and defeated some great fighters like Jake Shields.
He stormed through the MMA scene by displaying elite wrestling skills and an amazing BJJ game. Upon joining the UFC, he went on to dominate the first two fights, and everybody saw him as a future champ.
But instead of following his MMA career, Miller decided to retire at the peak of his prime in 2003. In his own words, the main goal of every fighter is to get in, have a great MMA career, and leave the sport. He didn't want to be one of those fighters who stay long with the sport and risk long term damage to their health.
Miller left the sport to join law enforcement and spend the rest of his life protecting the streets of Los Angeles.
7. Paulo Thiago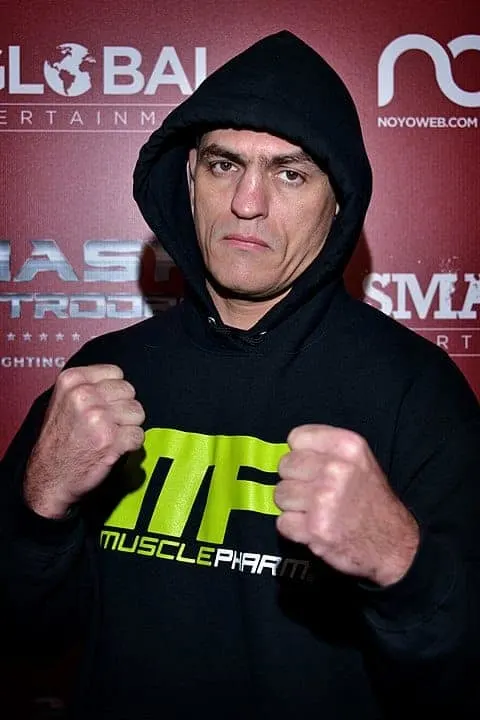 Few fight fans are familiar with the career of the former UFC welterweight fighter, Paulo Thiago. Though he didn't leave any special mark inside the UFC cage, some fans still remember him by his unique background in law enforcement.
Thiago joined the UFC roster as a member of the elite Brazilian Special Forces called B.O.P.E... For the ones who don't know, B.O.P.E. units are a part of the Brazilian Military Police located in the state of Rio de Janeiro. They are also largely seen as one of the best special force units in the world.
You see, the streets of Rio are largely known as one of the deadliest in the world. So as a member of B.O.P.E, Thiago was facing all that urban warfare brings to the table. Hostage rescues, fighting against drug lords and gangs were just some of his daily tasks.
Thiago spent six years as a B.O.P.E officer. In his own words, putting his life on the line every day helped him harden his man's spirit. Competing in MMA matches is something he did for fun and pure enjoyment.
6. Trevin Giles
Giles is a talented UFC fighter who also works as a full-time police officer in the Houston Police Department.
Giles joined the UFC roster as a well-rounded fighter with an undefeated record of 11-0. He created a huge buzz by knocking out James Bosnovic in his debut and Antonio Neto in the next fight. But shortly after, Giles would put his UFC career on hold for a year to go through the Police Academy.
After graduation, he got the job as a police officer and has been balancing between the two careers ever since. Giles often points out that working as a cop and being a UFC fighter is very tough. But the secret behind a good balance is to have a perfect daily routine.
In one of his interviews, he said that his day job as a cop and fighting in the cage share many similarities. Both jobs are scary, yet, he feels a little more nervous going into the fights than protecting the streets
5. Mike Russow
Mike is a former UFC fighter who worked as a cop throughout his entire MMA career. Balancing between the two careers is never easy. But Mike showed us it can be done with a lot of discipline and work ethic.
"It's very demanding. You just have to do a really good job with time management. Most of these guys I'm fighting; they're young, and they just do it fulltime. With me and other guys out there, we have to work, do our eight hours, and go to bed, get up, train, and then go to work."

Former UFC fighter Mike Russow (source)
Mike had amassed a record of 15-1 before joining the UFC. He came into the promotion as a decorated wrestler with very good BJJ skills. Right from the start, he made his presence known by scoring four straight wins. But the losses in his next two fights would force him to rethink his career and retire from MMA shortly after.
After retiring from fighting in 2013, he focused entirely on the law enforcement job and protecting the streets of Chicago.
4. Jerry Bohlander
Jerry is the former UFC 12 tournament winner and one of the true pioneers of MMA. After retiring in 2004, he made a decision to fulfill his childhood dream and become a cop.
The thing is, Jerry grew up in a violent setting, and he always wanted to take a different road and wear the police uniform. But before joining law enforcement, he would go on to pursue a professional MMA career.
Jerry was one of the best BJJ fighters during the 90s, and he fought in the light heavyweight division. He trained at the famous Lion's Den gym alongside other UFC fighters like brothers Ken and Frank Shamrock and Guy Mezger. In his UFC career, he managed to win the UFC 12 tournament and score five finishes.
Jerry retired from MMA in 2004 with a record of 11 wins and 4 losses. Shortly after, he became a Napa County Sheriff's Deputy Officer. In his law enforcement career, he worked with The Napa County Special Investigation Bureau (NSIB), and as a peace officer.
3. Tim Sylvia
Tim is the former UFC heavyweight champ who later became a police officer. In his own words, becoming a cop was Tim Sylvia's childhood dream and something he would love to do after high school.
But after graduating from high school, Sylvia put his dream aside and pursued a professional career in MMA. Soon after his UFC career was over, Sylvia decided to apply for a part-time job as a police officer in Illinois and fulfill his dream.
After passing all physical and mental tests, Tim joined the police squad on a part-time basis in Illinois.
During his time as a police officer, Tim continued to fight in various MMA promotions across the world. But balancing between the two jobs was a bit of a struggle for him. He would train for his fights during the workdays and patrol the streets on the weekends.
2. Forrest Griffin
Before winning the first season of "The Ultimate Fighter" show and signing a contract with the UFC, Griffin served as a police officer in Georgia.
In the early 2000s, Griffin studied at the University of Georgia and was slowly working his way up in the MMA world. While attending the classes, Griffin also served as a Police Officer for two years in the Richmond County Sherriff's Office in Georgia.
At one point, Griffin left the law enforcement job to pursue a career in MMA. But after his career as a fighter didn't go as he expected, he tried to reapply for the cop job once again. This time, he served one year as a police officer for the University before trying his luck in MMA once again.
Luckily, things played out well for Griffin the second time. He went on to become the UFC Light heavyweight champion and one of the all-time fan-favorite fighters.
In the UFC, Griffin holds notable wins over some great fighters like Tito Ortiz, Rich Franklin, and Quinton Jackson.
RECOMMENDED FOR YOU
Are U.S. Police Trained in Martial Arts? Police Training Q&A
1. Mirko Filipovic (CroCop)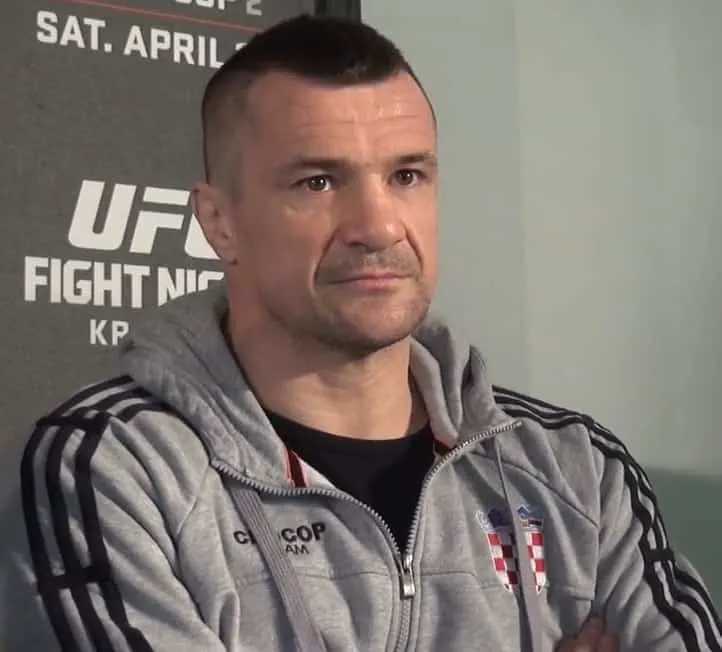 We bet you knew that Mirko will be on this list from the first moment you saw the title of this article. I mean, how not? His nickname "CroCop" literally means "Croatian Cop".
Mirko entered the world of military and police Special Forces as a 19-year-old kid. He became a member of the Lucko Anti-Terrorist unit around 1996. The name "Crocop" was born as a result of Mirko's service in this unit, and his Croatian nationality.
Many fans don't know that CroCop fought in various kickboxing and boxing tournaments while being a member of the Special Forces. At the time, he used Lucko facilities to train and prepare for competing at the world kickboxing stage. He went on to be a K-1 runner-up twice while serving full-time in the Special Forces.
After six years of service, Mirko made a decision to leave the Special Forces in 2001. He left his job with the intention to fully focus on his MMA career. This proved to be the right move, as Mirko went on to become one of the best MMA heavyweight fighters of all time.
To this day, he is perhaps the best standup fighter in the history of MMA, and people remember him the most for amazing left high kicks KO's.
Mirko left a special mark in combat sports as he was the only fighter to win K-1, Pride FC, and RIZIN championship titles.