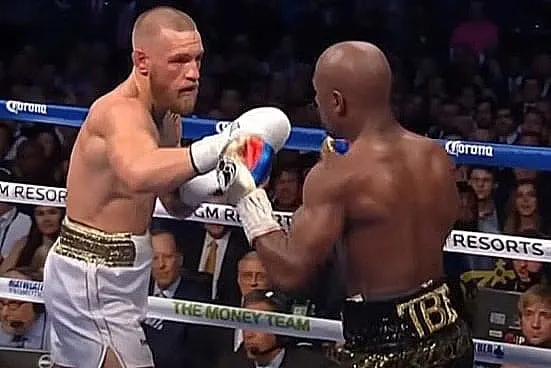 MMA fighters usually have a strong background in one martial art which is their "Core skills". That said, boxing is often seen as one of the best core skills for MMA. Fighters who have strong boxing skills usually do well in MMA fighting and there are many reasons why.
You may assume that Boxing skills that utilize just their hand strikes is not of importance in MMA fighting. But, not a single martial art out there will teach you better footwork, head movement and how to throw punches than boxing does. These skills play a huge role in MMA fighting and one might have a difficult time competing without them.
Over the years, there have been many great MMA fighters who had a strong boxing base and even experience fighting in pro boxing matches. Some fighters we have included in our list were even UFC champions but people somehow don't know much about their boxing history. So in this article, we are bringing you 10 best MMA fighters who have competed in boxing.
11. K.J Noons
Noons is a former pro boxer who fought in the best MMA promotions such as UFC and now defunct Strikeforce MMA. Growing up in martial art family, Noons got into boxing at the age of eight and he spent his youth competing in amateur boxing matches. But instead of turning into pro boxing, he decided to fight in MMA first.
After scoring a couple of good wins in MMA, Noons switched over to make his pro boxing debut in 2004 with the win over Ernest Lesure. In the following years, he would fight both in pro-MMA and boxing matches at the same time.
After almost five years of fighting in two sports, Noons made a decision to retire from boxing in 2009 with a record of 11-2. At the time, his MMA career started to rise, notably when he beat Nick Diaz and Yves Edwards to win and defend the "Elite XC" lightweight title.
But, Noons failed to deliver in the biggest MMA promotions. In 2010, he kicked off his Strikeforce career strong by scoring two back to back wins. But, it would all fell apart because he went on to lose four out of his next five fights. Despite the negative record, he somehow was able to land a contract with the UFC where he fought two times and went 1-1.
10. Chris Lytle
Lytle is a retired UFC fighter and the former Cage Warriors welterweight champ who had a solid pro boxing career. Some fans may think we are making a mistake here because most of us know Lytle as an amazing BJJ fighter. But he actually has really good boxing skills he rarely showed in MMA. Don't look any further from his pro boxing career if you need any proof.
Lytle kicked off his boxing career in 2002 while he was still active in MMA. In the next three years, he was able to compile a record of 13-1-1 and win the "Indiana Boxing Association" title. Just months before his last boxing bout in 2005, he signed with the UFC which is maybe a reason why he left boxing.
But, it seems like Lytle made the right decision as he went on to have a really good UFC career. He is a true UFC veteran with 20 UFC pro fights on his record and his notable wins were against Matt Serra, Dan Hardy, and Matt Brown.
9. Jennifer Maia
Maia is a former "Invicta FC" champ and the UFC title challenger who has a strong pro boxing background. In her own words, Maia dreamed about making a career in boxing. But, seeing that MMA is becoming more popular forced her to rethink and shift over to cage fighting.
Maia actually started her fighting career in the Muay Thai gym at the age of 15. But, she moved into boxing five years later and made her pro debut in 2008. During her short boxing career, she fought for the "Centri de Boxe" promotion in Brazil where she went 3-0 as a pro. Just a year later in 2009, she left the sport of boxing to fight in MMA matches.
After working her way up for the next three years, Maia signed with the biggest female MMA promotion, Invicta FC in 2012. She won the flyweight title four years later which secured her a contract with the UFC. After going 3-2 inside the UFC octagon, she faced Valentina Shevchenko in a flyweight title bout but lost via decision at UFC 255.
8. Vitor Belfort
Belfort is one of the pioneers of modern MMA and perhaps one of the most intimidating strikers in UFC history. Even though we all know him as a vicious striker, Belfort didn't come into MMA from a boxing background. Instead, he discovered his passion for boxing in the midst of being a top MMA fighter. This lead Belfort to switch over to boxing after winning the UFC title and while being in his prime.
Belfort made his boxing debut in 2006 when he beat Josemario Neves in Brazil. The fight ended quickly with Belfort sending Neves three times to the canvas in the opening minute of the bout. In spite of having an impressive debut, this was his last boxing fight.
Two years later in 2008, Belfort wanted to sign with one of the biggest boxing promotions called "Golden Boy". His plan was to fight against the former boxing champ James Toney in a 6-round pro boxing match. But, this boxing match never came to fruition because Toney instead signed with UFC to fight Randy and subsequently lost via submission.
7. Jorge Masvidal
Masvidal is one of the best strikers in modern MMA who possess technical boxing skills. Although he later added strong kicking skills to his game, boxing has always been his biggest strength. Masvidal's mastery of boxing skill was full-on display when he knocked Derrent Till out with a perfect timing boxing combo at UFC Fight Night 147. Here's a highlight clip of that fight.
Masvidal grew up fighting on the streets of Miami and training in the boxing gym. He had a knack for fighting from a young age as he was involved in numerous street fighting.
Masvidal eventually became an MMA fighter. But just five fights into his journey as an MMA fighter, he decided to shift to pro boxing in 2005. However, he was in for just one pro boxing bout in which he beat Joseph Benjamin via decision.
Shortly after, he went back to MMA where he started making a name for himself in the Strikeforce promotion. He signed with the UFC in 2013 but needed a couple of years to unleash his full potential. In the first couple of years with the UFC, his career was a mix of great KO's wins and decision losses.
But just as we all thought he was about to end his career in 2017, Masvidal needed less than a year to turn things around and grow into a huge UFC star. In 2019, he scored three amazing KO's, out of which one was the fastest in UFC history against Ben Askren (5 seconds). In 2020, he accepted a short-notice title bout against Kamaru Usman for the UFC's 170 lbs title, but he went on to lose a five-round decision.
6. Cody Garbrandt
The former UFC 135 lbs champ Cody Garbrant is a fighter with arguably the fastest hands on the UFC roster. He is a pure boxer inside the cage and a great instance of how useful boxing skills are in MMA fighting.
Born in Ohio, US, Garbrant grew up in a martial art family. His uncle was a former Olympic alternate in boxing who enrolled Garbrant into boxing at the age of 15 and was his main trainer.
Garbrant used to go into pure boxing wars with his brothers and they used to beat each other really hard. This helped him to develop both great fighting skills and strong mental toughness from a very young age. During this time, he also fought in amateur boxing matches and he had ambitions to go into pro boxing as well.
He won two back to back "ABA Junior Boxing" titles and was able to put together a record of 32-0 as an amateur. But despite all the talent, he never turned into pro boxing as his mother thought the sport was too violent. Instead, he wrestled during the high school days and then turned into pro-MMA in 2012.
Being trained in wrestling and boxing allowed him to quickly work his way up in the MMA world and sign with the UFC. He won the UFC title just four years after he made his pro-MMA debut, which is a very short time span.
5. Israel Adesanya
We all know Adesanya for his amazing kickboxing skills. But, did you know he also fought in pro boxing matches? He got into boxing in 2014 when, after suffering two losses in kickboxing, he wanted to try his luck in a boxing ring.
But Adesanya was in for a rough start as he lost a decision to Daniel Ammann in his debut. He would bounce back with five straight wins in 2015 which shows us he had the talent needed to succeed in boxing as well.
It's worth pointing out that he also had seven kickboxing and three MMA matches the same year he scored five wins in boxing. So in total, Adesanya fought 15 times in three different sports in 2015. Can you imagine what would have happened if he focused on boxing only?
Despite the initial success, he left the sport of boxing after just one year in which he compiled a record of 5-1. He stayed in kickboxing for a couple of more years before fully committing to MMA in 2017.
We could often see him using a lot of boxing techniques in his UFC matches. His timing, head movement, and punching combos are second to none. These were the skills that helped him win the UFC title in less than two years with the promotion.
RECOMMENDED FOR YOU:
Top 15 Skinny MMA Fighters Who Are Tougher than Big Fighters
4. Conor McGregor
Conor McGregor was a boxer long before becoming UFC champ and global star. He started his fighting career by joining the "Crumlin Boxing Club" when he was 12 years old. Over the next years, he grew into a skilled boxer by training with two-time boxing Olympian, Phil Sutcliffe.
During his boxing days, McGregor used to fight in amateur matches. He was talented and seen as a prospect after becoming All-Ireland champ at the youth level. But in spite of all the boxing potentials he had, McGregor never committed to a pro boxing career. Instead, he shifted to MMA shortly after his family moved to West Dublin when he was 16 years old.
At the peak of his UFC fame, many fans thought he had all the skills to fight against elite boxers. And in 2017, McGregor took on one of the greatest boxers in Floyd Mayweather in a pro boxing match. The historic event took place in Las Vegas and was one of the biggest fights in the history of combat sports.
Despite the fact this was his pro boxing debut, McGregor went on to give Mayweather some problems in the early rounds. Even though he landed a couple of good shots on Mayweather's chin, he got TKO'd in the 10th round.
3. Anderson Silva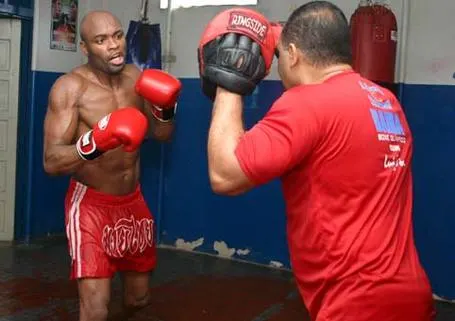 Anderson Silva is often seen as the best UFC fighter of all time. But even the loyal Silva fans tend to forget that he once was a pro boxer. He started his boxing career in the early 90s fighting in amateur matches across Brazil.
Silva turned pro in 1998 and made his debut fight against Osmar Teixeira which he lost via knockout. After the loss, Silva didn't want to continue with boxing and he put his entire focus on succeeding in MMA instead.
But after having a lot of success fighting in the Japanese MMA promotion called "Pride FC" and "Cage Warriors", Silva returned to boxing to have one more fight. In 2005, he knocked out Julio Cesar De Jesus in the second round to win his first pro boxing match. Shortly after, his MMA career exploded when he signed with the UFC and beat a title contender Chris Leben in his second UFC fight.
Throughout his MMA career, Silva has never hidden his love and passion for boxing. While he was in his prime and UFC champ, he was open for various boxing matches. There were talks about him fighting against Roy Jones Jr. but this fight never happened. It never came to fruition.
2. Holly Holm
Holm is a former UFC champ with the best boxing resume on this list. Before MMA, she was a famous name in the female boxing world and the highest-ranked female boxer in all-time pound-for-pound rankings. For many years, she fought and dominated on the world stage against top opponents. She is by far the most technical female standup fighter we have ever seen compete in MMA.
Holm started her fighting career in kickboxing. After winning many world titles, she moved to boxing in 2002 where she enjoyed the same success. In the next 10 years, she was able to put together a record of 33-2 and win many titles.
We have to point out that Holm won boxing titles in three different weight classes and has 16 title defenses in total. And, she received many "fighter of the year" awards and was the highest ranked female boxer when she retired in 2013.
Holm kicked off her MMA career with seven straight wins before signing with the UFC in 2015. It's fair to say we have never seen a female MMA fighter with such technical standup skills. From lateral movement to mixing kicks with the punches, everything she did on the feet was perfect.
In her third UFC fight, she was able to pull one of the biggest upsets in sports history. At UFC 193, she handed Ronda Rousey the first loss by knocking her out cold to win the UFC title.
1. Francis Ngannou
Francis Ngannou, who is from Cameroon and a former UFC heavyweight champion, is famously known for having the most powerful punch ever recorded. His road to trying out professional boxing has been a long one.
When Ngannou was 22, he began training in boxing, but due to his economic situation, he couldn't commit himself to full-time boxing training. Still, he never gave up his dream of becoming a boxer one day.
Ngannou moved to Paris to follow his boxing dream and pursue a better life. When he started boxing training, his coaches urged him to try MMA instead because they believed Ngannou could become a great MMA fighter.
Eventually, Ngannou started his MMA training at the age of 26, much later than many other MMA fighters. Despite starting late, Ngannou became a UFC heavyweight champion in 2021 at UFC 260 by defeating Stipe Miocic via KO.
But in January 2023, due to a contract dispute, Ngannou was released from his UFC contract. He will eventually sign a new deal with PFL MMA in May 2023 that also allows him to box professionally simultaneously. And boxing was something he had always wanted to do alongside his MMA career.
Seizing the new opportunity to box, Ngannou leveraged his fame as a top MMA fighter to crossover into the boxing world against top heavyweight boxing champion Tyson Fury on October 28, 2023, in Saudi Arabia. In the bout, Ngannou did far better than most people anticipated. He was able to knock down Fury in the third round but lost in a split decision after 10 rounds.
Despite losing, going the distance against the best heavyweight boxer in the world in his first-ever boxing match is a great feat that no other MMA fighter has been able to achieve.