Most average people think of MMA fighters as athletes with big muscles. In reality, however, a lot of them prefer to stay skinny and may not even look like fighters at all. Still, MMA fighters are the finest athletes and there is a good reason why MMA fighters tend to be skinny.
In MMA, big muscles don't play a big role like in other sports. This is because big muscles burn more oxygen, forcing the heart to work faster, which results in a fighter gassing out quickly. On top of that, big muscles tend to fatigue faster, which is overall bad for MMA fighting. Fighters need strong muscle endurance, or in other words, to be skinny in order to last longer in a fight.
There are so many tough, skinny MMA fighters who have been quite successful. But in this article, we'll look at the top skinny fighters from the UFC since the UFC is the best and biggest MMA organization. So make sure to read the rest of the article because I will show you all the top 15 skinny UFC fighters from the past and present who are seriously tough and you will learn about their accomplishments.
15. Stefan Struve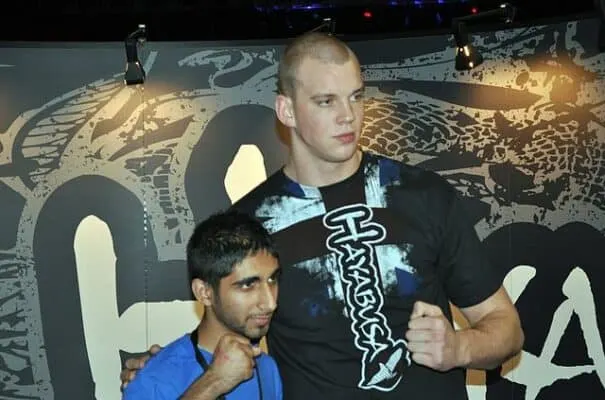 Struve is one of the tallest, if not the tallest fighter in the history of the UFC. While active, he used to fight at around 265 lbs, which means he was among the heaviest fighters in the UFC as well. This may sound odd, but Struve actually looked quite skinny mainly because of his height. He is a 7 ft giant with a reach of over 215 cm.
Looking at his body frame, you would never guess that he is a pro-MMA fighter who competes against the best fighters in the UFC. His body frame is better designed for playing basketball than combat sports. He didn't have big muscles, neither had he looked chubby like most other heavyweights. Still, Struve used the mix of long reach and solid kickboxing skills to beat many great fighters from his era.
For instance, he knocked out perhaps the greatest UFC heavyweight, Stipe Miocic. He also holds wins over the legend Antonio Nogueira and Pat Barry.
14. Chase Hooper
Chase Hooper is a talented UFC fighter who looks like an average high school kid. He is so skinny that you can't escape but to ask yourself how on earth he has enough strength to fight against the best fighters in the UFC. He stands 6″1′(185 cm), has a reach of 75.5 inches (192 cm), and competes in a 145 lbs weight class (66 kg).
Although he is yet to achieve something big, Hooper has proved that he belongs in the UFC. He is a talented grappler who needs to grab just a single part of your body to take you down and place a submission. And his striking getting better with every fight.
13. Zabit Magomedsharipov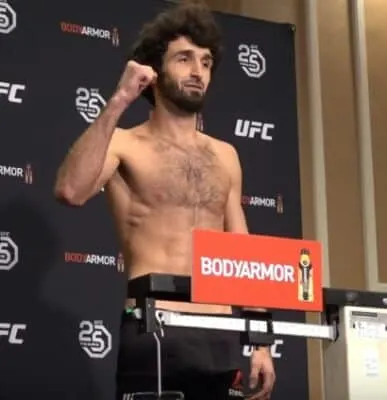 Although he is a fighter who excels in every aspect of the game, Zabit might be the most talented striker we have ever seen. Coming from Dagestan where it is known for producing wrestling-based fighters, you would expect that this skinny fighter is all about wrestling, top control, and submissions. But what truly makes him better than others are his versatile striking skills. His standup game is a unique mix of:
Zabit might have skinny arms and legs, but this all becomes irrelevant once you see him fighting inside the cage. From footwork and speed to the way he mixes punches and kicks together, everything he does is very technical and precise. He is a master in getting the most out of every single inch of reach and height advantage.
12. Neil Magny
Magny is a UFC veteran who has been fighting at the top of the UFC for more than a decade. Standing 6″3′ tall, Magny is a very tall fighter for the 170 lbs weight class, and he has really long reach of 80″ (203 cm). With such a big body frame, Magny can't allow himself to add more muscle mass because he already cuts a lot of weight to fight in a division where most other fighters are smaller than him.
Although he may look skinny compared to other fighters, Magny doesn't lack the strength at all. He likes to use his long reach to keep his range and has a strong grappling and BJJ game which he often uses as the main strategy. Despite being skinny, he has a really good clinch game and it's really hard to shake him off once he gets a hold of you or is in the top position.
In his career, he beat many great fighters like Robbie Lawler and Kelvin Gastelum.
11. Donald Cerrone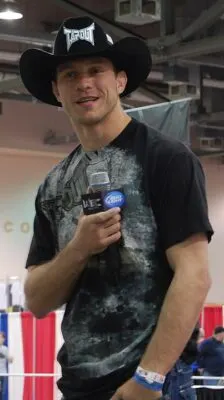 Cerrone is a UFC legend and, perhaps, the greatest fighter to never win the UFC title. In his career, he has fought in 155 lbs and 170 lbs weight classes, and he looked skinny while fighting in both weight classes. Cerrone has never had big muscles as he prefers to stay skinny and ripped. Still, being a skinny fighter in the weight classes where a lot of fighters look swole didn't stop him to reach the highest levels of the sport.
He is a true definition of a fighter who doesn't care who, where, or when. Cerrone would fight in a parking lot if needed. Although this has cost him a greater career, no one could deny that he is the fan-favorite fighter you have to respect. He holds many UFC records including, as of 2021, most wins in UFC history, and most post-fight bonus awards. This shows you how exciting Cerrone is to watch, and why he has such a large fan base all around the world.
10. Sean O'Malley
O'Malley might be the skinniest MMA fighter on the UFC roster, but at the same time, is also one of the best. Standing 5″11′ and fighting in the 135 lbs weight class, O'Malley often looks drained and even sick on weight ins. Looking at him standing on the scale, it's really hard to spot a single muscle on his body. He is just too skinny and lengthy. Still, this didn't stop him from scoring many highlight real knockouts.
He is one of those fighters you can meet in person and never guess they are pro fighters. He doesn't even look like an athlete at all. But at the same time, his striking skills are very good, the best in the division that's for sure. His feeling for distance, footwork, timing on the strikes, and accuracy are second to none. Instead of using sheer force, O'Malley relies on the insane speed of kicks and punches, and times the attacks perfectly.
9. Dan Hooker
Hooker is a top UFC fighter and probably the skinniest one in a lightweight division. Though he is tall and lengthy, Hooker is so skinny that he often looks like a smaller and weaker guy in a fight. But as most elite strikers, he prefers this type of athletic body so that he can enjoy the advantage in speed and agility, which combined with his elite kickboxing, makes him a scary individual.
Fighting out of the City Kickboxing gym where he trains with Israel Adesanya, Hooker knows how to get the most out of his lengthy body. In his UFC career, he knocked out many fighters who looked bigger than him like Gilbert Burns.
8. Tony Ferguson
Ferguson is one of the best UFC fighters who doesn't have big muscles neither he relies on physical strength in his fights. Instead, his game is a mix of technical striking, solid wrestling, good BJJ, and insane cardio. He is one of those tricky fighters that will smile at your strongest punch, and come back at you like a zombie. It doesn't matter if the opponent is a skilled wrestler or striker, Ferguson is a tough matchup for anyone.
In his UFC career, he won "The Ultimate Fighter 13" show, and once was on a 13 fight winning streak. In 2017, he beat Kevin Lee to win the UFC interim title, but as the fortune would have it, he never fought for the undisputed crown. Still, many MMA fans see him as one of the best and most respected UFC fighters ever.
7. Nick and Nate Diaz
The famous Diaz brothers, who fight in the UFC, both look and fight the same. They are both skinny fighters who have a strong base in BJJ and are talented boxers. In fact, many experts believe that the Diaz brothers are among the few MMA fighters who could do well in pro boxing. And they are the ideal example of how you can make up for the lack of strength and power with the high volume and durability.
Nick and Nate are both very skinny and they look like average people who visit the gym twice a week. Instead of lifting weights and building muscles, they focus on aerobic activities such as marathons and triathlons. The conditioning they bring into MMA is amazing as they have cardio to fight at a high pace for five full rounds.
They tend to drag their opponents into the deep waters and overwhelm them with cardio and high output of strikes.
6. Royce Gracie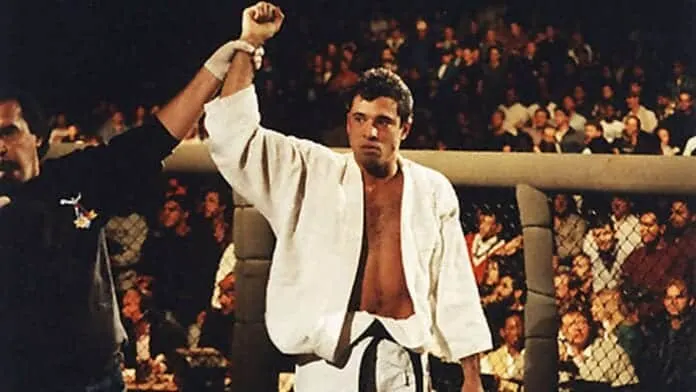 Royce Gracie is, by far, the most influential MMA figure who changed the way we see the fighting game. He is the winner of the UFC 1 tournament held back in 1993. But this on its own is not what secured Royce a place in the history books, but rather the way he achieved that.
Back in the early days, the UFC barely had any rules. There were no weight classes, anti-doping policies, illegal strikes, or even rounds. Coming at UFC 1 event, Royce was just one skinny fighter representing Gracie Jiu-Jitsu and weighing 170 pounds. He shocked the world by defeating fighters who looked like bodybuilders in spite of Royce being so thin. And like that wasn't enough, he fought against multiple opponents on the same night.
Royce Gracie proved that size doesn't play a big role in fighting. Royce was the epitome of a real martial artist who can defeat much bigger opponents by relying on his techniques rather than strength. Royce was a martial art version of David versus Goliath.
5. Charles Olivera
Charles Oliveira is a great example of why being skinny is good for MMA. He has long physical attributes and looks longer than most of his opponents. When he joined the UFC, he had a problem dealing with skilled strikers on the feet, as his game was all about BJJ. He lost a couple of crucial fights against Paul Felder and Max Holloway where he didn't know how to take the advantage of height and reach in the standup.
But over the years, he worked hard on bringing his striking game to a higher level. On his road to winning the UFC title, Oliveira broke the record for the most finishes in UFC history. Although he used his elite-level BJJ skills to finish most of the opponents, he scored a couple of great KOs as well. The right hook he landed to knock out Michael Chandler and win the UFC title is a great instance of how powerful Oliveira is despite looking skinny.
4. Max Holloway
If you came across him on the street, most people would think that Holloway is just an average skinny guy. You would never guess that he is one of the best UFC fighters in history. He looks even skinnier on fight night because he cuts a lot of weight to fight in the 145 lbs weight class. On weigh-ins, Holloway often looks drained and like he is about to collapse.
Although he looks skinny and fragile standing on the scale, Holloway is a beast on fight night. He doesn't have the power to KO the opponent with a single strike or explosive strength to wrestle. What he has are high-level Muay Thai skills, which combined with his good takedown defense and high output, make him a scary fighter. Against Calvin Kattar, he broke the record for most significant strikes landed (+445), and strikes attempted (+744).
These numbers give you a great insight into why Holloway is such a good fighter. He will keep coming at you and simply won't get tired. While the other fighters are slowing down from the third or fourth round, skinny Max is only increasing his pace and output which he would not be able to do with big muscles which would deplete oxygen in his body much faster.
3. Israel Adesanya
Adesanya might be the skinniest fighter on the UFC roster. Still, this didn't stop him from reaching the pinnacle of MMA and winning the UFC 185 lbs title. In fact, he prefers to stay skinny and use long physical attributes to win fights. He is fast, agile, accurate, and can fight at a high pace the entire fight. You won't see him slowing down, and he has a lot of power in his strikes for a man his size.
In his career, he faced many fighters who were physically bigger than him. The one that stands out was his fight against muscular Paulo Costa. Adesanya, who had much less muscle mass, used the advantage of speed and mobility to destroy Costa early in the fight.
Costa had a hard time checking the kicks on time, closing the distance, or landing a single strike. Things got even worse for him when he started to slow down, which allowed Adesanya to close the show in the second round.
RECOMMENDED FOR YOU:
Top 15 Greatest Kickboxers In UFC History – Simply The Best
2. Anderson Silva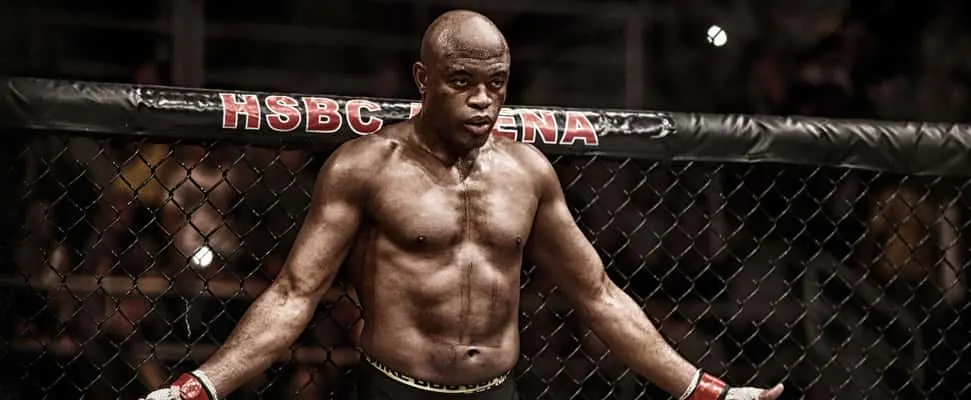 Silva is often seen as the greatest 185 lbs fighter of all time who has been skinny throughout his entire fighting career. Even in his prime when he was playing around with the best fighters of that time, he looked like an average man. He didn't have big muscles, six-pack, or looked intimidating in any way.
But his skills were much ahead of his time. Silva would fight from both stances, attack from all angles, and he used speed and precision striking to knock out many opponents who were bigger than him.
Despite looking skinny, Silva was able to reach the highest levels of MMA. Silva was a fighter who reminded everyone that being technical is far more important in MMA than having big muscles.
1. Jon Jones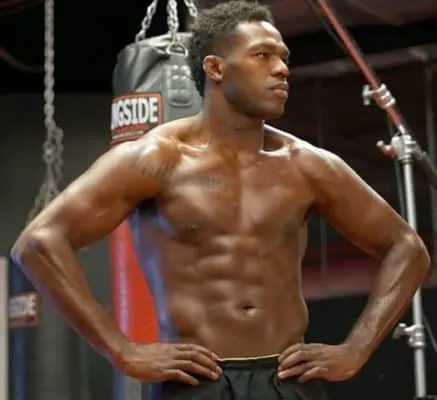 Jon Jones is the most dominant UFC fighter of all time and once in a lifetime athlete. We can often see champions come and go, but no one stays on top for more than a decade like Jon Jones. He beat every single fighter, not just from his era, but from the new generation of fighters as well.
Standing 6″4′ (193 cm), Jones is among the tallest fighters in the 205 lbs weight class and has a long reach of 84″ (215 cm). What Jones does best is using his long reach to keep his range, pick the opponent apart from the distance, and control the pace of the fight.
He prefers to fight behind his long jab and using various types of front kicks to keep his range or hurt the opponent. He is a pioneer of the famous "Oblique kick"(see the video below) in MMA, which is a side-kick to the knee you can often see him throw in fights. He might not be physically strong or explosive, but Jones is a master in using his long limbs to neutralize any threat and his high fight IQ.