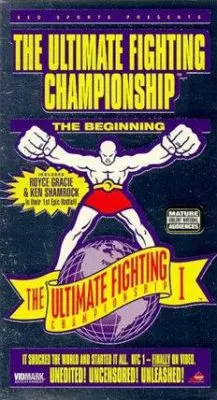 The Ultimate Fighting Championship, or UFC, is widely known as the largest Mixed Martial Arts (MMA) promotion company in the world. It has held over 500 events as of 2020. However, many fans of MMA don't seem to realize that the UFC actually came from very humble beginning before claiming its spot at the top of the MMA world. This is why I've written this post to explain exactly how and when UFC started.
The first UFC began on the 12th November 1993 when WOW Promotions produced its first-ever mixed martial arts event, the Ultimate Fighting Championship (which would later be renamed to UFC 1: The Beginning). The event was held at the McNichols Sports Arena in Denver Colorado and was also broadcasted live on PPV (pay-per-view).
Although this is widely seen as the first UFC, inspiration for the event can go as far back as 1989 and involves some very interesting stories that would play a key role in the creation and growth of the UFC into what it is today.
When Was UFC Started?
It all began when a certain entrepreneur known as Art Davie sought to answer the following question;
"Who would win in a fight between a boxer or a wrestler?"
To answer his question, Davie brought proposals to John Milius, a well-known screenwriter and director, as well as Rorion Gracie, a prominent Gracie Jiu-Jitsu Grandmaster, detailing plans for a certain elimination style tournament dubbed as "War of the Worlds". Davie was reportedly drawn to Rorian via a Playboy article in September 1989 that he released offering to fight anyone in the country for a winter-takes-all prize of $100,000.
Davie was eager to promote a competitive tournament format that featured crossovers from various popular fighting styles. As such, the "War Of The Worlds" took inspiration from the video series Gracie's In Action that was promoted by the Gracie family in Brazil.
The video series featured their signature fighting style, the Gracie Jiu-Jitsu defeating martial arts of other disciplines such as kickboxing and karate. Davie was eager to provide the same sort of excitement and anticipation as those videos, and John Milius agreed to act as the event's creative director.
After setting up a business plan and gathering funding from 28 investors, WOW Promotions was founded. Key founders of the company include Art Davie, Rorion Gracie, John Milius as well as Bob Meyrowitz and David Isaacs who are all seen as the first owners of the company that would become the UFC.
WOW Promotions was the earliest form of the UFC as we know it today and was created with plans to start putting Davie's tournament format into action as well as potentially developing it into a television franchise.
This became a reality on November 12, 1993, when WOW Promotions, partnered with SEG (a similar pioneer in pay-per-view television), released their first event which they would dub "UFC 1: The Beginning" at a later date.
A practiced salesman and active marketer, Davie used his initial question "Can a wrestler beat a boxer?" as the primary way of developing interest in the show. At the time, most martial artists were specialized in only one discipline and rarely came into contact with opponents of different styles and skills.
Because of this, there was a burning interest amongst martial arts fans to see exactly what would happen when fighters of completely different disciplines clashed head-to-head.
The result of the inaugural tournament was a victory to Royce Gracie, whose skills in submission earned him victory in the first-ever UFC tournament and propelled his fighting style, Gracie Jiu-Jitsu, to greater popularity.
The live event itself was extremely low-profile. Initial plans for a 16-man tournament had to be scaled back as many of the biggest names in the martial arts world at the time showed no interest in participating. The venue itself was also less than half-packed on the day and did not see much attention from the media.
However, the TV Show was a resounding success generating over 85 thousand subscribers on pay-per-view. New audiences would also be attracted once the event was eventually released on home video. The UFC 1 is seen as a pioneer for tournaments featuring fights between practitioners of different martial arts, and its success made sure that there would be demand for tournaments of a similar style in the future. This would end up playing a key role in the rise of UFC as the most dominate MMA promotion company in the world.
Who Were The First UFC Fighters?
UFC 1 had initial difficulty in gathering enough fighters for the events. Art Davie had initially sent out many public invitations but found himself rejected by many of the big-name martial artists that the time, such as Dennis Alexio, former Undisputed World Heavyweight Kickboxing Champion.
Despite efforts by Davie in placing ads in various martial arts magazines calling for fighters, many kickboxers in particular had shown no interest in participating. Eventually, the producers settled for an 8-man tournament format, with a total of $50,000 on the line for the eventual winner.
The eight participants of the tournament and their eventual results were:
Royce Gracie (Gracie Jiu-Jitsu)
Royce Gracie is a member of the influential Gracie family who are known as creators of the style of martial arts known as Gracie Jiu-Jitsu (more commonly known as Brazilian Jiu-Jitsu). He is one of the many members of the family who played a key role in the creation of and promotion of the UFC.
Before the UFC, many of the Gracie's had already had experience in fighting martial artists from different disciplines in contests known as the Gracie Challenge.
Royce's eventual win in the first-ever UFC tournament brought immense fame to the Brazilian Jiu-Jitsu style of martial arts. During the event, he ended up beating all of his opponents via submission and shocked many by how he was able to sweep aside opponents that were bigger and significantly outweighed him.
Today, BJJ remains one of the most dominant styles of fighting in the MMA worlds and is second only to Wrestling in producing the most UFC champions over the years. A lot of this can be attributed to the success Royce has had with this fighting style in the field of MMA. He would go on to win UFC 2 and 4 whilst also fighting to a draw against professional wrestler Ken Shamrock in UFC.
Patrick Smith (Kickboxing, Taekwondo)
Patrick Smith is an American kickboxer that also incorporates some forms of taekwondo in his fighting style. As the UFC 1 was to take place in his hometown of Denver, Smith was seen as an easy addition to the show which desperate for fighters to fill its ranks. During the year where UFC 1 took place, Smith was ranked as the No 1 super heavyweight kickboxer in the US.
Smith's first and only round was against wrestler Ken Shamrock. During the match, Smith was taken down and easily submitted by his opponent, which led to heavy boos from his home crowd fans in Denver who were expected a knockout and were not aware of any submission rules.
Despite his performance in UFC 1, Smith would be reinvited to UFC 2 where he saw greater success, winning against fighters such as Ray Wizard and Scott Morris before being defeated by eventual winner Royce Gracie in the finals.
Ken Shamrock (Shoot Fighting)
Ken Shamrock is a professional wrestler best known for the time he has spent in the UFC. Shamrock is widely seen as one of the greatest fighters to have graced MMA alongside Royce Gracie, with whom he shared a fierce rivalry.
This rivalry arguably began at UFC 1, where Shamrock was one of the favorites to take the entire tournament due to his dangerous style of submission wrestling. Unfortunately, he would end up meeting a similarly strong fighter in Royce during the semi-finals and end up losing via submission.
The two would meet again for a rematch at the Superfight Championship at UFC 5, where they fought to a draw. Shamrock would also later become the first UFC Superfight Champion after defeating Dan Severn at the UFC 6.
Shamrock would move on to feature in over 15 main events and co-main events and set many new pay-per-view records during his time in the UFC. He and Royce Gracie would later become the first two fighters inducted into the UFC Hall of Fame in November 2003.
Art Jimmerson (Boxing)
Arthur Jimmerson was the only pure boxer that competed in UFC 1 and was defeated in the first round by the eventual winner Royce Gracie.
During the tournament, Jimmerson earned himself the nickname Art "One Glove" Jimmerson as he fought his match wearing only one glove to protect his jab hand. During the round, Gracie won by successfully taking down the boxer and grapevining his legs as well as binding his arms to prevent any counterattack. After unsuccessfully trying to get out of the hold, Jimmerson eventually tapped out.
The UFC would be Jimmerson's only MMA match. He would return to boxing soon after and finish his career with a record of 33-18.
Gerard Gordeau (Savate)
Gerard Gordeau was scouted to take part in the UFC 1 when the event organizers started researching various high-level fighters in Holland.
They approached many martial artists including kickboxing champion Ernesto Hoost but were declined by all. As such, Gordeau was the only one willing to take part in the tournament and was advertised as a savate artist due to his status as the 1991 World Champion Savate.
According to Gordeau, he was initially supposed to face Royce Gracie in the first round of the UFC 1 (rather than the finals where the two would eventually meet), but the matchup was changed when the event organizers discovered that he had previously competed in the Fighting Network Rings, a Japanese combat sports promotion. Gracie would end up being pitted against boxer Art Jimmerson whilst Gordeau would face sumo wrestler Teila Tuli.
Gordeau vs Tuli was the very first match in the UFC 1, and as such is also known as the first-ever televised match in the history of the UFC.
Tuli would open the match with a tsukidashi attack that Gordeau avoided and countered with a roundhouse kick that would be seen as one of the most iconic moments of the entire tournament. The kick landed straight into Tuli's face, knocking out three of his teeth. A following right uppercut by Gordeau also ended up cutting Tuli's eye, forcing the referee to intervene and stop the match.
The victorious Gordeau would advance into the next round, but not in prime condition. The roundhouse kick from the bout with Tuli had injured his foot (two of Tuli's teeth had ended up stuck in his foot), and the uppercut had also broken his hand, causing a swollen fist.
Despite this, Gordeau still ended up dominating the next round against kickboxing champion Kevin Rosier and eventually moved on to face Royce Gracie in the finals.
In the final match, Gracie managed to submit Gordeau with a rear-naked choke and ended up taking the win. According to Gordeau, Royce was well aware of his injuries and took various advantages of this to take the win via submission. One could only wonder as to what the results might have been had Gordeau been the one facing Gracie in the first round.
After his performance in UFC, Gordeau was reapproached to fight again in UFC 2. However, he ended up declining due to differences over his payment agreements from UFC 1. Gordeau instead took part as a cornerman, whilst his training partners Remco Pardoel and Freek Hamaker ended up taking his place in the tournament.
Teila Tuli (Sumo)
Teila Tuli, or Taylor Wily, was a sumo wrestler of American Samoan descent. His fight against Gerard Gordeau in the first round of the UFC 1 was his only MMA fight. Tuli would return to sumo wrestling but also end up retiring in July 1989 due to problems with his knees.
Before the bout, Teila weighed in at 440 lbs and had a history of being undefeated in his first 14 fights. This caused some to describe the match as one of the top five David vs Goliath matchups in MMA history.
Despite this, Tuli still ended up losing to Gordeau. The match was stopped after Tuli suffered multiple injuries including the loss of up to 3 teeth from a roundhouse kick to the face.
Kevin Rosier (Kickboxing)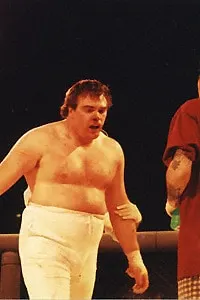 Kevin Rosier was an American kickboxer that had seen much success before being invited to the UFC 1. His first match would be against Zane Frazier, an American Kenpo expert. The match was the longest out of all the bouts in the tournament and ended with a win to Rosier, despite Frazier capitalizing on the lack of regulations around groin attacks to land a low blow on Rosier.
Exhaustion over the long round by Frazier allowed Rosier to recover and come back with a flurry of blows that drove Frazier against the fence. Frazier was then dropped onto the mat and suffered several stomps to the head before his corner threw in the towel.
Rosier's next fight was against Dutch Savate fighter Gerard Gordeau. Rosier was clearly in better health due to injuries suffered by Gordeau in the previous round and also outweighed the Dutchman by almost 100 pounds. Despite this Gordeau dominated the fight and ended up taking the win after landing a stomp to Rosier's liver, causing him to tap out.
Zane Frazier (American Kenpo)
Zane Frazier is an American karateka and kickboxer who saw numerous successes in karate before eventually shifting to kickboxing. At the time of UFC 1, Zane was already the two-time World Kickboxing Federation superheavyweight champion.
He had reportedly earned his place in UFC 1 after beating up Frank Dux in a street fight which was witnessed by both Rorion Grace and Art Davie.
The first round of the tournament pitted Frazier against American kickboxer Kevin Rosier, who ended winning despite a strong start by Zane. The entire match was a slugfest, with Zane taking advantage of the lack of regulations to land a low blow on Rosier and Rosier responding by knocking Zane to the floor and landing multiple stomps before his corner threw in the towel. Due to his injuries, Frazier had to be rushed to a hospital immediately after the fight due to respiratory failure.
Frazier was later diagnosed with asthma and would end up retiring 15 years later.
Who Owns The UFC Now?
The UFC is primarily owned by one of the giants in Hollywood entertainment, Endeavor. Endeavor currently owns 50.1% of the UFC and acquired this position in July 2016, when it bought a majority stake in the UFC parent company Zuffa from the Fertitta brothers.
During this time, Endeavor was known as WME-IMG before reorganizing in October 2017 and renaming itself to Endeavor. WME-IMG partnered with its owner, Silver Lake Partners, Kohlberg Kravis Roberts and MSD Capital to take over the MMA company in a deal reportedly valued at $4 billion.
Dana White, President of the UFC and widely seen as the face of the brand, also announced that he would be continuing in his role as president of the company, and was given a stake in the company following the purchase.
The Fertitta brothers had previously acquired the UFC in 2001, when Bob Meyrowitz, owner of SEG (the partner of WOW Promotions) sold the company for approximately $2 million. Zuffa LLC was created to become the new parent company of the UFC and to provide greater legitimacy to the sport of MMA.
Related Video