It sucks when you hear of someone being bullied or even experience it yourself. Bullying can come in different forms, with the two most notable being the mental and physical versions. In some cases, they can happen at the same time with the exact same bully. Other times, they might be separated. It is possible that you look at athletes and assume they never experienced such an issue. Yet even top MMA fighters dealt with it.
It's true! MMA Fighters might not experience bullying so much today, as they are obviously fighting professionally. It's rare to see such a thing happen when you know the person being picked on is likely capable of breaking several bones. That said, some people actually began their run in martial arts simply due to bullying.
Martial arts can teach people how to defend themselves. However, "defending yourself" is not just protecting yourself or others from being robbed, but it can also be useful in helping you simply defend yourself from random attacks. Of course, "random attacks" might happen with bullies as they might physically abuse you on a weekly or even daily basis.
Bullies thought twice about picking on some MMA fighters. Many have stories from times that they had to put a person in their place. Their bullies likely tried to steer clear of them as often as possible afterward. Who are some of the top fighters to experience bullying that you never thought were bullied? We're glad you asked.
Mike Perry
Mike Perry has won Fight of the Night & Performance of the Night a few times each in his UFC career. He has a purple belt in Brazilian Jiu-Jitsu and trained for years in other martial arts. That said, you'd be surprised to hear of a tough guy like Perry being bullied. Yet he actually dealt with this quite a lot, especially in High School.
Perry has spoken about this several times now, but the main issue he dealt with was built on race. Perry attended a school with several minorities while he was one of possibly 10 white people in the entire school. The school is in Flint, Michigan, an area of the state that has experienced a lot of hardship over the years. Perry recalled how the same issue happened at other schools, but the bullies never made him back down.
Of course, that led to Mike getting into several fights that resulted in suspensions, as well as several issues with the law. At one point, he was even put under House Arrest and even spent time in jail. While all of Perry's actions were certainly not triggered by his bullies, his decision to never back down resulted in some realizing he was not someone to mess with. Perry is now on the right path, and he thanks the fight world for that fresh start.
Nick Diaz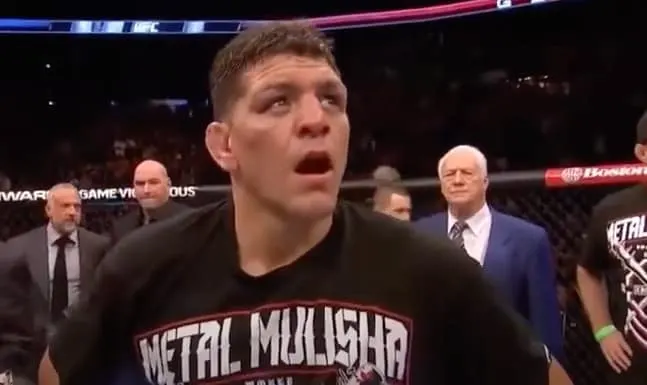 The life of Nick Diaz might need to be made into a film eventually, as he's had a lot of lows in his life. He had to grow up at a young age as he dealt with several issues that one never should have to go through. The bullying began for Nick when he was young. He recalled a story regarding this during an interview with MMA Fighting, he claimed:
I've never had another job. I didn't graduate eighth grade. I could have, but I got into too many fights in middle school. I was moved from school to school, put on drugs, and made fun of by classmates. Because after being disruptive in class the teachers would always tell the other kids I was on meds and sometimes don't take them.

From mmafighting.com
On top of the problems in school, Nick went through a horrible tragedy when he was told that his girlfriend and childhood sweetheart committed suicide. He claimed that was when he was a grown-up and had to move forward. He won his first fight via choke and mentioned that all he could think about was her. However, he soon moved forward into fighting and made it his new life passion.
Today, both Diaz brothers are looked at as two of the toughest badasses in the MMA world. It can be kind of shocking to hear that Nick dealt with bullying, especially the mental kind. Yet he is proof that one can move past this and still have a good life, even after dark periods.
RECOMMENDED FOR YOU:
Top 15 Skinny MMA Fighters Who Are Tougher than Big Fighters
Mark Hunt
Most of the time, we think about bullying issues that involve those at least near our age. We might be a Freshman while they are a Senior, but that tends to be the biggest gap. Moreover, you kind of expect bullying to happen in a school setting. Perhaps, you might see it occur at your place of employment. Then on other occasions, you might see it at a recreational place you like to attend like a bar, skating rink, etc.
The last place you expect to deal with horrible bullying is in your own home. Moreover, the last person you expect to bully you is one of your own parents. However, that is exactly what Mark Hunt had to deal with. His father bullied him badly, He opened up about this a number of years ago with a New Zealand on-line publication called Stuff. He told them a story regarding a time his father tied him up and beat him, saying:
My old man was ruthless. He terrorized us. He'd start with the mental games before he even found the implements to hit us with. He once tied me up in the garage with my hands above my head and beat me with a frigging broom handle. I got away and my brothers came after me. They said f***ing get back there or we're all gonna get it."

From Stuff.co.nz
All of this made Hunt sort of turn into a bully himself, as the trauma caused a lot of problems for him. Mark turned to the fight world, where he found a sense of calm in the personal storms of his life. From kickboxing to MMA, Hunt has been quite successful in his career. If you want to read more about Mark Hunt's life, you can find his autobiography on Amazon by clicking here.
Paige VanZant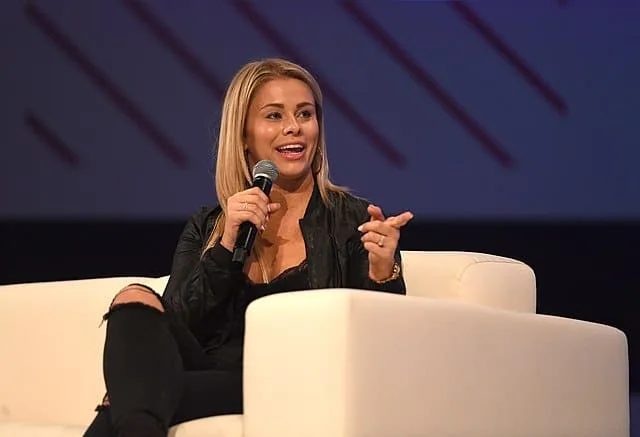 There are horrible issues in life then there is what Paige VanZant went through. Before she became a fighter, and well before her days in the UFC, Paige had to survive. We do not mean surviving like what you might see on the Discovery Channel. Rather, Paige had to survive mental and physical torture that no man or woman should ever have to experience.
Paige opened up about the trauma she dealt with as a young teenager back in Oregan in her autobiography. She attended a party at the age of 14 and was sadly sexually assaulted by multiple boys that evening. While most could have easily seen VanZant as the obvious victim in all of this, that was not what she experienced.
Everywhere she turned, classmates at her school gave her dirty looks and made fun of her. All over something she did not control nor want to even happen. The bullying lasted for years, and it seemed to be endless. One story she recalled was once returning home to find a bunch of condoms hanging in a tree by her home.
All of this made Paige consider suicide, as she felt it was the only way out of the pain she was experiencing. It is horrible how cruel people can be to others for no reason other than just to be cruel.
Paige jumped into the world of fighting to properly defend herself after all of this occurred. She never wanted to be assaulted nor pushed around again, and that resulted in her decision to get into Brazilian Jiu-Jitsu. Eventually, she had the chance to work for the UFC and even appeared on ABC's Dancing with the Stars. All of this proves to young girls that you can get out of the darkness and have a new better life, just as Paige managed to do.
Israel Adesanya
It goes without saying that Israel Adesanya has had one heck of a career. While he hails as a man from the great nation of New Zealand, he was actually born in Nigeria. Israel left the popular African nation in 2001 at the age of 12 when he and his family moved to New Zealand. While moving from Nigeria to New Zealand might not sound like a massive deal to some, it certainly was for Israel.
Not only did he leave behind family and friends, but he also came to a mostly white nation. He recalled in an interview with MMA Junkie that he was one of the few black kids at his school. Israel claimed was "a runt," where he had to deal with bullies that went after him over the color of his skin. Yet on top of this, he was on the smaller side and that made life even harder.
The mental side of bullying takes a toll on someone as well. It's not just that you are being physically attacked by people. Yet they are also cutting you with hurtful words, which can often hurt you worse. Israel admits to breaking down and crying due to all the issues he faced. That made him look himself in the mirror and start using positive affirmations to help himself.
Yet at the age of 18, Adesanya watched a kickboxing movie that made him want to get into the sport. He even moved to China for a while to be closer to all the action. While in kickboxing, Israel also trained in MMA. Adesanya would leave the sport of kickboxing behind in 2017 with a final record of 75-5!
He put all his focus on MMA and has since become one of the best fighters on the planet. In the UFC, Israel has held gold and won Fight of the Night & Performance of the Night multiple times. He grew well into his body and has now become a threat that no bully would ever try to mess with. Thus proving that in spite of all the problems Israel went through, he is making all the bullies of his past regret their actions.
RECOMMENDED FOR YOU:
Why Are MMA Fighters Skinny And Don't Have Big Muscles?
Georges St-Pierre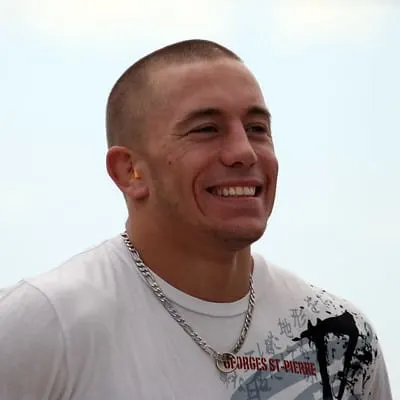 Georges St-Pierre is one of the greatest mixed martial artists who ever lived. Perhaps, he might be THE greatest to ever live. Regardless of your opinion on who the "best of all time" happens to be, GSP is usually Top 5 on every list. That is for good reason, as he became a legend in the octagon, beating some of the greatest fighters in history. He has several records for his run as UFC Welterweight Champion alone!
However, before he jumped into the world of fighting, GSP was bullied heavily. He claimed in his book "The Way of the Fight," that he was quite a nerd in his youth. He was small, skinny, and had acne problems. That made him an easy target for bullies back in his home town in Quebec, Canada.
He mentioned one very horrible experience he dealt with in the book. Three older bullies actually jumped him when he was young. They stole his lunch money and stripped him of his clothes while fellow classmates actually stood and watched, laughing the entire time at him. This was quite a traumatic experience yet Georges states that this was one of the main reasons he got into the world of fighting. He cites that he got into fighting mostly so he could defend himself against one particular bully.
Of course, most know by now that Georges has spent most of his life learning every dang martial art there is.
He's now a 3rd Dan Black Belt in Kyokushin Karate, yet he was a 2nd Dan in the martial art by his early teenage years. He also earned a black belt in Brazilian Jiu-Jitsu. He not only learned how to defend himself but he also advocated for others.
After he became a famous fighter, GSP started his own Anti-Bullying Foundation simply called the "GSP Foundation."
St-Pierre later returned to the school where he was bullied as the UFC Welterweight Champion. He spoke to the students about his bullying story and why it was not a good thing to do to others. This also gave the young students hope that if a nerd like GSP could become an all-time great fighter, they might be able to do the same. If not, they could at least find their way into martial arts to defend themselves just like he did.
Chris Weidman
Chris Weidman shocked the world when he beat Anderson Silva twice years ago, setting him up on a path to stardom in the UFC. Yet the world was not all sunshine and rainbows for the MMA Fighter. He was bullied relentlessly as a child and was once even hospitalized as a result of it. While he had sort of forgotten the extent of the bullying he went through, when speaking at an Anti-Bullying event, he realized just how bad he had it.
It was here that he realized that his brother had severely bullied him to an extent that no one should ever allow. Weidman told Yahoo Sports:
My brother definitely had a history of beating me up and abusing me…I grew up getting bullied and fighting a lot. My brother was probably one of the toughest kids from my neighborhood and he didn't make it easy on me. He made sure I was getting beat up as much as possible growing up. If he wasn't beating me up, he was making his friends beat me up. He threw a 10-pound weight on my head because I wouldn't get him a cookie. [It] split my forehead open pretty good.

From Yahoo Sports
Weidman does believe that the trauma and adversity he went through made him into the person he is today. However, horrific bullying like this could have completely ruined the young Christopher before he ever became a star in the MMA world. Of course, it was issues like this that made Weidman consider finding a way to defend himself against his brother and his brother's friends.
He was able to get into wrestling where he went on to become an NCAA Division-1 Champion. Chris also managed to earn his black belt in Brazilian Jiu-Jitsu. Weidman even runs his own training school to help other kids learn how to fight, especially those who are there to simply learn how to defend themselves from potential attackers.
Daniel Cormier
Daniel Cormier(DC) is the only man to ever hold the UFC Heavyweight & Light Heavyweight Championships at the same time. He was even the first and only to defend one while holding the other. Before DC became world-famous for taking down nearly everyone he fought in the octagon, he was a kid like the rest of us were. He went through a traumatic bullying experience as a kid, with one bully being the chief problem for him.
DC spoke about this on ESPN's Highly Questionable, where he referenced a guy named Gilbert Francis that bullied him religiously mostly from his 2nd grade to 4th grade in school. Here's a clip of that video.
It is so amazing to hear DC be incredibly open and honest like this. Where he can say even as an adult there are issues that plague him regarding his childhood bully. The man is a star in the world of MMA, yet also was a star in the amateur wrestling world where he was an NJCAA Wrestling Champion & All-American. He was later an NCAA All-American, competed on the USA Wrestling team, and even took part in the Summer Olympics.
DC's decision to get into wrestling and learn how to defend himself against pretty much anyone was clearly sparked by the bullying he went through, along with the joy he had in the sport. Today, any bully would think twice before trying DC.
Ronda Rousey
Ultimately, bullying can come in several different forms. Ronda Rousey has been involved in martial arts pretty much her entire life. Her uncle is "Jude" Gene LeBell, and her mother AnnMaria De Mars is a Judo Black belt who won the gold medal at the 1984 World Judo Championships in the -56kg division. You could say that Rousey literally had no choice but to become a martial artist.
However, that does not mean that people avoid bullying you. Ronda had felt she was bigger than she was for a good portion of her young life, causing her to develop bulimia. This was not helped by bullies saying small catty things to her about her size. She lost her father very young in life, and it caused a lot of emotional damage that led her to have trouble with her weight.
Yet she was not oversized and her run in Judo only helped her get in good shape but this was not the traditional female figure that everyone was "brainwashed" to believe was proper. Rousey overcame her issue in this department by accepting who she was. This journey of self-discovery and acceptance allowed her to get past the crap people might say.
She kept to this concept into her UFC career and has spoken heavily in favor of women accepting their bodies, even when it's not considered a "traditional" look.
Of course, Ronda has also dealt with physical bullying. A few times she got into physical altercations with people. At one point, as she recalled on several television shows, she beat up a group of guys defending herself. Another time, however, she and her friends beat another round of bullies. Here's that video clip:
Those bullies sued Rousey when they found out who she was. Of course, Ronda was shortly into her MMA career at that point.
All of this shows one thing. Rousey never backed down from people and overcame mental bullying issues. Her training in Judo helped her a lot, Of course, she holds a 6th Dan Black Belt as well as Olympic Bronze Medal and 3 Pan-American Gold Medals, While it would be asking a lot for someone else to have all of this success, Judo prepared her for so much.
If you are interested in reading more about Ronda Rousey's journey, you can find her autobigraphy on Amazon by clicking here.
RECOMMENDED FOR YOU:
Does Judo Have Submissions? Yes, Here's What You Need To Know
Uriah Hall
Uriah Hall had a difficult childhood filled with bullying issues. He was often bullied but did not back down from them, attempting to fight them but struggled to do so. This caused him to get beaten up tremendously. People often forget that Hall was not born in the United States, as he was actually born in Jamaica.
When he moved to the United States, he began going to a school that had bullies everywhere. A lot of the bullying started verbally, which caused Hall to get into altercations on the regular. Hall wrote about a few instances with bullies for The Cauldron, with one standing out. A time when he was beaten up on the school bus at age 13.
In fact, the bus attack incident was so brutal that one of Hall's other bullies actually stepped in to stop the attacking bully. Hall claimed that he got off the bus humiliated over what happened. He did not want to go back to school after this and even contemplated suicide. His mother took him to a therapist to help but what ultimately assisted Uriah was martial arts. The rest, as they say, is history.
His mother enrolled him in a local martial arts studio where he would train to learn how to defend himself. Hall has repeatedly reference today how MMA or Martial Arts literally saved his life. Hall actually ended up getting a black belt pretty young in life in Kyokushin Karate, which he is now a second-degree black belt in. Today, he also holds a blue belt in Brazilian Jiu-Jitsu.