Asia has always been a home of talented fighters, no matter what type of combat sport we are talking about. When it comes to MMA, fans tend to forget that Asia is a pioneer of this sport where the first MMA promotions have emerged. No, the first MMA promotion wasn't the UFC, it was the Japanese "Shooto", founded in 1986.
At one point in time, fighters from Asia used to dominate the scene, and they are more than present in modern times as well. But with the rise of MMA in the western world, it seems like the new generation of fight fans don't know much about the true MMA legends from Asia.
This is the reason why I have decided to bring you a list of the 15 greatest Asian MMA fighters. Be sure to read this article to find out who they are, their stories and how they contributed to the rise of MMA.
15. Dong Hyun Kim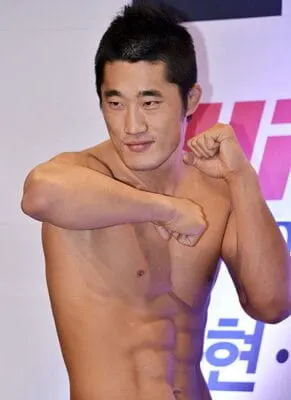 Born in South Korea, Dong Hyun Kim is a retired UFC legend who, at one point, was a serious contender in the UFC's 170lbs weight class. Although he didn't win any titles, Kim was able to win the hearts of many fans across the world. In his UFC career, he won many "fight of the year" and a "knockout of the year" awards.
Kim started his martial art journey at 14 years of age by training in Judo and Taekwondo. Later on, he would join the MMA gym where he became the main sparring partner of Yushin Okami, who at the time, was a top MMA fighter. He became famous fighting for the Japanese "Deep" promotion where he was a welterweight champ.
In 2008, he received a call from the UFC to join their roster. He had a long career which he ended with 13 wins, 4 losses, and 1 no contest, and was close to fighting for the title on two occasions. The first time, he was on 4 fight winning streak but the loss to Tyron Woodley cost him a title shot. Kim bounced back with 3 wins, but the loss to Colby Covington stopped him from fighting for the belt once again.
14. Hayato Sakurai
From vicious low kicks and wild judo throws to his insane shoot wrestling skills, Hayato Sakurai was a total package. And on top of that, he was a very exciting fighter to watch.
Born in Japan, Sakurai spent his youth training in Judo and Karate before moving into Shoot Wrestling and MMA later. From 1996 to 2001, he dominated the famous "Shooto" promotion where he was a middleweight champ. His first loss was against the great Anderson Silva, the first loss of his professional MMA career.
Sakurai was so famous that, after bouncing back with a win, he got a call from the UFC to jump right into the title fight. Yes, Sakurai fought for the UFC title against Matt Hughes in his UFC debut. He lost via TKO in the fourth round at UFC 36, and he would never fight again for the UFC. Instead, he continued his career in PRIDE FC where he lost in the Grand Prix finals against Takanori Gomi in 2005.
13. Mark Munoz
Born in the United States Navy Base in Yokosuka, Japan, Mark Munoz is a former top UFC fighter. When he was just two years old, he moved with his Filipino parents to California, US. This is where Munoz fell in love with wrestling and he went on to win a prestigious NCAA Division I Wrestling championship in 2001. Just two years later, he would start training in MMA and make his pro debut five years later for the "PFC" promotion.
Munoz joined the UFC roster in 2009 and was, at one point, seen as a hot prospect. Though he had a solid career, Munoz was one of those fighters who had failed to deliver when it mattered the most. He lost many crucial fights that, in the case he won, would have launched him into the title contender position. One such fight was the one against Yushin Okami in 2010, and against Chris Weidman in 2012.
Though he never won the UFC title, Munoz became a part of UFC history. At UFC 138, he took part in the first-ever five-round non-title UFC bout against Chris Leben, which he won via TKO in the second round.
12. Yushin Okami
Yushin Okami is a legendary fighter from Japan who faced and beat some of the best fighters. He is among the toughest 185lbs fighters UFC has ever had, and it's a shame that he never won any major titles in his career. He failed to win both the UFC title (against Anderson Silva) and the WSOF title (against David Branch).
He started his MMA career fighting for various Asian promotions during the 2000s like "Pancrase". But a lot of fans know him for his win over the great Anderson Silva at "Rumble on the Rock 8" in 2006. He became a star fighting for the UFC where he holds wins over many great fighters. He beat Alan Belcher twice, Mark Munhoz, and Hector Lombard.
11. Cung Le
When it comes to Asian MMA fighters, Cung Le might be the most famous of them all. Born in Vietnam, Le is a former kickboxer and MMA fighter who also has a talent for acting. He played small and big roles in some very popular movies like "Tekken" and "Dragon's Eyes". Although some of his movies were big, people know him best for his fights inside the MMA cage.
Before moving into MMA, Le spent a lot of time training Wushu Sanda and fighting in pro kickboxing matches. After amassing a record of 17–0, he decided to start training BJJ, and test his skills in MMA matches. He signed with the "Strikeforce" promotion in 2006, which at the time was the home of many elite MMA fighters.
Le kicked off his career with 5 KO/TKO wins which secured him a shot at the 185 lbs title which he won by finishing the great Frank Shamrock. He would later sign with the UFC, but he failed to achieve the same success as in "Strikeforce". Still, fans will forever remember his KO win over Rich Franklin at "UFC on Fuel TV 6", for which Le received a "knockout of the year" award in 2012.
10. Takanori Gomi
Gomi is a true legend of Pride FC and Japanese MMA. He was one of the best fighters during the glory days of Pride FC who had a really unique fighting style.
Born in Kanagawa, Japan, Gomi kicked off his MMA career by winning the "Shooto" lightweight title in 2002. A year later, he moved to Pride where he won the lightweight Grand Prix and Championship in a single year (2005). In fact, Gomi is the only Pride lightweight champ and a man who holds a record for the fastest KO in Pride history. He needed just 6 seconds to finish Ralph Gracie at "Pride Bushido 3" in 2004.
Unlike most fighters from Japan of that time, Gomi was a sprawl and brawl type of fighter. He was a master in mixing his great wrestling defense with elite boxing skills he used to score many KOs. Gomi often fought from both stances and his overhand right was the best in the business.
9. Chang Sung Jung
Better known as "Korean Zombie", Jung is a fighter who puts Korea on the map when it comes to MMA. Although he has never won a world title, Jung is more famous than some UFC champions and the reason is very simple. He has been through many wars in his career and was never in a boring fight.
Born in Pohang, South Korea, Jung had a hard time dealing with bullies while growing up. This led him to enroll in Hapkido when he was 14 years old and later started learning kickboxing. Approximately four years later, he started training in judo and BJJ, which along with his striking skills, made him an all-around fighter.
This combo of skills proved great for cage fighting as Jung went on to quickly made a name for himself in MMA. He won the "Pancrase" title in his third pro fight, before moving to WEC, and later UFC. If you look at his record, Jung might not be a perfect fighter. But the fans love him because of his exciting fighting style. Whether it's a grappling or striking exchange, Korean Zombie is always ready to put on a show.
8. Kyoji Horiguchi
Horiguchi is an MMA superstar from Japan and it's really hard to put into words how skilled he is. He is, perhaps the hardest flyweight puncher in history who was able to win titles in big promotions like:
Horiguchi is often seen as the second-best flyweight fighter in MMA history. He has beat just about every flyweight there is except for the great "Mighty Mouse" Johnson. The two fought for the UFC title in 2015 with Horiguchi losing to a submission in the fifth round.
Despite being 4–1 inside the UFC at the time, Horiguchi signed with RIZIN FF and go on a 13 fight winning streak before losing to Kai Asakura in 2019.
7. Yuki Kondo
Yuki Kondo is one of the pioneers of Asian MMA and a true legend of the Japanese "Pancrase" promotion. He has been with the promotion for over two decades and has over 100 fights on his record. In his long career, he also had short stints with the UFC and PRIDE FC.
Kondo comes from a strong background in Shorinji Kempo and he started fighting in MMA in the early 90s. He made his "Pancrase" debut in 1996, back when this Japanese promotion was a home of the best MMA fighters in the world. One of the biggest moments of his career came when he beat Frank Shamrock in 1996, which was a huge upset back then. Shamrock was at the peak of his prime at the time while Kondo was an up-and-coming fighter.
In his career, he managed to win the Pancrase title in three different weight classes which make him one of the greatest champions. He won the light heavyweight title in 2003, middleweight title in 2010, and was also a two-time open weight champion. At the peak of his prime, he also fought for the UFC light heavyweight title which he lost against Tito Ortiz at UFC 29.
6. Yoshihiro Akiyama
Born in Osaka, Japan, Akiyama is a true MMA legend. In MMA circles, he is best known for his fights in the "K1-HERO" promotion where he was a light heavyweight champion. And of course, his famous nickname is "Sexy-Yama".
Akiyama came into the world of MMA as a decorated Judoka. As an "Asian Games" gold medalist, he enjoyed legendary status in Japan and his arrival in MMA was a big deal back then. But on top of that, he was a showman who knew how to sell the fight and entertain the crowd.
In 2009, his move to the UFC received huge media coverage. His arrival was so big that the promotion put him on the famous "UFC 100" main card. And the world went crazy when Akiyama managed to win his debut fight against Alan Belcher. Still, the hype around Akiyama was short-lived as he went on to lose five of his next 6 UFC fights.
5. Shinya Aoki
Aoki is an MMA superstar from Japan and one of the most dominant Asian fighters. It's a shame that most western fans don't know about Aoki because he has never fought for the UFC or any other western promotion. No, he has become famous for fighting for ONE FC, PRIDE FC, and DREAM.
It's really hard to put into words how dominant Aoki was in his prime. He held a title in just about every promotion he fought for, which gives you a great insight into how skilled he is. What sets him above the others are his insane BJJ and wrestling skills, which is a combo he used to win most of his fights.
Aoki has over 30 submissions on his record out of which some came against elite BJJ fighters which makes Aoki one of the best finishers in the sport of MMA.
4. Weili Zhang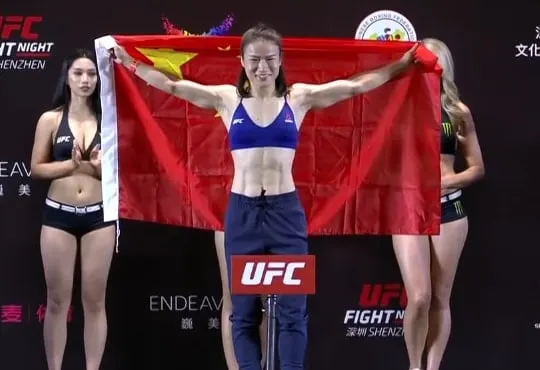 Weili is the former UFC strawweight champ who will go down in history as the first-ever Chinese UFC champion. This was huge not just for China, but for the entire eastern world as she is also the first-ever East Asian UFC champ. She needed less than a minute to achieve this against Jessica Andrade in 2019.
Born in Handan, Hebei, China, Zhang got into martial arts at a very young age. She spent her youth training in various Kung Fu styles and Sanda before moving to BJJ later. This mix of grappling and striking skills helped her to quickly shift over to MMA, and become a star in a very short time span.
On her road to becoming the UFC champ, Zhang left nothing but carnage in every fight. Her game is an ideal balance of proper striking technique, and insane power behind each strike she throws. Though she lost her crown in the first title defense, Zhang deserves a lot of credit for bringing new Asian fans into the sport of MMA.
3. Lyoto Machida
Machida is widely known as one of the best Brazilian fighters. But what people often don't notice is that he has Japanese descent. His father, Yoshizo, was a highly-ranked person in the "Japanese Karate Association". When he was 22, Yoshizo moved to Brazil where he met his future wife, Ana Claudia who, by the way, has Italian descent.
Machida deserves a lot of credit for changing the sport, notably when it comes to striking. He was the one who showed the world how effective Karate is in MMA. When he arrived in MMA as a skilled black belt in Karate, no one knew how to deal with his style of fighting. His footwork and blitz attacks were a very tough puzzle to solve for many great fighters of that time.
At one point in his career, Machida was on a 16 fight winning streak, out of which 8 of his wins were in the UFC. The biggest win of his career was the one against Rashad Evans that won him the UFC light heavyweight title. And the other great one was when he beat "Shogun" Rua in his first title defense.
2. BJ Penn
In the eyes of many MMA fans, BJ Penn is one of the greatest UFC fighters we have ever seen compete, and he is a mixed Korean descendant. Though maybe not the best, BJ was a true fan-favorite fighter who, while in his prime, was very exciting to watch. He was always ready to put on a show for the fans, which his UFC records are clearly showing.
Penn was just the second fighter who was able to win UFC titles in two weight classes. He won the 170 lbs title in 2004 by beating the great Matt Hughes, and later the 155 lbs title with a win over Joe Stevenson in 2008. He was also able to win many world titles competing in BJJ tournaments, and was awarded "Lightweight of the decade" by "Bleacher Report". Penn was truly one of those fighters who come once in a lifetime and deserves a lot of credit for putting the UFC on the map.
1. Kazushi Sakuraba
Sakuraba is an MMA legend from Japan who is better known by his nickname "The Gracie Hunter". It's really hard to put into words how famous Sakuraba was during the 2000s. He was the first one to beat the great Royce Gracie, and break that aura of invisibility created by this Gracie Jiu-jitsu family.
The first time we heard about Sakuraba was in 1997 when he won the UFC heavyweight tournament in Japan. Bear in mind that he did this in his third pro-MMA bout. He would then move over to PRIDE FC, which at the time was more popular than the UFC and home of the best fighters.
Though he never won the PRIDE title, Sakuraba went on to defeat many legends of his time. But most MMA fans know him for his wins over Royler and Royce Gracie. These two wins secured him a legendary status in his native Japan. In fact, he is still a very popular figure in the MMA world, and one of the most charismatic fighters we have ever seen.