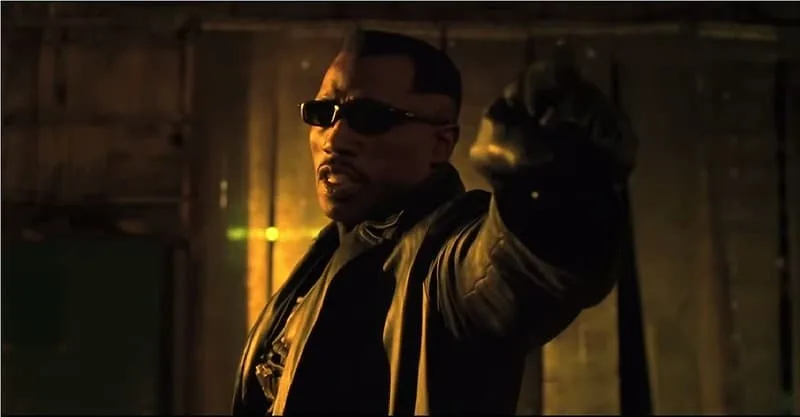 A few things in this world are as enjoyable as sitting at home after a long day and watching a good martial art movie. Admit it or not, we all love to see intense fighting scenes and the execution of exciting martial arts techniques. Over the years, the film industry gave us some iconic fighting films, some of which are true pieces of art.
And in this article, we will focus on a group of most popular actors who were or still are real martial artists. Their martial arts skills are the reason why their movies are very authentic and thrilling to watch.
There have been many great actors who got into martial arts in the late stages of their lives or to prepare for the upcoming movies. But we're bringing you the actors who were dedicated martial artists long before they succeeded in the movie industry.
10. Wesley Snipes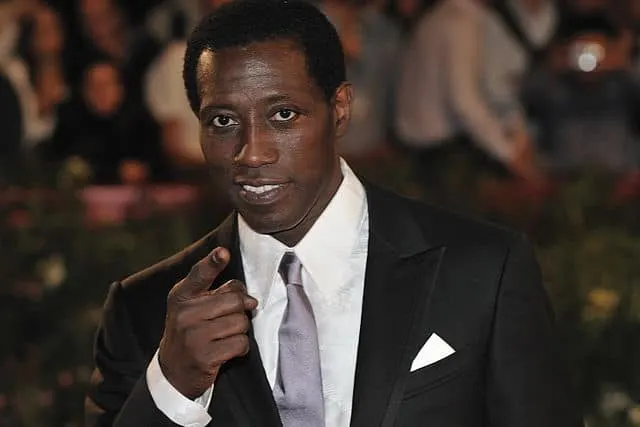 Snipes was one of the most famous actors during the 90s, and his roles in action movies were legendary. Yet, people tend to forget that Snipes is a legit martial artist and a black belt in many fighting styles.
Snipes got into martial arts at the age of 12 when he started training in Shotokan Karate school. He went on to earn a 5th-degree black belt before moving to Hapkido where he also has a 2nd-degree black belt.
He also trained in Capoeira and Kung Fu as well as in other fighting styles like BJJ and Kickboxing. Do you now understand why his action movies are so good and fighting scenes like the ones in "Blade II" look so authentic?
Further, he took part in some martial arts contests as well. And it was in one of those competitions the film agents spot his athleticism and talent. He truly is one of the best martial arts masters to ever show up on the big screens.
Wesley Snipes movies to watch:
Blade (1998)
Blade II (2002)
The Art of War (2000)
9. Dolph Lundgren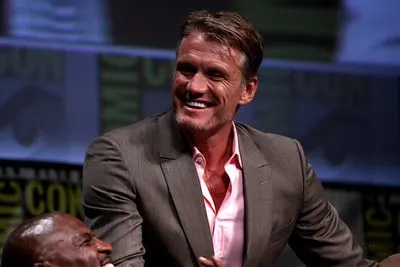 Dolph is a Swedish actor best known for his role as a Russian boxer in the legendary "Rocky 4" movie. What many people don't know is that Dolph is a serious martial artist in real life as well.
In his own words, Dolph had a rough childhood and he found martial arts to be very helpful. He started by training Judo and Goju-Ryu. After three years of training, he shifted to Kyokushin Karate where he earned a 2nd-degree black belt in 1978.
Further, Dolph was a team captain of the Swedish Kyokushin karate team. He won the European tournament in 1980 and 1981 as well as a heavyweight tournament in Australia in 1982. These are truly amazing achievements.
In the early 80s, Dolph made a debut on big screens by having a small role in the "James Bond: A View to a Kill movie". But shortly after, he would receive a role in the "Rocky "4 film which made him one of the most iconic villains in movie history. Some of the great movies starring Dolph Lundgren are:
Universal Soldier (1992)
The Punisher (1989)
Showdown in Little Tokyo (1991)
8. Steven Seagal
Along with Bruce Lee, Steven Seagal is one of the most popular martial arts actors in history, or at least, of our era. Yet, people have been divided when it comes to whether his fighting skills are legit or not. No matter what the world thinks of it, we all have to respect what Segal was able to achieve in the aikido world.
Born in the US in 1952, Seagal had a very interesting martial arts path. In 1971, he moved to Japan when he was just 19 years old. Soon he would meet his future wife whose father was a famous martial arts master who introduced Seagal to Aikido.
In 1983, he moved back to the US to open the first Aikido school in Hollywood. In fact, Seagal was the first Aikido master outside of Japan to operate the dojo. And as a 7th dan black belt, he is one of the most respected Aikido masters in Japan.
Seagal joined the film industry around 1987 and over the years he became synonymous with aikido. Some of his greatest movie roles are:
Under Siege (1992)
Above The Law (1988)
Hard To Kill (1990)
7. Jean Claude Van Damme
It's fair to say that Van Damme was a total package when it comes to martial arts movies. He was athletic, good looking, and a real martial artist. Back in the day, people argued whether his fighting skills and record are authentic. But, for the sake of our argument, we will stick with what's known to be true.
Van Damme got into martial arts at the age of 12 when his father signed him up to the Shotokan Karate classes. He started competing in Karate after three years of training and was a member of the Belgian national team that won the European Team Karate Championship in 1979.
We also have to point out that Van Damme trained Taekwondo and Muay Thai. And, he was heavy into weight lifting which led to him winning "Mr. Belgium" bodybuilding title.
Van Damme retired from competition in 1982 to pursue a career in acting. He's had a career of which most actors can dream of and was a leading star in some of the greatest martial arts movies:
Bloodsport (1988)
Kickboxer (1989)
Lionheart (1990)
RECOMMENDED FOR YOU:
What Are The Different Styles of Karate? Simply Explained
6. Cynthia Rothrock
Rothrock is perhaps, the most skilled female martial artist we have ever seen in the movie. Both movie and martial arts fans saw her as a perfect mix of beauty and badass. And she was one of the rare western actors to achieve real stardom in China.
Cynthia started training martial arts at the age of 13 and she went on to become a master in many styles. I mean, just take a look at what she was able to achieve:
Tang Soo Do (8th-degree black belt)
Taekwondo (black belt)
Karate (black belt)
Eagle claw (black belt)
Wu Shu (black belt)
Northern Shaolin (black belt)
She also took part in many martial arts contests, including the weapon based ones. In her career, she won the first place 32 times, and 12 times in the ones that included weapons. Moreover, she often fought against men as there were no women's divisions back then.
In 1983, the famous Black Belt Magazine inducted her into the Hall of Fame. And she was also the first woman to be on the cover of a martial arts magazine. This made her really famous and shortly after, she would receive her debut movie role.
Here are some of her best movies you must watch:
Yes, Madam! (1985)
China O'Brien (1990)
Righting Wrongs (1986)
5. Billy Wayne Blanks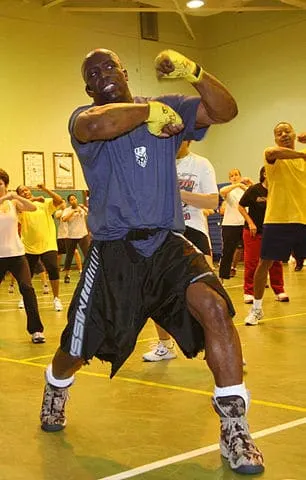 Billy Wayne was a king of underground martial art movies in the 90s. And in our opinion, he was a highly underrated actor who was also a serious martial arts expert in real life.
Billy was born in 1955 with an anomaly in his hip joints that impaired his movement. As a young child, he enrolled in Taekwondo and Karate classes. But his trainers thought he would not achieve much because of his limitations.
With the sheer dedication and strong will, Wayne was able to succeed against all odds and become a master in the following arts:
Taekwondo – 7th degree black belt
Kung Fu – 4th degree black belt
Karate- black belt
Further, he was the seven-time World Karate champ and a member of the US Karate national team. In his career, he won 36 medals in competitions all across the world and was inducted into the Karate Hall of Fame in 1982.
Billy also trained in other fighting styles like boxing. He became a Golden Gloves champ in 1984 and the Tri-State winner. Interestingly enough, he trained in dancing and ballet with the intent to improve his fighting skills.
He used the knowledge he gained in martial arts and dancing to create a "Tae Bo" fitness system.
Here are some of his best movie roles:
The Last Boy Scout (1991)
Lionheart (1990)
The King of the Kickboxers (1990)
RECOMMENDED FOR YOU:
Karate vs. Taekwondo: Key Differences And Similarities
4. Jet Li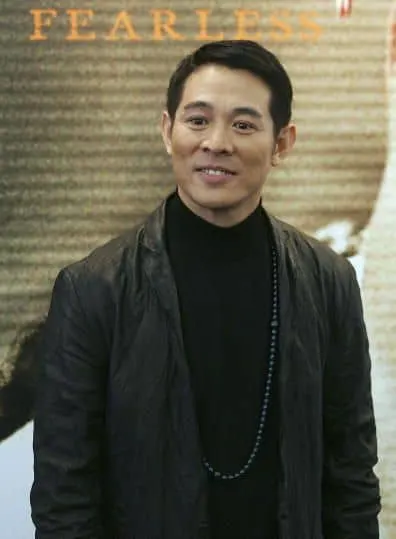 Jet Li is a famous martial arts actor who took part in many great fighting movies like the "Kiss of the Dragon". The main reason why his movies are so popular and authentic is because Li is a legit martial arts expert.
Li started his martial arts journey in Wushu at the age of eight, and he had a lot of talent. Li went on to win the Chinese national contest after just three years of training. In fact, he was so good he often fought against adults and people bigger than him. In his career, Li won fifteen gold medals and one silver medal.
Li retired from competing in Wushu at the age of 19 and went on to start an acting career. In the 80s, he took part in many iconic Asian martial arts movies which made him really famous. And with the help of his friend Jackie Chan, Li moved to the US where he became a global superstar.
Jet Li movies to watch:
Fearless (2006)
Hero (2002)
Fist of legend (1994)
Once Upon a Time in China I and II (1991; 1992)
3. Chuck Norris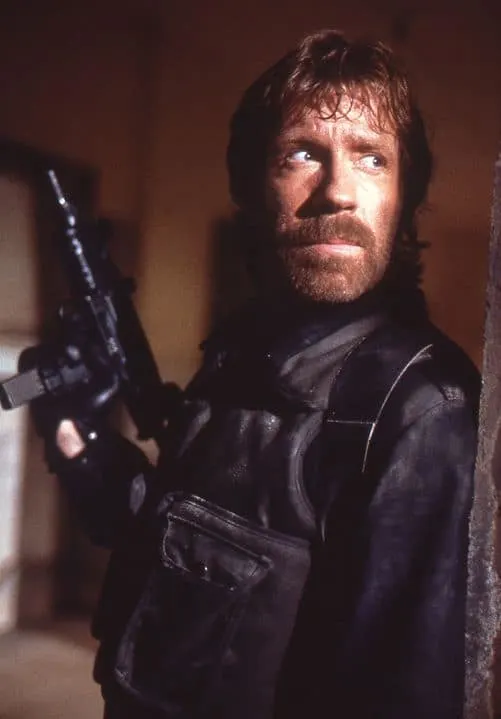 Don't let those memes and jokes about Chuck Norris fool you as he is a high-level martial artist. In fact, Chuck is a master in many fighting styles and he also took part in various martial arts contests.
He started by training in Tang Soo Doo while serving in the US Air Forces as an Air Policeman in the 50s. He left the job just a few years later to open his own martial arts studio in 1962. Over the years, he was able to achieve a black belt status in the following styles:
Tang Soo Doo – ninth-degree black belt
Taekwondo – eight-degree black belt
Karate – fifth-degree black belt
On top of that, he also created his own style for self-defense called Chun Kuk Do. The system stands for a mixture of various grappling and striking styles.
Norris took part in many Karate contests, and he owns a very good martial art record. He was the multiple All-American Karate champion and the International Karate champion in 1969. In the same year, he received a "Fighter of the Year" Award from the famous Black Belt Magazine.
During one of those competitions, he met the famous actor Bruce Lee who asked him to play a villain role in his new movie, "Way of the Dragon". The movie was a huge success and Chuck became the movie star overnight.
Here are some of his best movie roles:
Lone Wolf McQuade (1983)
Code of Silence (1985)
The Delta Force (1990)
RECOMMENDED FOR YOU:
Top MMA Fighters Who Served In The Military
2. Don "The Dragon" Wilson
We just can't escape the fact that Wilson is probably the most forgotten martial arts actor. This is mainly because he wasn't a megastar like Jean Claude Van Dame. But, he had a large fan base simply because he had roles in many iconic underground action movies. And on top of that, he was the greatest kickboxer to ever show up on the big screen and many people see him as the best full-contact kickboxer in American history.
Born in 1952, Don started his martial arts career in Karate school. But he would shift to kickboxing just a year later and start competing from the mid-70s.
Inside the ring, he was a true showman, and always ready to entertain the crowd. But it's the great fighting skills that won him an amazing eleven world titles and he put together a record of 72 wins out of which 48 were KOs.
In his prime, Wilson fought against the best kickboxers and Muay Thai fighters from Thailand. He was very popular back in the day, and one can argue that he was a Bruce Lee version of kickboxing.
Don appeared in many iconic martial arts action movies in the 90s. Some of his greatest movie roles are:
Crooked (2006)
Red Sun Rising (1994)
Out for Blood (1992)
1. Bruce Lee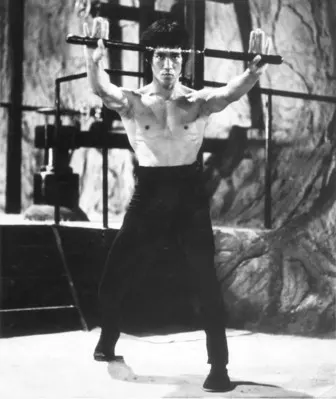 Bruce Lee is, by far, the most famous and skilled martial arts movie star ever. I mean, the man is synonymous with martial art films. He was the first martial arts star and he deserves all the credits for the rise of martial arts movies in the western world.
Lee is also responsible for inspiring millions of people around the world to start with martial arts or working out. No other martial artist in history had a greater impact than Bruce Lee did. For instance, the famous MMA fighter Bas Rutten was inspired to enroll in martial arts after watching Bruce Lee's movie, "Enter the Dragon".
Lee started training martial arts at a very young age. He was a master in many fighting styles like Wu Tai Chi Chuan, Kung Fu, and Wing Chun. But, he was best known as a founder of a very unique self-defense style for that time called Jeet Kune Do.
The idea behind Jet Kune Do resembles the concept of modern MMA. This is because Lee believed there's no such thing as the best fighting style. And that one must be open to learn other styles just like modern MMA fighters have to. So Jet Kune Do end up being a martial art system created as a mix of various other fighting styles. For this reason, Bruce Lee is often called the father of MMA because of his philosophy of combining aspects of various fighting disciplines into a personal style.
Even in modern times, Lee's movies are still inspiring millions of younger generations. Bruce Lee's best movies to watch:
Enter the Dragon (1973)
The Way of the Dragon (1972)
First of Fury (1972)