Following the mainstream rise of the Ultimate Fighting Championship (UFC) over the last two decades, we've seen many athletes with incredible genetics and talent coming from the other sports to compete and test themselves inside the Octagon.
Some of the most memorable examples like Matt Mitrione and Eryk Anders came from the NFL, while the others like Brock Lesnar and Bobby Lashley transitioned from the WWE acting to the more realistic fighting experience.
The reality is, every sport has an athlete whose genetics, talent, and many other x-factors make them capable of quickly picking up the fundamentals of the fighting game. Although imagining the athletes from other sports fighting the top-level MMA competition is considered as fantasy, history proved us wrong many times.
We're counting down top 10 all-time great athletes from various sports who had athletic potentials to become great MMA fighters!
10. Zlatan Ibrahimovic
Although the European version of football (soccer) is not that popular on the US soil, there is no way you are unfamiliar with the charming L.A Galaxy scorer. While sports such as NFL and WWE proved as solid backgrounds for MMA, soccer just isn't one of them. However, we assure you "Ibra" isn't an ordinary soccer player!
Ibrahimovic is one of those naturally gifted players who have always been able to adapt to new environments and equally perform for almost all top European soccer clubs. During his European run, Ibrahimovic was able to win league titles with six different teams located in four different countries and is the only player to play UEFA Champions League with seven teams!
He holds many other amazing records and to this day has scored over 400 goals playing for gigantic clubs like Paris St. Germain (PSG) and AC Milan.
However, his rise as an athlete was closely followed by the overconfident and sometimes egoistic personality which got him in serious troubles and controversies over the years. It's not a secret that his teammates were afraid of him and some of them even got beat up by Zlatan at some point!
It's reasonable to ask, why did the others allow such behavior? Well, the answer is simple: Zlatan Ibrahimovic is an imposing figure who's 6'5" and holds a black belt in Taekwondo!
"Zlatan is very strong on mixed martial arts – you certainly wouldn't want to take him on." – Tony Strudwick (Manchester United's Head of Performance)

(source)
Taekwondo certainly helped Ibrahimovic improving his soccer skills as well. He used the variety of kicks to score incredible goals such as the famous bicycle kick for Sweden against England (2012), volley for PSG against Monaco (2014), and many others.
With the height and reach of Jon Jones, McGregor's personality, and Stephen Thompson kicking background, we firmly believe that Ibrahimovic could have been a great MMA fighter!
9. Shaquille O'Neil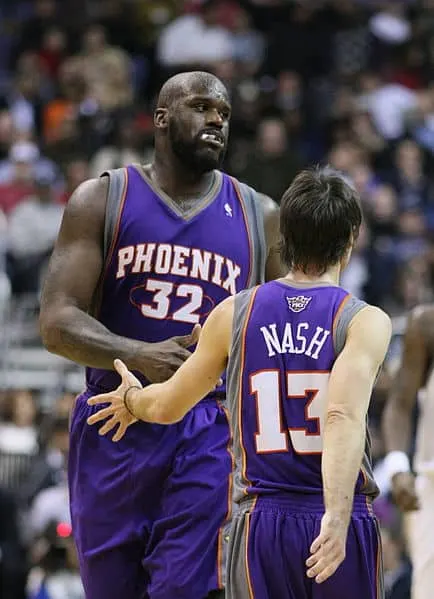 Looking at the massive size of Shaquille O'Neal, the one can quickly create an incorrect perspective of his athletic abilities. If we take a closer look at his memorable games or at least highlights, we can see that Shaq is an excellent example of the balance between agility and core strength.
"He makes 6'11, 270-pounders look like they're not even there,"

– Rod Thorn (President of basketball operations) about O'Neal
Immediately upon his arrival in NBA, O'Neil got portrayed as a freak of nature, and how not? He is a 7'1" and weighing an incredible 325 pounds! In 20 years long career, Shaq crowned himself with incredible six NBA rings and left carnage in almost every game he participated in.
However, as much as he was capable of breaking boards and dominate the game with his size, O'Neal demonstrated vast ability to dribble and pull the spin moves! Plus, can you imagine the amount of conditioning and durability it takes to carry that size and banging and bruising with Nba's finest players!
Perhaps this may surprise you, but Shaq is a longtime MMA fan and he even trained Brazilian Jiu-Jitsu for a while! If you doubt still, take a moment to look at his grappling exchanges with the UFC Hall of Famer Forest Griffin at UFC Performance Institute here.
Had he decided to switch his career on MMA, Shaq's reach and size advantage would be a pure nightmare for every Heavyweight fighter! Intelligent as he is, Shaq could use his reach and range to keep anybody at distance and with a bit of wrestling defense, taking him down would have been mission impossible.
8. Dwayne "The Rock" Johnson
Compared with the others on this list, Johnson was the closest to entering the MMA Octagon! Weighing 260 pounds, having an incredibly muscular body and coming from wrestling and football backgrounds, the Rock perfectly fits into the modern heavyweight division.
If his friend and companion from WWE days Dave Bautista was able to make successful MMA debut, we've every reason to believe the physically equal Johnson can repeat the same.
"The Rock" has been primarily known for amazing movie blockbusters and incredible WWE wrestling career which brined his tremendous financial success and popularity. However, the roots of his athleticism go way back during the college days and once-promising football career which never developed into reality because of injuries.
The interesting fact is that Dwayne Johnson actually once considered switching his pro wrestling career to MMA, as said by the man himself:
"I thought, man, I achieved everything I wanted to achieve in WWE, my movie career is floundering a little bit, what do I do? I thought, oh well, maybe UFC,"

(source)
Being involved in many sports throughout his professional career, Johnson proved the unique athletic ability to reach the highest points of any sports and powerful mindset to deal with everything that's in front of him. Stepping into the Octagon and leaving a significant mark would certainly be the ultimate achievement of this icon!
7. Roy Jones Junior
Roy Jones is often described as Anderson Silva of boxing and vice versa. What they both have in common is the unique ability to change the face of the fighting game completely. For so many years, their styles were a mystery and so ahead of everything that the top-level opposition had to offer.
We've all thought that they will die undefeated! At one point, Anderson Silva wanted to fight Jones in a boxing match and unlike from the other freak shows in history, we believe there is a lot of logic behind this one.
Even by today's standards, the hand speed, footwork and head movement of the former boxing World champion in four weight classes are astonishing! Like many athletes on this list, Roy Jones had all the talent to quickly pick up the necessary MMA skills like checking the leg kicks and defensive wrestling fundamentals.
If we just add the phenomenal timing and killer instincts on top of that, Roy Jones could possibly enjoy equal success in MMA as well!
6. Ray Lewis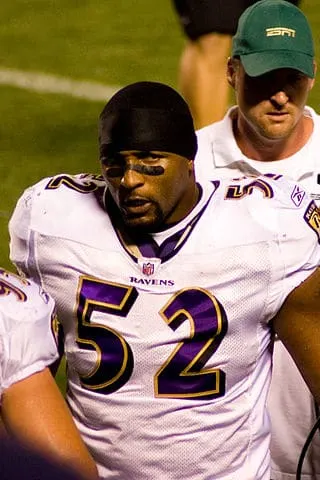 At first look, MMA and NFL are not similar sports, but if we look into more details, there's a bunch of reasons why NFL players are often recognized as great prospects for MMA. What they both have in common is the sheer strength, speed, explosiveness, and agility.
Plus, NFL is also a brutal sport with a lot of contacts, takedowns, and collisions that are closely connected with what MMA fighters are facing inside the Octagon. One of the NFL finest players whose MMA debut is often mentioned over the years is the former #52 Baltimore Ravens Middle linebacker, Ray Lewis.
Lewis is largely recognized for the warrior mentality, leadership and superhuman physical attributes which helped him to crown with two Super Bowl Championships and get into the Pro Bawler ten times! Throughout his career, Lewis demonstrated great coordination and arm strength which could easily channel into developing devastating boxing skills.
Plus, with the incredible 2,061 tackles on his record, the ability to advance to the mat would come naturally for him. Without a doubt, this fearsome defensive player has everything needed for a successful MMA career. At the end of the day, if Greg Hardy can do it, there's no reason why Lewis can't do it as well.
5. Rico Verhoeven
Verhoeven is one of the most dominant and accomplished kickboxers the World has ever seen! Like many successful strikers, he began his martial arts career in Kyokushin karate at the age of five and made the transition to kickboxing a few years later.
Throughout his incredible career, the "Prince of kickboxing" crowned himself with many titles and the most significant ones are:
2014 Glory Heavyweight (+95 kg) World Championship champion
Glory Heavyweight (+95kg) Championship with incredible eight title defenses!
Kickboxer of the year award (2013, 2016 and 2017)
What makes him so special are the unbelievable physical attributes, unique and unpredictable striking, and high fighting intelligence. Looking at his robust body, especially the massive legs, we can identify many similarities to wrestlers.
What's more, Verhoeven is open-minded and willing to undertake whatever it takes to improve himself as an athlete. At one point, he worked closely with the boxing Heavyweight champion Tyson Fury and was training at the famous MMA gym, American Kickboxing Academy (AKA) in California!
Considering he just entered his prime and already got tested against Daniel Cormier at AKA, don't be surprised if you hear the breaking news about his MMA debut!
4. Wladimir Klitschko
Often described as "strategic and intellectual fighter", Wladimir isn't the most exciting boxer. However, his style is very effective, and it made him one of the most dominant Heavyweights in history. Just take a look at his accomplishments:
Belts: The Ring, IBF, IBO, WBO, WBC and WBA
Longest combined World championship in Heavyweight history at 4,383 days
Most wins in World title bouts in the international expansion Heavyweight history at 25
Longest unified championship reign in professional boxing history – 14 consecutive title defenses
1996 Olympic Gold medalist in Atlanta
Along with his older brother Vitaly, Wladimir took a kind of different, more scientific approach to boxing. Although he is built like a tank and naturally possesses serious power in his wrists, Wladimir preferred being more tactical and waiting to capitalize on his opponent's mistakes.
Stepping into pocket exchanges, taking two to land one was never his thing. He barely even got hit with the clean punch in his career.
We firmly believe Klitschko would fit perfectly in today's MMA game. Over the years, we've seen many UFC Heavyweights being more cautious, tactical, and relying on their fight IQ more than on sheer power. As said above, the Ukranian is the pioneer of this style and no one understands it better than him!
3. Kurt Angle
Undoubtedly, Kurt Angle is one of the greatest forgotten wrestlers of all time! Despite many serious neck injuries and being constantly undersized in wrestling, Angle was able to overcome all the issues and win many championships.
In the city of Atlanta, he captured the 1995 Wrestling World Championship and is the 1996 Olympic Games gold medalist. We've to point out his ability to compensate for the lack of size and reach with incredible technique.
At the end of his successful wrestling career, Angle made a transition to WWE to entertain millions of fans across the globe. Although he became one of the biggest names in the Company, people are still forgetting and overlooking his accomplishments!
Considering the wrestling domination in modern-day MMA, we can't escape but asking ourselves what Kurt Angle would be able to achieve inside the Octagon? The closest comparison is the UFC Flyweight and Bantamweight Champion Henry Cejudo who also won the wrestling Olympic Gold in Beijing (2008) and many Pan American championships.
Looking at the current UFC Heavyweight roster, we can't see anybody dealing with the wrestling abilities of Angle. Had he learned basics of BJJ and improved striking just so he can set up the takedowns and be more unpredictable, Angle could have been one of the greatest fighters in the history of the sport!
2. James Harrison
Harrison is not just one of the greatest NFL defensive players in history, but also the most fearsome one! The reason for his success is not hiding behind some mystery talents but rather in pure dedication and work ethic!
Basically, throughout his entire football career, Harrison never stopped working out and was always in "game ready" shape. This approach kept him healthy, far away from injuries, and brined a ton of success.
In his 15 years long career, Harrison won two Super Bowl championships with Pittsburg Steelers, went to five Pro Bawls (2007-2011) and received the "Defensive player of the year" award for 2008. In 2017, Harrison reported that he was retiring from the sport.
However, the fact that he went to the gym just two hours after speaks a lot about this work out freak. Although he was an obsessed man when it comes to training and preparations make no mistakes, he was an incredibly gifted athlete.
Considering the successes of other NFL players like Matt Mitrione and Eryk Anders inside the Octagon, we have every reason to believe that Harrison's meanness and dedication could easily transition to MMA.
Knowing his motivation and approach, Harrison would have put his body and soul into MMA training that can hardly be matched by any fighter!
1. Mike Tyson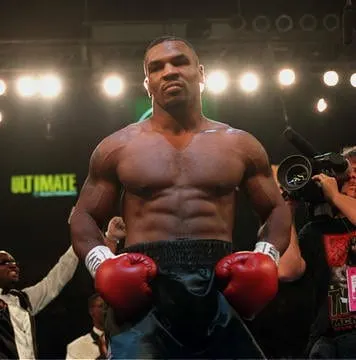 Without a doubt, Mike Tyson is the most intimidating boxer of all time! What he was capable of doing inside the Ring could only be expressed as sheer violence and destruction.
The youngest heavyweight champion (20yrs) was so dominant during his prime that many fight fans think he could have tremendous success in the early days of MMA. What's more, even the UFC placed him in their "UFC 3" game!
Tyson had everything it takes to compete at the highest levels of MMA and become one of the greats. Although he always fought under height and reach disadvantage, the ability to close the distance at lightning speed and connect with vicious power and precision always made him unique.
Plus, he was a heavily built wrecking machine that maintained an incredible balance and agility.
While recalling all those spectacular knockouts, just imagine Tyson mastering the takedown defense during the late 80s! What's more, he doesn't even have to learn fancy grappling techniques!
As long as he learns how to keep the fight standing or controlling the clinch from which he could land those famous uppercuts, the sky is the only limit.