Brazilian jiu-jitsu (BJJ) is mainly known as one of the most important styles in MMA. Unlike some other styles, BJJ has been a part of MMA since day one.
When Royce Gracie introduced BJJ to the World in 1993 at UFC 1, it quickly became obvious that BJJ would rule the MMA cage in the following years. From vicious boxers to decorated wrestlers, Royce Gracie submitted them all. So during those wild and barbaric MMA beginnings, BJJ quickly emerged as the most useful fighting style. In modern MMA, it's impossible to compete without at least the basic knowledge of BJJ fundamentals.
Throughout MMA history, we have seen many elite BJJ fighters putting their skills to work inside the MMA cage. So, after doing a lot of research and analysis, we have compiled a list of the 10 best BJJ fighters of all time. In this article, we will explain why they are the best and what is so special about their BJJ skills.
10. Frank Mir
Throughout his whole career, Mir was a highly underrated BJJ specialist. He is a BJJ black belt under Ricardo Pires and he actually competed in a couple of BJJ tournaments. What's more, his achievements are decent:
2001 – Pan American Champion (blue belt)
2007 – NAGA Absolute Division champion
Mir was a well-rounded fighter who could do it all. In his prime, he mostly relied on great BJJ skills and getting the job done on the mats. At the time, Mir was an unstoppable force. We can all recall him submitting Tim Sylvia and breaking his arm to win the Heavy Weight title at UFC 48 in 2004
In the second stage of his career, he began knocking people out and that's why modern fans don't know how good Mir was on the ground. What always stood up in his game are very dangerous submission techniques off his back.
MMA fans always knew Mir was a very good submission artist but never knew exactly how good Mir was until he actually fought the very best BJJ fighters. For example, MMA fans were in disbelief when he submitted very high-level BJJ fighter Antonio Nogueira at UFC 140.
Up until that point, nobody was able to finish Nogueira on the mats and Mir did it in a spectacular fashion by breaking his arm via Kimura (armlock). With the submission over Nogueira, Mir proved once and for all that his BJJ skills are amongst the best of the best in the world.
Although he lacks some major BJJ world titles on his resume, Mir has proven himself in the cage as one of the best BJJ fighters in actual MMA fights.
9. Gabriel Gonzaga
Many people recall Gonzaga as a man behind the brutal head kick knockout over Mirko Crocop at UFC 70. Thus, one can quickly create a wrong perception about his fighting style. He is an elite BJJ fighter and a black belt in BJJ under Wander Braga. Also, Gonzaga competed at the world BJJ stage while representing the Macaco Gold Team academy:
2019 – Masters World Jiu-Jitsu Champion (ultra-heavyweight)
2006 – IBJJF World Jiu-Jitsu Champion (ultra-heavyweight)
2005 – ADCC Submission Wrestling silver medalist (+99kg)
In MMA, Gonzaga was a well-rounded fighter who enjoyed knocking people out. With the 9 knockouts and 7 submission victories on his record, we can see why most people see Gonzaga as a vicious striker. But In his prime, he was one of the best grapplers who preferred to dominate from the top position. Considering his size and BJJ skills, he was perhaps the worst person you can have on top of you in MMA fights.
8. Shinya Aoki
In spite of many controversies around him, Aoki is still one of the best BJJ fighters ever. He is a black belt in Judo and Brazilian jiu-jitsu under Yuki Nakao and his style is very exciting. Over the years, he has gained an image of the most aggressive BJJ fighter in MMA. His main BJJ achievements are:
Deep X Superfight Champion (2007)
Budo Challenge Champion (2006)
Shooto Grappling Champion (2006)
Dumau/Kansai Cup Champion (2005)
ADCC Japan Trial Champion (2005)
Reversal Cup Champion (2004)
All Japan Champion (2004)
Aoki is also known by the nickname "Tobikan Juda" which means "master of flying submissions." In some manner, this tells how skillful Aoki is. But, he is also seen as a dirty fighter as well. On many occasions, he had a hard time controlling his aggression. So, he managed to severely injure several rivals in his career.
Further, Aoki is a very smart fighter who mainly relies on BJJ skills. All he does on the feet is a set up for a takedown. As soon as he advances to the mat, Aoki prefers to work from the guard and he has strong top control. From there, he can execute favorite submissions like omoplata and heel hooks.
Aoki used his BJJ skills to dominate the rivals through many MMA promotions. He was able to capture the ONE FC and Dream Lightweight titles and is also the former Shooto Japan champion. He has an amazing 29 submissions on his record, many of which against elite grapplers.
In 2000, the famous "Bleacher Report" gave Aoki the "Grappler of the Decade" award for his great achievements in MMA.
7. BJ Penn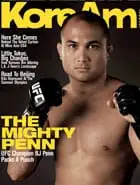 It's a shame that modern-day fans don't know how good BJJ fighter BJ Penn was. He is one of the craziest MMA fighters in history and truly one of the best BJJ fighters as well. In one of his interviews, BJ said he got his black belt in jiu-jitsu in three years and four months.
His biggest BJJ achievement represents a win at the World Jiu-Jitsu Championship in Rio de Janeiro in 2000. He was the first non-Brazilian to do so.
Penn was an absolute master in dominating the opponents on the mats. He has that distinct ability to direct them where he wants them and take their back. From that position, he would close the show with his favorite weapon, a rear-naked choke.
In his prime, Penn was a whole package. He was a very aggressive striker and a very tricky BJJ fighter on the mats.
6. Antonio Nogueira
Nogueira is the former Pride FC champion and one of the best BJJ fighters to ever compete in MMA. He and Kazushi Sakuraba both keep the record for most submission wins in Japanese Pride Fighting Championship history (11). Like a true grappling expert, Nogueira also competed in BJJ. Here are some of his best achievements:
2000 ADCC Submission wrestling championship (quarter finals)
1999 CBJJ Pan American Champion (2x)
1998 CBJJ Brazilian Champion (brown belt)
1996 CBJJ Brazilian Champion (blue belt)
Like Fabricio Werdum, Nogueira was also known for his great boxing skills. In his prime, he went toe-to-toe on the feet with the best strikers like Mirko CroCop and Fedor Emelianenko. But as a much better grappler, he stopped most of his rivals with BJJ skills.
In his 16 years long career, Nogueira had submitted 21 rivals. Also, some of these finishes were against elite BJJ fighters like Josh Barnet. For almost a decade, Nogueira was a man to avoid on the mats.
He was an absolute master in using the open guard and finishing rivals with armbars and triangle chokes. There has never been a fighter more capable of fighting from the bottom position. As such, many fans believe he is the greatest BJJ specialist in the history of MMA.
5. Fabricio Werdum
Fabricio Werdum is the former UFC champion and a famous name in the BJJ world. For many people, he is the best BJJ fighter in MMA history. Throughout his grappling career, he represented Brazil in many tournaments, and his achievements are amazing:
•ADCC Submission wrestling gold medalist (2x)
•IBJJ World jiu-jitsu gold medalist (4x)
•Pan American Jiu-Jitsu Champion (4x)
Also, he had a very good MMA career as well. Despite being an elite grappler, Werdum is also a very good striker. His boxing skills are very good, and he can land punches from various angles. Yet, he uses the striking just to set up the takedowns and advance the fight to the mat.
Once on the mats, Werdum is like a fish in the water. Thus, he shifts between positions fast and has great finishing abilities. What he does best is working off his back and placing submissions like armbar or triangle chokes.
Over the years, Werdum has gained a fearsome reputation and respect from his rivals. What's more, even the former UFC champion Frank Mir had great words for Werdum.
When people compliment my Jiu-Jitsu I also say (Fabricio) Werdum's is better than mine

Frank Mir
In his MMA career, Werdum has submitted many MMA legends like Antonio Nogueira and Cain Valasquez. Yet, he is best known for ending the Fedor Emelianenko's famous 27 fight winning streak at Strikeforce in 2010.
4. Ronaldo "Jacare" Souza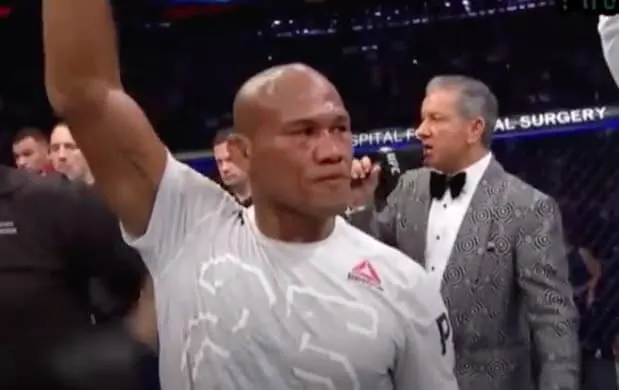 Without a doubt, Souza is one of the best BJJ fighters of this generation. He is judo trained and holds the BJJ black belt under Henrique Machado and has one of the best grappling records on paper. So, just take look at his achievements:
• ADCC Submission Wrestling Champion (2x)
• World Jiu-Jitsu Champion (8x)
• CBJJ World Champion (8x)
• CBJJ Pan American Champion (2x)
Souza is not just an amazing grappler, he is a very good MMA fighter as well. Throughout his career, Souza was able to capture the Strikeforce Middleweight belt. Also, he is one of the greatest fighters who never won the UFC gold.
As his nickname Jacare (Alligator) suggests, Souza is a very powerful grappler. Once he gets a strong grip, he won't let you go. He has a very good top control and prefers to stay patient and wait for the perfect opening to attack with submission.
Souza has also become a well-versed MMA fighter who doesn't solely rely on his BJJ skills. Over the years, he has developed very good striking skills as well. Moreover, many people actually know him as a knockout artist. That's a bit of ironic considering how good BJJ fighter he is.
3. Demian Maia
It's impossible to create any kind of BJJ list without mentioning the BJJ legend, Demian Maia. We can firmly say he is one of the best grapplers in the history of MMA. He is the 4th-degree black belt in BJJ under Fabio Gurgel, and his achievements in BJJ competitions are amazing:
• 2007 ADCC World Champion
• 2004 ADCC South American Champion
• 2001 CBJJ Brazilian Champion (brown-belt)
• 2000 CBJJ World Champion (purple belt)
Maia is a very tricky MMA fighter. He is one of those fighters who remained loyal to BJJ. His fighting style is built entirely around his grappling skills. Though he doesn't have great striking skills, Maia is always able to find a way to advance to the ground. In his career, he defeated some great strikers like Jorge Masvidal and Carlos Condit.
Unlike some other BJJ fighters who are hesitant to face high caliber wrestlers, Maia is one of the rare BJJ fighters who can perform against any other style. He doesn't mind being overwhelmed by the elite wrestler since he has a very dangerous game off his back. In a split of a second, he can use his BJJ magic to reverse the position or secure the submission over the wrestler on top.
For this reason, many wrestlers avoid going to the ground with Maia. We saw this many times throughout his career and the best example is his submission victory over the elite wrestler in Ben Askren at UFC Fight Night 162.
Also, he doesn't have any holes or weak points in his grappling game. Whether he is on top or fighting off his back, he will always find a way to set up the submission. Basically, Maia is on another level compared to the other BJJ experts in MMA.
2. Roger Gracie
Roger Gracie is regarded by many as the best BJJ fighter to ever set a foot inside the MMA cage. He is a 4th-degree black belt in BJJ and his achievements are astonishing.
•ADCC World Champion (2x)
•2004 ADCC South American Champion
•Brazilian jiu-jitsu World Champion (10x)
In 2005, Roger became the first fighter to win ADCC Submission Wrestling World title by winning eight matches in both super heavyweight and absolute weight classes. Thus, he is one of the most dominant BJJ fighters ever. What's more, he hasn't been submitted in the competition since he was a blue belt.
For many people, Roger is the greatest BJJ competitor ever. As a black belt, he has 10 wins at the IBJJF World Jiu-Jitsu Championships with three of those victories while competing in open weight competition.
Roger started competing in MMA in 2006. He holds notable submission victories over the Pride FC legend Kevin Randleman and UFC star Anthony Smith. Roger would retire from MMA in 2016 with the submission victory over Michal Pasternak and with the ONE FC Cruiserweight belt around his waist.
1. Rickson Gracie
Some may disagree with our number one pick. But in the BJJ world, there is no other MMA fighter who has got more recognition than Rickson Gracie.
He is the 10th-degree red belt in BJJ under his brother Rorion Gracie. Also, people forget that he is the black belt in Judo under Georges Mehdi as well. For many people, Rickson is simply a mythical legend in MMA.
His MMA career began way before the mainstream days of UFC. As a young BJJ fighter, he fought against the experts from other styles wherever he could. From the streets of Brazil to the Vale Tudo tournaments, Rickson was always there to defend the honor of BJJ.
Further, through the 90s, he fought as a professional MMA fighter in Vale Tudo Japan, Pride FC and C2K: Colosseum. In his MMA career, Rickson fought in 11 bouts and he finished them all by submission. His style was very aggressive and he submitted 10 out of his 11 opponents inside the first round. He's had that unique ability to adapt his BJJ skills against any other combat style and execute his gameplan without receiving any damage whatsoever.
Also, bear in mind that Rickson competed in a different time and entirely different MMA world from what we know today. Just like Muhammad Ali, Rickson is a legend of his time and the best BJJ fighter in the history of MMA.
You can learn more about why Rickson Gracie was so special in our article entitled, "Why MMA Fans Should Know About Rickson Gracie!".