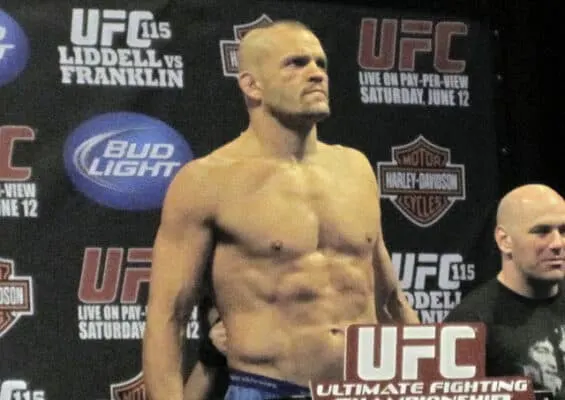 Weight cutting is a big part of modern MMA and all fighters go through a grueling process of losing up to 20 pounds in a week leading up to a fight. Still, this doesn't mean that they are all successful in their attempts to cut this much weight due to various reasons. Indeed, MMA fans frequently see UFC fighters miss weight, so what happens when UFC fighters miss weight in most cases?
If a UFC fighter misses weight at the first weigh-in, the athletic commission will give them up to two hours to make the weight. But if they fail again at the second weigh-in, the bout will likely turn into a catchweight fight. The fighter who missed weight may forfeit up to 30% of their purse.
Every fighter does everything they can to make weight but fighters can miss weight for a variety of reasons as you are about to see. At the same time, as you will see below, there are consequences for missing weight in UFC.
What Happens When UFC Fighters Miss Weight?
Here are all the scenarios explained in detail:
Fighter Gets 2 Extra Hours
When a fighter comes to the weigh-ins, steps on the scale, and misses weight, the athletic commission overlooking the event would give them two more hours to cut extra pounds and make weight. In most cases, an hour or two is enough for fighters who need to cut 1 or 2 pounds.
The UFC Would Arrange a Catchweight Fight
But, what happens if they can't lose those extra pounds and miss in their second attempt?
To keep the fight alive, the UFC would try, and in most cases succeed in arranging a catchweight fight. But first, the opponent who made weight must agree to new terms, which they usually do. For instance, if a fight was booked as a welterweight bout (170 lbs), a catchweight fight would be at around 175 or 180 pounds or any other weight that fighters, the UFC, and commission agree upon. The only thing left is for the athletic commission to give the UFC a green light, and then the fight is on.
They Lose a Portion of Their Earnings and Ranking Points
Missing weight doesn't come without consequences. Although the fight would be changed to a catchweight bout, a fighter who missed weight would have to give 20% or 30% of their purse to their opponent. Also, they do not receive ranking points for that fight which impacts their progress through the official UFC ranking system.
A Title Fight Becomes a Non-Title Fight
When a fighter booked for a title fight fails to make weight, the UFC would do the same thing and arrange a catchweight bout. However, catchweight fights are no longer for the title because the fighters would not fight within the weight limits of their weight class. For example, Deiveson Figueiredo was supposed to fight for the vacant flyweight title (125 lbs) at UFC Fight Night 172 against Joseph Benavidez. He missed weight by 2.5 pounds, and although the UFC arranged a catchweight fight, the Brazilian wasn't eligible to fight for the title.
What Happens When a UFC Champion Misses Weight?
If a UFC champion fails to make weight, they will be stripped of their UFC title and the title will be considered vacant as a result.
If the title bout proceeds, the championship will ONLY be on the line for the challenger who made weight. Therefore if the challenger wins the bout, they will become the new UFC champion.
On the other hand, if the former champion wins the bout, they will be the number one contender for the vacant title and will have to defeat the next opponent to reclaim the undisputed title belt at a later date.
Why Do UFC Fighters Miss Weight?
Weight cutting itself is a grueling and very dangerous process and there are many different reasons why UFC fighters miss weight that often. Here are some of the key ones:
Health issues — losing up to 20 pounds in less than a week puts your body through huge stresses. In some cases, fighters need to stop cutting weight due to health issues where continuing the process may lead to serious health problems, and even be fatal. They would rather stop the process and live to fight another day than risk too much.
Lack of discipline — some fighters are not disciplined enough and would not follow a strict and well-calculated plan. They would eat more calories, sugar, or other nutrients than they are supposed to eat. For example, just one bottle of water or a piece of cake can mess up your entire weight cutting process.
Bad plan — most UFC fighters have a team of nutritionists that support their weight cutting process. Nutritionists would make necessary calculations, create a strict plan about how much a fighter can eat, drink and exercise, and make sure they are on the right track during the process. But as in everything in life, they could be wrong sometimes.
RECOMMENDED FOR YOU:
Top 10 Reasons Why MMA Is The Hardest Sport
Why Don't UFC Fighters Fight In Their Natural Weight Class?
The UFC fighters cut weight to compete in a weight class below their natural one so that they can gain a physical advantage over smaller opponents, or at least, that's how it is on paper. But in reality, all UFC fighters cut weight which means that, eventually, they end up fighting opponents similar in size despite the weight cut.
And since everybody is doing it, you can't just decide not to cut weight because in that case, you would compete against much bigger opponents, and here is how.
Let's assume you walk at around 185 pounds. Naturally, you would compete in the middleweight division without cutting any weight. The problem is, your opponents would be fighters like Paulo Costa who walk at around 220-230 pounds and cut weight all the way down to the 185lbs middleweight division. After a couple of devastating losses, you would be forced to cut weight and compete, probably in the welterweight division against opponents similar to your size.
How Do UFC Fighters Cut Weight So Rapidly?
UFC fighters start cutting weight from the beginning of a training camp. However, they lose the majority of weight during fight week with some fighters cutting up to 30 pounds in five days. But how they are able to lose so much weight in such a short time span? Here is a brief look at the entire process.
Fluid intake manipulation — in a week leading up to the event, fighters would manipulate water intake to get their bodies into a "flush mode" and dehydrate their bodies to lose as much weight as possible. For instance, they would take 2 gallons of water on Sunday, 1 gallon on Monday and Tuesday, and half a gallon on Wednesday and Thursday, and no water at all on Friday until weight ins.
Low carb diet — although the exact number of carbs may vary, most of them won't eat more than 50 grams of carbs per day because carbs pull water into the body. This means that they also don't eat fruits, sugar, or starches. Instead of foods high in carbohydrates, they eat foods rich in protein like meats, eggs, and a lot of vegetables. They also avoid salt because salt retains water in the body and impacts the dehydration process.
A lot of sweating — UFC fighters sweat a lot during weight cuts to lose water. They would sit in the sauna for hours, take hot baths, sleep under the pile of thick duvets, or if they have enough energy, they might even go for a run.
Does Cutting Weight Affect Fighters Performance?
In 2021, 27 UFC fighters have missed weight with 14 of them ending up winning their catchweight bouts (14–13). But, it was a different story a year prior in 2020 where the same number of fighters have missed weight (27), but only 9 of them managed to win a fight. Whether missing weight is going to have an impact on fighters' performance or not is an individual thing that depends on many factors.
For sure, a fighter missing weight is an indicator that they have pushed their bodies too far and had some sort of health issue during the weight cut. But no one has ever done a real study or some sort of research on how dehydration and the entire process affects fighters' performance on fight night.
Some fighters said that brutal weight cuts cause a sudden drop of stamina on fight night or that you can't absorb a strike well because the brain hasn't re-hydrated yet. But on the other side, most fighters would say that they feel the same.
Biggest Weight-Cutting Blunders In UFC
Most of the time, UFC fighters miss weight by a small margin like 2 or 3 pounds. But, there have also been fighters who have missed weight by a large margin like:
Paulo Costa (210 pounds) — in 2021, the UFC booked Paulo Costa to face Marvin Vettori at 185 pounds. Due to some issues during the weight cutting process, Costa wasn't able to make weight and he actually stepped on the scale 25 heavier. The fight was still on however because Vettori agreed to a catchweight fight.
Rafael Alves (157.5 pounds) — Alves was supposed to fight in the featherweight division where the upper weight limit is 145 pounds. But he showed up on weigh-ins 11.5 pounds over the limit which forced the UFC to cancel the fight.
Anthony Rumble Johnson (197 pounds) — leading up to his middleweight fight (185 pounds) against Vitor Belfort at UFC 142, Johnson stepped on the scale weighing a staggering 197 pounds, missing weight by 11 pounds. Since this wasn't the first time he missed the weight, Johnson was released after missing weight a third time.
Do UFC Heavyweights Have To Cut Weight?
Yes, the upper weight limit for a heavyweight division is 265 pounds, and if it is a non-title bout, all fighters must step on the scale weighing 266 pounds or less. In MMA history, there have been a lot of big heavyweights who needed to go through a weight cutting process to meet the upper limit, and a couple of them have actually missed weight. Here are a couple of UFC heavyweight fighters who cut and have missed weight in the past:
Justin Tafa — in 2021, Tafa became the first UFC heavyweight to miss weight, and he did it by showing up at 267 pounds, 1 pound above the upper limit.
Greg Hardy — in 2020, Greg Hardy showed up on the scale at 266.5 pounds, half a pound over the upper limit ahead of his fight against Maurice Green at UFC Vegas 12. However, Hardy used an extra hour given by the commission to make weight in the second attempt.
Brock Lesnar — the former WWE superstar and UFC champion used to walk at over 280 pounds which means that he needed to cut weight for his UFC fights.
RECOMMENDED FOR YOU:
Why Is There A Weight Limit For UFC Heavyweight Fighters? FAQ
What Are The Rules For UFC Weigh-In?
When it comes to non-title fights, UFC fighters are not allowed to miss weight by more than 1 pound. If a title is on the line, then both fighters must be on point and not miss weight by more than half a pound of the upper weight limit for that specific weight class. This rule is the same for all weight divisions, both men and female.
For example, if a non-title fight is booked as a lightweight bout at 155 pounds, both fighters are not allowed to weigh more than 156 pounds on weigh-ins. As for the title bouts, they are not allowed to weigh more than 155.5 pounds.
If a UFC Fighter Is Underweight For a Title Fight, Is It Still a Title Fight?
Yes, UFC fighters can weigh below the upper limit of their division. But bear in mind that they need to be above the minimum limit. For instance, they can weigh anywhere between 145–155 pounds for a lightweight fight whether it is a title or non-title fight. But they are not allowed to go below 145 pounds because in that case, they belong to the featherweight division (135–145).
Yet, size is a big factor in MMA, and this is the main reason why UFC fighters always weigh closer to the upper limit. Being lighter than your opponent may impact your chances of winning the fight as a heavier opponent is usually physically stronger and hits harder.
What Happens When A UFC Fighter Misses Weight And Wins?
First, they would have to give 20% or 30% of their entire purse to the opponent who made weight and accepted a catchweight fight. They would get a win the same as they would if they made weight, but not without consequences as far as the UFC is concerned.
The thing is, fighters missing weight and fighting at catchweight impacts the UFC business, notably if it is a high-profile title fight. So despite winning, the UFC might start looking at them as unprofessional and unreliable fighters, and possibly ask them to move up a weight class.
Can You Go Down A Weight Class In UFC?
Yes, UFC fighters can switch between weight classes as long as they can meet the required weight limit for that weight class. Over the years, there have been many fighters who fought across three or more different weight classes, like Anthony Rumble Johnson for instance. He fought at 170, 185, 205, and heavyweight.
In short, UFC fighters would move down a weight class as long as that makes sense and if they can go through a weight cut. For instance, some fighters who haven't had much success in, let's say 185lbs weight class may decide to drop down to the 170lbs division where they would have a size advantage and better chances of winning on paper.
RECOMMENDED FOR YOU:
Why Are MMA Fighters Skinny And Don't Have Big Muscles?