Boxing is such a big part of MMA and a must-have skill of every fighter. You just can't compete at the elite levels of MMA without boxing skills. Thus, every MMA fighter must spend a lot of time performing boxing drills. Naturally, some fighters are more gifted to box than others. Over the years, there have been many fighters who have displayed incredible boxing skills and enjoyed great success because of it.
But, many boxing fans are very skeptical that MMA fighters' can transition to boxing and vice-versa. Thus, this rivalry between the two sports resulted in one of the biggest matchups in combat sports history. In 2017, UFC champion Conor McGregor faced the boxing legend, Floyd Mayweather.
Many boxing promoters and experts have predicted an early KO for Mayweather. But, McGregor managed to go toe to toe with arguably the greatest boxer of all times before losing it in a TKO. Despite what experts are saying, McGregor showed that MMA fighters can box.
The reality is, when it comes to boxing, boxers will always enjoy great advantage against MMA fighters. But, that skill level between them is closing down to the narrow margin in recent years because there are mma fighters with boxing backgrounds.
That said, we have decided to bring you the list of MMA fighters with the fastest hands in the game and slickest boxing skills. We firmly believe many fighters from the below list could have been very successful boxers if they had chosen Boxing instead of MMA.
10. Glover Teixeira
Glover Teixeira is one of the greatest UFC light heavyweights to never win a championship belt. During his prime, Teixeira had all the tools to capture the belt and hold it for a long time. But a couple of losses in crucial fights certainly cost him greater achievements. He is a well-rounded with very dangerous boxing skills.
I mean, it's fair to say that the Brazilian still has the slickest boxing among the light heavyweights. Many times during the media work, Texeira has pointed out his love for boxing and his idol, Mike Tyson.
What clearly stands out in his boxing game is the high level of discipline. He is always keeping his hands up, guard tight and has the ability to quickly find the way in despite his massive size. Once he initiates the close range brawl, Teixeira can close the show in a split second. As we have all saw against Ryan Bader, Teixeira is dangerous both while pressing forward and being on the back foot.
His martial arts talents and potentials are enormous. He is the 7th-degree black belt in Kajukenbo, 2nd-degree black belt in jiu-jitsu and a black belt in Luta Livre. And here we are, talking about how great his boxing skills are. Teixeira is truly a special talent and had he chosen boxing instead of MMA, he would have been a killer inside the boxing ring.
9. Sergei Kharitonov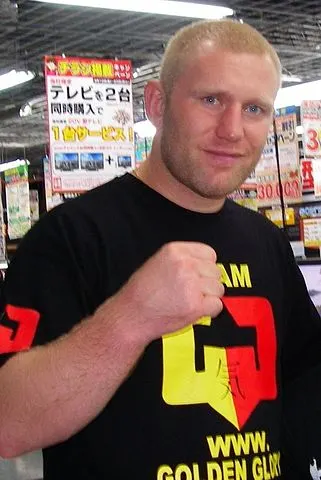 Kharitonov is one of the best fighters on the Bellator Heavyweight roster. What stands out in his game are very fast hands and amazing boxing skills. Moreover, he is a power puncher that can close the show with a single touch of the wrist. At 6'4", Kharitonov is a true boxer who always looks for a brawl and to let his hands fly. For a man his size, it's not a surprise that he owns the power to match against any pro boxer in the world.
Kharitonov started his amateur boxing career way back in 2000 at the age of 20. During his boxing days, he won many Russian and Asian tournaments and championships. In the following years, he would continuously shift between MMA, Kickboxing and Boxing. In professional kickboxing, he holds notable victories over the legends in Mighty Mo and Jerome Le Banner.
We have to point out that his talents and potentials for combat sports are very rare. That said, had he decided to focus just on boxing, we firmly believe only the sky could be a limit for him.
8. Mark Hunt
Mark Hunt is one of those very gifted athletes who can close the show with the single punch and absorb huge damage. Before shifting to MMA, Hunt was a very successful kickboxer and the K-1 Grand Prix champion (2001). Despite being a kickboxer, Hunt always relied on his boxing skills.
The power in his hands is unreal and the speed incredible for a man his size. So, many of his rivals used wrestling or other grappling techniques to avoid boxing him directly. But, Hunt was always able to find the way to put them out on the feet.
We firmly believe Hunt would be a perfect boxer. I mean, he is built like a tank and has an iron chin. During the exchanges, he keeps it all very technical, and his punches are very crisp. Despite the size, he always keeps the head off the center and has vicious counter combos. Inside the UFC Octagon, Hunt scored many walk-off knockouts and received seven post-fight bonuses for his performances.
Also, Hunt was never a fan of wrestling or ground fighting. That said, the boxing ring would fit him perfectly. He wouldn't have to worry about the takedowns or any other similar techniques. We just can't imagine how brutal boxer Mark Hunt could have been.
7. Cody Garbrandt
Cody Garbrandt is the former UFC Champion and a man with very fast hands and dangerous counter boxing skills. Also, his record consists of stunning knockouts, so his power and the ability to close the show are not under the question. The best display of his boxing abilities came in his fight against Dominick Cruz. By everyone's shock, Garbrandt was outboxing Cruz the entire fight and he even sent him to the floor a couple of times.
Shortly after graduating from high school, Garbrandt began learning the boxing techniques from his uncle. Before shifting to MMA, he competed in amateur boxing tournaments, and he amassed a record of 32-0.
Everything he utilizes on the feet is very disciplined and fast. He prefers to be on the back foot and wait for the opponent to attack. Once he drives them in, Garbrandt is dodging the punches like a true boxer and is countering the attacks with amazing speed and precision.
While recalling his fights in MMA, we can't escape but to admit that he is a very good boxer. Without a doubt, Cody has all the tools to enjoy great success inside the ring as well.
6. Nick Diaz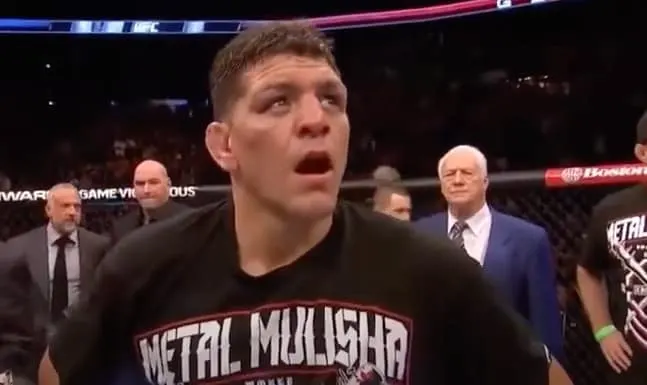 Nick Diaz is the former Strikeforce Welterweight champion and the UFC title challenger. Despite being a jiu-jitsu expert, we all know Nick Diaz for wild standup brawls and very good boxing abilities.
What he does best is putting the strong forward pressure and crushing the rivals with a high volume of punches. He doesn't have a knockout power or any other secret weapons. But, what he has are great cardio and a very strong chin. If he can absorb the damage with smaller MMA gloves, then his chin can hold up in boxing matches as well.
The truth is, he is not looking very technical and fast during the exchanges. But, he will drive you into the deep waters and destroy with the high output of punches. This is best shown in his fights against Paul Daley and BJ Penn. Also, Nick went toe to toe with one of the best strikers in MMA history, Anderson Silva. Despite the loss, Nick displayed slick boxing combos and great timing.
That said, with proper training, we think he could have been far better boxer than MMA fighter. What's more, he was regularly sparring with dangerous boxers like Andre Ward during his training camps.
5. Jorge Masvidal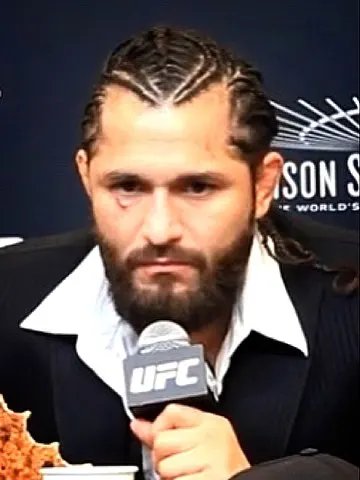 Before joining MMA, Jorge Masvidal took part in many backyard street brawls along with Kimbo Slice. He quickly moved up to make a name for himself and shift that momentum to cage fighting. A little known fact is that Masvidal competed in one professional boxing match. In 2005, he defeated Joseph Benjamin, but he returned back to MMA shortly after.
Like a true brawler, Masvidal enjoys fighting a standup fight and exchanging heavy shots. He is one of the best kickboxing – Muay Thai fighters on the entire UFC roster and his boxing combos are second to none. So, it was not much of a surprise when he knocked out an elite striker in Darren Till. Also, he defeated Nate Diaz who is known as one of the best boxers in MMA.
The truth is, Masvidal's boxing is much underrated. Like every successful boxer, he has a very good jab which he often uses to force the opponent to the outside position or to set up the left hand behind. Also, he is throwing a lot of faints and once the opponent bites, Masvidal is ready to deliver a well-timed counter combination. Further, his boxing defense is much disciplined and he always keeps his posture and guard high.
He is continuously reading his opponent's actions and making adjustments throughout the fight. With this combination of skills and his unique mentality, Masvidal doesn't need a lot of boxing training to compete inside the boxing ring.
4. Francis Ngannou
Ngannou is perhaps the most intimidating man on the planet earth. In the history of MMA, there hasn't been a man with such a physique and power. If he moves to boxing, Ngannou will certainly be a problem for any Heavyweight. The only man with equal or less power is Deontay Wilder.
"Francis Ngannou has the world record for the most powerful punch. His punch is equivalent to 96 horsepower, which is equal to getting hit by a Ford escort going as fast as it can. It's more powerful than a 12-pound sledgehammer getting swung full force overhead…"

– UFC President Dana White
Though his boxing skills are not so technical, Ngannou is continuously knocking out the rivals inside the octagon. As seen against Alistair Overeem, he can catch you from unorthodox angles and close the show in split a second. With some technical improvements in his striking, we believe Ngannou would have become a very dangerous boxer.
For example, Deontay Wilder who's one of the best Heavyweight boxers in the world is not a technical boxer per se. But like Ngannou, his ability to put people to sleep with a single touch of the wrist has made him a world class boxer. Although they are operating in different combat sports, there are many similarities between these two fighters and their key competences.
We just don't see why Ngannou can't achieve the same successes with the focused training in boxing.
3. Israel Adesanya
Adesanya is the former kickboxing champion who reached the pinnacle of MMA sport in a very short time span. He is known as one of the most dynamic strikers in MMA who relays a lot on the boxing techniques. Whether it's a ring or an MMA cage, Adesanya has the unique ability to adapt to new circumstances and we truly believe the boxing ring would fit him perfectly.
Hypothetically speaking, Adesanya would have been the modern version of Roy Jones Jr.
At the young age, Adesanya joined the local kickboxing academy to pursue his fighting dreams. His rare talent was obvious right from the start. Before stepping into the professional competition, he amassed an amateur record of 32-0.
Tall and rangy, Adesanya set himself apart with a unique set of striking techniques. He has the unusual ability to always make reads and adapt his style to any situation. Once he feels loose, Adesanya moves with the mesmerizing flow and everything he throws has a perfect timing behind. He can fight while moving in any direction and catch the opponents from weird angles.
This unique mixture of the great timing and accurate boxing combinations has proved lethal for many of his opponents. The counter combination with which he put Robert Whittaker out at UFC 243 is the perfect example of his boxing abilities. The secret behind his stunning movement has its origins in his days as a dancer.
We truly believe these particular skills would certainly set him apart inside the boxing ring as well. If he was able to conquer the world of MMA in such a short time span, there is no reason why he shouldn't do the same in boxing.
2. Conor McGregor
McGregor is the first-ever UFC double champion and a man with perhaps the best boxing skills in MMA. Before he stepped inside the MMA cage, McGregor was heavily into boxing. At the age of 12, he began the amateur boxing career under the two-time Olympian boxing coach Phil Sutcliffe.
Over the years, McGregor has developed incredible boxing skills, especially the footwork, speed and counter combinations. He uses the counter boxing combos to land with perfect timing and is maintaining distance very well. Further, the great footwork allows him to step in and out very fast and attack from all angles as we saw against Eddie Alvarez at UFC 205.
At the peak of his popularity, McGregor actually competed inside the boxing ring against Floyd Mayweather and showed he can box. In spite of short training, he went thru to prepare for Floyd, McGregor still managed to go toe to toe with the best boxer of our generation.
Thus, we don't have to speak hypothetically about McGregor's boxing skills. He really tested himself against a very high-level professional boxer and he did a very good job. In addition, the boxing match against Floyd was McGregor's professional boxing debut.
Despite the loss, we do not even have to guess whether he could do well inside the ring or not. His talent and potentials are obvious. If he had only chosen boxing instead of MMA, we are sure he would have reached the highest levels.
1. Anderson Silva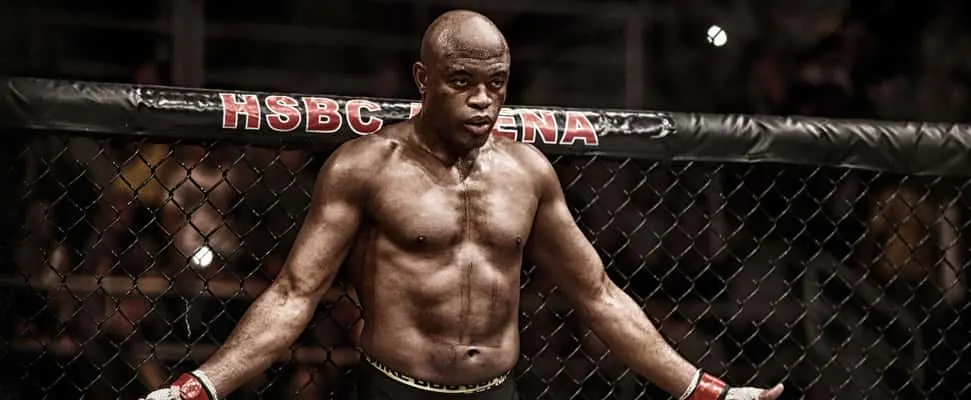 For many, Anderson Silva is the greatest MMA fighter of all time. After winning the Middleweight championship, Silva went on to defend it an astonishing 14 times before losing to Chris Weidman. The truth is, if it wasn't for MMA, the primetime Silva had all the skills and tools to become a successful boxer.
For almost a decade, Silva's style was a mystery. In his prime, everything he performed on the feet was straight out of the Matrix movie. He was very agile, and his mobility was second to none. Further, his fighting IQ is off the charts, and he sees everything coming in advance.
That's why he is capable of dodging the strikes all the time and makes you look like a fool. Also, his high reach and perfect timing on the counters can put any fighter out in a second. This is perhaps best showed against Forrest Griffin in his spectacular knockout victory at UFC 101.
"He fights off the ropes a little bit. I told him that can be a little bit dangerous sometimes and to be careful, but he'll suck you in, he'll set you up, he's one of the most intelligent fighters I've ever seen and have ever worked with."

– The legendary boxing coach, Freddie Roach (source)
The biggest advantage he would have inside the boxing ring is the ability to throw the punches from odd angles. He was doing it in such a special way that his rivals couldn't even see the punches coming. It's a very special and rare talent that even some top boxers don't have.