In the world of MMA, one company has become King or perhaps Emperor of the sport…Ultimate Fighting Championship. Better known to the world as simply UFC, they have become THE name you think of when you hear "MMA." They took a very small sport to the fastest-growing one on the planet today.
What the UFC has achieved is remarkable, but what does it matter to MMA? In this article, we will be exploring exactly that. We'll be discussing what those achievements were, and how they helped MMA.
10. UFC Helped To Get MMA Sanctioned
In the early 90s, MMA fighting tournament which was started by UFC was newer to the world and people did not quite understand it. In fact, for some time MMA was banned in many states after truly unsanctioned fight club-like tournaments were exposed.
These Mortal Kombat type tournaments hurt MMA's standing through the late-1990s. Back in 1996, the now late Arizona Senator John McCain was one of the biggest detractors of MMA initially. The story goes that he once saw a tape of UFC fights and equated it to "human cock-fighting."
This resulted in McCain, an avid boxing fan, leading an initiative to ban MMA nationwide. He was nearly successful in this too.
The Change:
UFC did not have many rules at all in the early days, so changing rules to meet the athletic commission regulations was a challenge.
UFC wanted them to be realistic but as safe as could be. These rule changes differed UFC from MMA companies worldwide, especially in places like Japan (where the sport was massive).
Some of the rules they implemented, which have since been adopted by many MMA Leagues. This included the use of fingerless gloves as well as banned moves. Among these banned moves are headbutts, biting, eye-gouging, elbows to the back of the head or neck, and kicking a downed opponent.
They also added judges, time limit rounds, stricter weight classes, and their 10-point scoring system.
Things became even bigger for them in March of 2006 when they introduced Marc Ratner as their UFC Vice President of Regulatory Affairs. Ratner formerly held the Executive Director role for the Nevada State Athletic Commission.
Ratner was once against MMA himself, but along with McCain, he knew there was a need for change too. Ratner's involvement and knowledge of athletic commissions allowed him to further help UFC break out.
This resulted in UFC to get every state to eventually unban MMA in 2016. However, none were bigger than the state of New York who previously had banned MMA for nearly 20 years by this point. Even John McCain got on board with MMA later on himself!
Today, any MMA company operating in the United States should thank UFC for helping the sport legal in the U.S.
9. Introduced USADA Testing To Clean Up The Sport
As UFC was getting bigger, UFC noticed PED use was on the rise within the sport, which had been a huge problem in many sports since the 1980s. They realized that in order to make sure MMA could be a clean sport and to protect its fighters…they needed to get tough.
This was when they began to use the USADA. This is the United States Anti-Doping Agency. The idea was that by working with them in proper testing, they could slowly but surely rid the sport of performance-enhancing drug use. The biggest thing that UFC did was empower the USADA to handle all drug testing separately away from their influence.
Unlike other sports leagues, UFC has nearly Olympic-level drug testing. It's one of the strictest in professional sports.
It is so finely done that they do often both blood and urine testing (often referred to as the A & B Samples) along with multiple surprise tests leading to a fight.
This allows them to catch those who are cheating the system in training. Usually, this amounts to roughly 8 surprise tests over the course of 3 months.
This new drug testing policy to protect clean fighters have been instrumental, resulting in most MMA Fighters following the rules both before they enter UFC and after.
8. The UFC Performance Institute
Like various sports leagues and teams within them, UFC wanted their own state-of-the-art training facility to help its fighters This concept was to still allow people to have their own camps but they wanted a place all could come to. On top of this, they wanted to make a place that could be perfect for the next generation of fighters.
This led to the UFC opening up its own Global Corporate Campus in Las Vegas, Nevada in December of 2015.
The UFC Performance Institute has been a leader in the world of MMA in terms of both training and scientific development. Some of the things they have helped to improve are injury prevention and recovery from fights.
Additional services like physical therapy, nutrition & diet consultation, as well as most MMA fight training at no cost to UFC fighters. Of course, due to only being for UFC fighters, it does not matter what level you are in the company….thus everyone benefits!
7. UFC's Investment in Overseas Market.
While MMA is a global sport, it is clearly still growing in places around the world too. The interesting part about this is that UFC realized a long time ago that going to countries with specialized martial arts of their own would be huge for them.
This is why they do many international shows per year. In fact, they have managed to enter several nations outside of America for many years now.
Among them include Brazil, Ireland, Japan, and many more. A grand total of 24 different countries have played host to UFC events over the years. In fact, many of them have been headlined by a UFC star from that country. Ireland did this with Conor McGregor, for example.
They also set out to make sure they made a splash in Asia. This is why they set up a Chinese Performance Institute as well as a few offices. Focusing on Asian market has led to multiple new Asian stars coming to UFC. A fighter like Zhang Weili have come through as a result. This is not to mention various Asian-American men and women too. We aren't even discussing the Russian Fighters yet!
With China having deep martial roots in multiple disciplines, it only makes sense to expand there and see newer stars come into the company as a result and expand MMA globally.
6. UFC Actively Engages in Medical Research to Prevent Brain Injuries
After seeing the effects of brain injuries throughout Boxing, Football, Hockey, and Pro-Wrestling…the UFC decided to do their part in preventing this from becoming a problem for their fighters.
While they also work with the Legacy Institute like others, UFC signed an official deal to partner with the Cleveland Clinic. The multi-year commitment deal was signed in February of 2016.
They even donated $1 million to the cause just to make sure they could do well by their fighters. Today, the Professional Fighters Brain Health Study is in play!
The focus at the clinic is to develop methods to detect early onset signs of brain trauma or injury. This will help them prevent issues from getting worse long-term for MMA fighters.
5. UFC Created TV Reality Show that Propelled MMA To Become Mainstream
Before UFC's The Ultimate Fighter(TUF) show landed on Spike TV in America among other stations worldwide, MMA was known but nowhere near as popular as it is today.
In fact, many had the wrong impression of MMA and especially the UFC at that point. People saw it as equivalent to being an underground fight club, as it did previously have pretty much no rules dictating its fights
On top of this, UFC was nearly going under and they were not sure how long the company would survive.
When TUF show aired, the show blew up in popularity and UFC began to slowly get more attention from sports programming on television, radio, and the internet.
This would come in handy very much so for the company down the line.
The show educated millions of fans about not only MMA but how UFC treated the sport overall. Long gone were the impressions of the company and sport, as they were now seeing the truth.
This resulted in not only the rise of MMA worldwide but UFC itself. A company nearly being forced to close its doors….all the way to the success it sees now. That is a true story of perseverance.
4. UFC Created Lower Weight Divisions to Create More Opportunites
For the longest time, MMA had to essentially fix its weight classes around boxing concept rules. This meant that it had to follow what was popular in that sport for the longest time.
While Heavyweight Fights were often the biggest and highest selling, it seemed that as the 2000s neared its conclusion, smaller fighters were becoming influential.
Boxing showed as well as pro-wrestling, that people could find smaller fighters appealing. On top of this, the fights were often more fun to watch, with quicker strikes and submissions.
This resulted in UFC seeing a lot of attention in its Middleweight and Welterweight weight classes. Even the Lightweight, as well as Light Heavyweight divisions, became popular.
Eventually, UFC expanded these weight classes to include smaller ones too. That was when they introduced the Featherweight, Bantamweight, and eventually the Strawweight Divisions. This led to the company seeing some of their greatest and most popular fighters ever coming out of these divisions. Demetrious Johnson, Henry Cejudo, Jose Aldo, and Conor McGregor all became big names in the sport coming out of lower weight divisions.
Eventually, this led to even greater competition arriving in UFC and becoming stars in their own right. Now, these fighters have proven to be just as valuable as the big guys…if not more so at times.
3. UFC Popularized Women's MMA
UFC President Dana White is quoted having said that he'd "never have women fight in the UFC." He literally was so against it that he never could be budged by those who felt it was a good idea.
Well, that was until the company bought Strikeforce who DID have a women's MMA division. Gina Carano had been the champion for their Lightweight Division for a long period of time.
Her beauty, as well as her undefeated record, made her an MMA sensation! However, she wanted to exit the octagon for Hollywood while a new woman was arriving.
Ronda Rousey, a judo expert with a Bronze Medal from the Olympics, had become a popular figure in Strikeforce upon arrival.
Ronda would become the last Women's Bantamweight Champion for Strikeforce and actually changed Dana White's mind on women's MMA.
With Rousey on board, UFC also decided to expand and have a women's Bantamweight Division. So much so, she became a leading figure for UFC as the face of their only women's division.
Rousey's success catapulted her into a household name across the world. She broke box office and PPV numbers as well, proving women could headline a PPV.
Her success as the Women's Bantamweight Champion led to UFC adding another division, Women's Strawweight. Now, they have a grand total of 4 different women's divisions and house the best women's fighters in MMA on the planet.
While some major names in women's MMA might be gone from the sport, it seems like even better competitors keep making these divisions worthy of the spotlight.
2. UFC On ESPN
The success of UFC landed them a deal with Fox Sports as their deal with Spike TV and Viacom overall came to a close. It was huge for them as it meant more exposure and an opportunity to have major shows on network television!
When the deal with Fox sports expired, UFC signed an exclusive deal with ESPN to broadcast UFC fights and pay-per-view events. ESPN remained the most-watched sports channel by a wide margin and they are the world's most recognized sports network. Thus having EPSN to broadcast UFC fights can reach out to millions of viewers.
The deal has fighters appear on ESPN shows, especially those related to MMA. On top of this, they have shows featured on the ESPN streaming platform, ESPN+.
Their deal with the worldwide leader in sports is useful for many reasons. Not only do they get featured on ESPN platforms but also those under the Disney banner. For those unaware, ESPN's majority owner is The Walt Disney Company who controls ESPN.
All of this resulted in UFC's rise in popularity even more than before. Now everyone assumes UFC will just continue to grow and help MMA due to their worldwide exposure as a result of EPSN exclusive TV deal.
1. UFC Saved MMA in the End!
While Mixed Martial Arts landed well in some countries like Japan, it had not managed to do well in the United States. Facing potential or complete bans throughout the nation, MMA was going downhill. However, UFC stepping in seemed to change all of that.
They cleaned up the sport, held themselves accountable, and made other sports leagues take notice. However, MMA itself, or simply fighting, is the oldest sport known to mankind. It should have been easy to convince people to watch.
Yet brutality and the lack of care for the fighter safety made people turn away…which is why it had to be fixed. UFC did just that!
On top of that, they were the true reason women were able to become just as big as men in the fight game. Their platform and continued support of women today have simply made them equal in terms of status.
MMA itself was never a bad sport in theory but needed to be altered to land well in the mainstream. Beyond this, we needed to get fights that we could enjoy with stars that we could actually be interested in.
UFC took a note from pro-wrestling and had their fighters do key "promos" to build fights more. Thus, press conferences became a major thing for them to do.
The likes of Chael Sonnen, Conor McGregor, Ronda Rousey, the Diaz brothers, and many more have become amazing at this. It only helped to build the sport more and make fans interested in seeing who beats who.
At the end of the day, both Dana White and the Ferritita Brothers helped MMA far more than we give them credit for. Therefore, we should congratulate them for all they have done. Zuffa may no longer own the UFC, but their impact cannot be understated.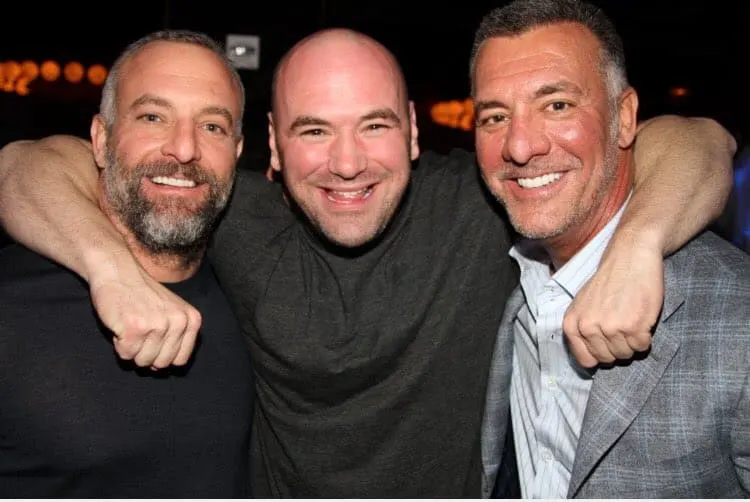 Sometimes you do not need a Harvard MBA or Doctorate holding person to save you. Sometimes, you just need to make people care by caring for something yourself.
UFC has done this, saving MMA from possible extinction. Today, we see MMA because of them.