If you're a frequent MMA follower, you may have noticed several UFC fighters were once Golden Gloves boxing champions. You might be curious about what Golden Gloves boxing is, whether professional or amateur and what it takes to be a Golden Gloves boxer. Here's a quick answer to what Golden Gloves boxing is.
Golden Gloves boxing started in 1923 in Chicago to promote amateur boxing tournaments. Since then, they have organized boxing events in various regions across the U.S., providing opportunities for amateur boxers to ultimately test their skills against one another to become the national champion.
More specifically, hundreds of coaches, boxers, and gyms participate yearly in local and regional Golden Gloves tournaments. The winners then advance to the National Tournament of Champions, where the winner of each weight class becomes the national Golden Gloves champion and receives a title and a ring.
This is a brief explanation of what is Golden Glove Boxing. Thus, be sure to read this article to learn more about it.
Golden Gloves Boxing History
The story of Golden Gloves boxing began in 1923 in Chicago, the US. At the time, the sports editor of the Chicago Tribune newspaper, Arch Ward, devised the idea of creating a citywide amateur boxing tournament. Four years later, he would finally get sponsorship from his company, the Chicago Tribune, and the annual boxing tournament would start in 1927 between Chicago and New York.
The tournament became very popular and led to the creation of a national tournament as other cities and states joined. The winners from various states then competed in semi-final tournaments held in Chicago and New York.
Then in the finals, winners from Chicago would face winners from New York in what was called the "National Tournament of Champions." This form of Golden Gloves tournament was in place from 1927 to 1961.
The Golden Gloves boxing tournament underwent a format change in 1962 to National Golden Gloves due to its increasing popularity. The new format starts with 32 regional competitions held annually across the United States, with each region forming a team of winners from all weight classes to compete in the national competition known as the "Golden Gloves Tournament of Champions."
To qualify for a national tournament, a participant must go through the following stages:
Sub-Franchise – local/state golden gloves events —-> Franchise – regional golden gloves events —> National Golden Gloves
Since its establishment all the way up to modern times, Golden Gloves has always been considered the most highly regarded amateur boxing tournament. Many Golden Gloves champions have become successful pro boxers and world champions. Some of the most famous ones are:
Is Golden Gloves Boxing International or U.S. Only?
Golden Gloves is a boxing association that only promotes amateur boxers in the U.S. by organizing a national boxing tournament. As such, the Golden Gloves association does not host international events.
Amateur boxers from all over the United States compete in this national tournament to become the national champion. Similar forms of amateur competitions are also held in other countries.
For example, in Mexico, they have an amateur boxing competition known as "Guantes De Oro," which is comparable to the US Golden Gloves in terms of format and concept. "Guantes De Oro" is literally translated to "Gloves of Gold" in English. However, it is important to note that these two promotions operate independently and have no affiliation with each other.
Rules of Golden Gloves Boxing
Golden Gloves is an amateur boxing competition, and the following is a detailed explanation of all the key rules:
Age Limit — all athletes must be between 18 and 40 years old. The ones below or above these limits are not allowed to compete.
Rounds — each match in the National Tournament includes 3 rounds and each round is 2 minutes long. Semi-finals and finals have 3 rounds with each one being 3 minutes long. The number of rounds on the regional/state competitions may vary between 3–3 minute rounds and 3–2 minute rounds.
Weight Divisions — there are 10 weight classes for both men and women. 108lbs, 114 lbs, 119 lbs, 125 lbs, 132 lbs, 141 lbs, 152 lbs, 156 lbs, 165 lbs, 178 lbs, 201 lbs, 201+ lbs.
Weigh-ins — are usually held from 5:00 to 7:00 pm on the event day. Each athlete has two attempts to hit the scale within the limits of the weight class they signed up to compete. Novice boxers (who has not had more then 10 bouts) do not have to shave their bodies while open-class boxers (who has 11 or more bouts) must remove their mustaches or beards.
Equipment — according to USA Boxing, all athletes must wear open-face headgear without cheek protectors. They wear full-padded gloves and the size is based on the weight class. 10 oz gloves are for boxers weighing up to 139 lbs, while 12 oz is for the ones weighing above 139.1 lbs. They also wear hand wraps, boxing shoes, a groin cup, and shorts.
Scoring — Golden gloves use a 10-point must system and the scoring works very much the same as in pro matches. There are 5 judges sitting beside the ring and evaluating the action following strict scoring criteria.
Prizes — Golden gloves boxers are not eligible to win any money. The winner receives a belt and a ring.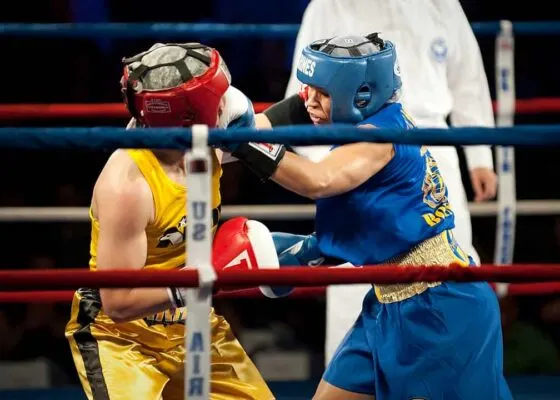 RELATED:
What Does the "Queensberry Rules" Mean in Boxing?
Golden Gloves Boxing vs. Pro Boxing: Key Differences
One major difference is the competition's structure. Golden Gloves organizes a tournament-style format where 32 regional teams of amateur boxers advance to the yearly tournament finals.
Professional boxing involves athletes competing against other ranked boxers within their weight class or possibly a ranked boxer from a different weight class. In order to become a champion, pro boxers need to climb the ranks within their division and defeat the current titleholder.
Here is a detailed look at other differences.
Number and duration of rounds
Matches in Golden Gloves are shorter in duration compared with pro-boxing. For the National tournament, athletes compete in three rounds, with each round being 2 minutes long, up to the semi-finals. Semi-finals and finals include 3 rounds, with each round being 3 minutes long.
Pro boxing matches are longer and usually include between 4 and 12 rounds, with each round being 3 minutes long. As you would assume, high-profile bouts and matches for world titles are 12 rounds. Inexperienced boxers who have just got into pro boxing usually compete in 4–6 round matches.
Weight Classes
Golden glove boxing has 10 different weight classes, while pro boxing includes 17 for both men and women. Here is a detailed comparison.
Professional Boxing
Golden Gloves Amateur Boxing
Atomweight
102 lbs (46.3kg)
Light flyweight
108 lbs (49kg)
Minimumweight
105 lbs (48kg)
Flyweight
114 lbs (52kg)
Light flyweight
108 lbs (49kg)
Bantamweight
119 lbs (54kg)
Super flyweight
115 lbs (52kg)
Featherweight
125 lbs (57kg)
Bantamweight
118 lbs (53.5kg)
Lightweight
132 lbs (60kg)
Super bantamweight
122 lbs (55kg)
Light welterweight
141 lbs (64kg)
Featherweight
126 lbs (57kg)
Welterweight
152 lbs (69kg)
Super featherweight
130 lbs (59kg)
Light middleweight
156 lbs (71kg)
Lightweight
135 lbs (61kg)
Middleweight
165 lbs (75kg)
Super lightweight
140 pounds (63.5kg)
Light heavyweight
178 lbs (81kg)
Welterweight
147 lbs (70kg)
Heavyweight
201 lbs (91kg)
Super welterweight
154 lbs (70kg)
Super heavyweight
201 lbs + (91kg)
Middleweight
160 lbs (72.6kg)




Super middleweight
168 lbs (76.2kg)




Light heavyweight
175 lbs (79kg)




Cruiserweight
200 lbs (91kg)




Heavyweight
unlimited




The salary
Golden Gloves is an amateur sport, meaning athletes earn no money. Amateur boxers are not paid the show money, bonuses for wins, and exciting fights, nor are they allowed sponsorship deals. Even the ones who win the tournament and become National champions do not receive direct payments.
Pro-boxing is the total opposite, as the entire competition revolves around money. Athletes are also known as "prizefighters," and their salary is based on their level of experience, record, popularity, and many other factors. The ones on the regional scene earn a couple of thousands per fight, while high-level boxers cash out dozens of millions per match.
Although a professional boxing champion can make millions, a Golden Gloves champion is not entitled to any prize money.
RELATED:
Pro Boxing vs. Amateur Boxing — What Are The Differences?
How Do I Become a Golden Gloves boxer?
To compete in Golden Gloves, an athlete must complete an online registration form; the registration deadline is usually up to the beginning of January every year. Each athlete must be above 18 and below 40 years of age and be registered with USA Boxing.
Here is a list of other key requirements:
Olympic weight divisions are reserved for US citizens only, while non-US citizens can compete in non-Olympic divisions.
Athletes who compete in the open-weight class must have at least 11 or more amateur bouts.
Athletes who compete in novice classes must not have more than 10 amateur bouts.
All coaches must be registered with USA Boxing. They also need a current SafeSport certification and a completed background check.
Is Golden Gloves the Only Amateur Boxing Organization in America?
Golden Gloves is not the only amateur boxing organization in the US, though it is undoubtedly among the most popular. The other major organization is the "United States Amateur Boxing Federation," now known as "USA Boxing."
"USA Boxing" is recognized by the US Olympic Committee and is responsible for promoting Olympic boxing across the US. In total, USA Boxing has 56 local committees grouped into 13 regions.
Which Amateur Boxing Organizations are International?
In contrast, as far as international competition is concerned, there are three major governing bodies in amateur boxing:
International Amateur Boxing Association (IBA) — was established in 1946. It is further split into five continental confederations and has 203 boxing federations across the world. Its main task is to sanction Olympic-style boxing events worldwide.
International Olympic Committee (IOC) — emerged in 1894. It is responsible for boxing events at the Olympic Games, qualifying tournaments, and trials.
International Military Sports Council (CISM) — is an amateur boxing organization founded in 1948 based in Brussels, Belgium. CISM promotes boxing events at the Military World Games and World Military Boxing Championships.
Do You Ever Win Money at Golden Gloves Boxing?
Golden Gloves promotes amateur boxing competitions where athletes do not earn money directly. As in other amateur sports, athletes are not allowed to receive money for participating in Golden Gloves events.
They also do not get any money in bonuses for winning matches and tournaments. According to the rules, they are also not allowed to receive any compensation through sponsorship and endorsement deals.
However, there are ways they can earn money in alternative ways. For example, a lot of experienced amateur boxers work as coaches in the gym.
When Do Golden Glove Boxers Turn Pro?
There is no standardized rule regarding how many matches you must have at the amateur level before turning pro. On one side, each boxer wants to gain as much experience as possible on the amateur scene, where losses do not enter their records. Thus, they can solely focus on skill improvement and growth without thinking much about money, titles, or losses.
Conversely, they don't want to spend too much time competing as amateurs and waste their athletic prime at this level.
So overall, each boxer must take a methodical and realistic approach to building their career. Together with their coaches, they will evaluate each stage of their journey and progress in the gym and decide when to turn pro at the right time.
Some boxers switch to pro competition with only 10 amateur fights, while others may have hundreds of matches. Each boxer's journey to becoming a pro boxer varies greatly.
Which Famous MMA Fighters Were Golden Gloves Boxers?
Throughout MMA history, there have been many skilled boxers in the UFC. The following is a short list of the two UFC fighters who used to compete in Golden Gloves before switching to MMA.
Stipe Miocic
Stipe Miocic is a former UFC champion and arguably one of the best heavyweights in history, with four title defenses in total. Before switching to the sport of MMA, Miocic used to wrestle in high school and college.
But he also competed in amateur boxing events, including Golden Gloves, where he became a champion. This mix of top wrestling and boxing background enabled him to quickly make a successful transition to cage fighting and rise to the top.
Inside the cage, he primarily relies on his strong wrestling defense to keep the fight on the feet and his boxing skills to demolish his opponents with perfect timing, power, and precision.
Stephan Bonnar (April 4, 1977 – December 22, 2022)
Bonnar is the former "The Ultimate Fighter" season 1 finalist and middleweight title contender (lost to Anderson Silva at UFC 153). He started his martial art journey in wrestling before moving into boxing and Thai boxing in his early 20s.
During this time, he would compete in Golden Gloves boxing and become a two-time champion in the super heavyweight division. In his UFC career, he shared the cage with some of the best fighters like Jon Jones, Mark Coleman, and Anderson Silva.
Golden Gloves' Positive Impact on Inner-City Youth
Golden Gloves boxing offers more than just a path to professional boxing. Many people are unaware that Golden Gloves invests in inner cities by introducing children to the sport of boxing, which provides a positive outlet and teaches valuable skills.
Boxing is an excellent way for children to channel their energy and avoid associating with the wrong crowds by learning boxing in the gym instead. With rigorous training and a commitment to the sport, these young individuals gain essential life skills and become more well-rounded in their development.
Despite receiving little media coverage for their charitable efforts, Golden Gloves Boxing makes a significant impact in the community.